In the days following the sudden and shocking passing of Chris Cornell, the wake has brought about more questions than answers. It is a total mystery why the singer, who appeared to display no signs that would indicate he wanted to end his life, passed away in the fashion in which he was discovered.
In a report by CNN, details about Chris Cornell's funeral plans were released by two people with knowledge of the arrangements. Sources stated that the singer will be laid to rest on May 26 at the Hollywood Forever Cemetary in Los Angeles, California. One of the sources told CNN, "The family is thinking about a (public) memorial for fans, but is coping with their loss and the funeral service."
In the police report documenting the incident and investigation, the timeline gave a more detailed and revealing look into the sequence of events that lead up to the discovery of Cornell. Local outlet, The Detroit News, reported that Cornell left the stage with bandmates at 11:15 PM, after performing to a sold out Fox Theatre crowd. He returned to his room at the MGM Grand fifteen minutes later with his bodyguard, Martin Kirsten, who gave the singer two Ativan and helped to fix his computer. Cornell then was on a phone call with his wife at 11:35 PM. In the statement given by Vicky Cornell, she stated that her husband's speech was slurred and told her that he might have "taken an extra Ativan or two."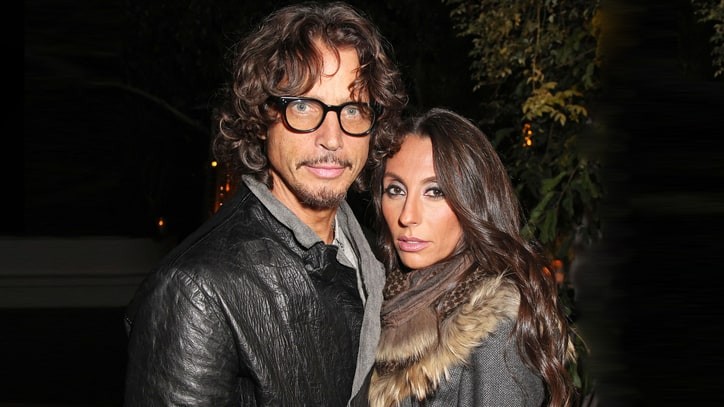 Concerned, she contacted his bodyguard and instructed him to check on the singer. As he approached room 1136, the bodyguard found that the door, for which he had a room key, was latched from the inside. He phoned security officials, who did not grant access to the room because he was not the person registered, despite having a key to the room. Kirsten then kicked the door in and found that the door to the bedroom inside of the suite was also latched. After phoning the security desk a second time, he kicked the door in and discovered Cornell on the floor of the bathroom with a red exercise band around his neck. MGM medic Dawn Jones arrived at the room at 12:56 AM and attempted to perform CPR. EMS 42 arrived at the scene at 1 AM and also attempted CPR. Subsequently, a doctor arrived at the scene and after all attempts at saving Cornell's life had been exhausted, he was pronounced deceased at 1:30 AM, at which time Vicky Cornell was notified by authorities of her husband's passing.
"Without the results of toxicology tests, we do not know what was going on with Chris -- or if any substances contributed to his demise," Cornell family attorney Kirk Pasich argued in his own statement Friday. "Chris, a recovering addict, had a prescription for Ativan and may have taken more Ativan than recommended dosages. The family believes that if Chris took his life, he did not know what he was doing, and that drugs or other substances may have affected his actions."
Cornell's wife, Vicky Cornell, expressed that she believes the consumption of more than the recommended dose of Ativan, a prescription for which the singer had, was the reason for his death.
"Chris' death is a loss that escapes words and has created an emptiness in my heart that will never be filled," Vicky Cornell added. "As everyone who knew him commented, Chris was a devoted father and husband. He was my best friend. His world revolved around his family first and, of course, his music, second. He flew home for Mother's Day to spend time with our family. He flew out mid-day Wednesday, the day of the show, after spending time with the children. When we spoke before the show, we discussed plans for a vacation over Memorial Day and other things we wanted to do. When we spoke after the show, I noticed he was slurring his words; he was different. When he told me he may have taken an extra Ativan or two, I contacted security and asked that they check on him. ... What happened is inexplicable and I am hopeful that further medical reports will provide additional details. I know that he loved our children and he would not hurt them by intentionally taking his own life."
The outpouring of love and support for the Cornell family, by both fellow music artists and fans, has been heartwarming and moving. Chris Cornell was a man who was humble and very much loved. Soundgarden was a band that is synonymous with the 90s Grunge era and one of the bands that proved music in its rawest form is the most genuine. Cornell's voice was truly a gift, and he was an incredible songwriter, able to connect with such a wide audience across generations. We will miss Chris Cornell and his music dearly.
System Of A Down frontman, Serj Tankian, wrote a beautiful tribute to his friend. The two were featured on The Promise soundtrack:
One of the most profoundly beautiful tributes came from friend, and fellow Audioslave bandmate, Tom Morello. In a poem, Morello put into words what many of us who have felt the powerful magnetism of Cornell's voice and songs, are feeling with this loss now:
The poem reads:
You're a prince, you're a snare, you're a shadow
You're twilight and star burn and shade
You're a sage, you're a wound shared, you're masked
You're a pillar of smoke, you're a platinum heart
You're a brush fire, you're caged, you're free
Your vision pierces, you do not see
You are pieces strewn on the hillside
You're open armed, you're armed, you're true
You're a revealer of visions, you're the passenger, you're a never fading scar
You're twilight and star burn and shade
You're the secret veiled, you're the secret revealed, you're surrounded no more
You're not there, now you're always here
You're a handsome groom, a loving father, a haunted stairwell
You're the clear bell ringing, the mountains echo your song
Maybe no one has ever known you
You are twilight and star burn and shade
Rest in peace, Chris Cornell. Thank you for the decades of amazing music and for sharing your voice with all of us.