Now playing in theaters everywhere…your kids? Yes, there may be some relief for parents everywhere who cringe at the thought of carting their little ones to the movie theater. Toddlers are notorious for being little wild cards. One moment, they will be tiny angels. Their little voices saying things like, "I love you, daddy," looking at you with eyes of wonder and innocence.The next moment, the ground trembles and you can swear you hear the growling creatures of the underworld beneath your feet, speaking in languages you don't understand as your child explodes into a tantrum like the shrill cry of a thousand steam whistles. Not fun.  Well, Cinepolis USA has come up with the perfect solution to quell that fear every parent has: Cinepolis Junior.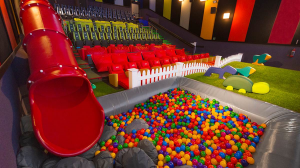 Cinepolis (Jose Miguel Gabardino)
The concept is really very simple, and to be honest, some parents might see how much fun their kids are having and want to join in. Cinepolis is a theater chain that is based in Mexico, and come Tuesday, March 16, they will launch the new theater experience, fully catered to creating a fun environment for kids. The theaters will include a brightly colored area with structures for play, bean bag chairs, lounge chairs, and even a fenced area for the little ones. The way the theater is set up, it looks perfect for everyone to get a good view of the screen and allows parents an unobstructed view of their children as they work off all of those Skittles you gave them. Cinepolis has a mission to make parents feel at east and to create a space for kids to "feel right in their element as they watch their new favorite film."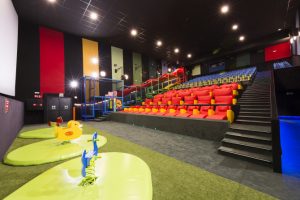 Cinepolis (Jose Miguel Gabardino)
So far, two theaters are slated to be the first to open their doors with all of the goodies for the kids: Cinepolis Pico Rivera in Los Angeles and Cinepolis Vista in San Diego. There will be a $3 surcharge added to the regular ticket price, but with the experience of having a more peaceful and fun outing, that will more than pay for itself. Kid-friendly movies will be screened five days out of the week and all the space to run around their little hearts desire. Some of the features in the play area include a 55-foot-long by 25-foot-high play structure with two slides that run the length of the theater from top to bottom. Playground equipment, foam-filled "fun forest bags," stationary pogo sticks, and miniature merry-go-rounds are some other featured activities the theater provides. There is also a play pen area, coated with green astroturf, complete with molded animals to climb on, as well as tires for kids to scale.
To add to the experience, the concession stand has expanded its options to include specially-flavored gourmet popcorn, including Cheetos, Chili, Caramel, and Zebra. The menu includes all of the familiar candies and beverages, appropriately sized for the little ones. More substantial snacks like chicken fingers, quesadillas, and mozzarella sticks are also on the menu.
CEO of Cinépolis USA, Adrian Mijares Elizondo, told Variety, ""As the Entertainment Industry continues to evolve, we are pleased to be a pioneer and continue our innovation in the exhibitor space with our newest theater concept."
While there is no word yet about the expansion of the Cinepolis brand across the United States to other major cities, this concept certainly does change things for how movies are experienced. Parents, rejoice!