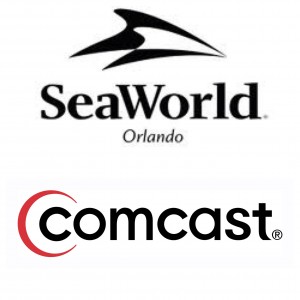 SeaWorld will be making a "groundbreaking investment" announcement this morning, August 15, 2014, with a special preview on
The Today Show
.  Sources close to the deal are telling PopWrapped exclusively that, cable and telecom giant, Comcast, will be purchasing the fledgling company, and that the announcement is "imminent."  While specific details of the potential Comcast buyout are still unclear, if the rumors are true, it can only mean big things for the struggling SeaWorld brand. SeaWorld is still feeling the "Blackfish" effect as the company's shares fell a whopping 22 percent over the past year, down 33 percent on Wednesday alone, when it reported lackluster second quarter earnings at the close of the regular trading day. In response, Standard & Poor's dropped Orlando, Florida-based SeaWorld's corporate credit rating to BB- from BB, pushing the rating further below investment grade, also known as "junk" status. This comes on the heels of the late July announcement that Southwest Airlines is ending its promotional partnership with SeaWorld. The two companies had done joint events and marketing for more than 15 years together. While neither company mentioned
Blackfish
or its subsequent backlash as a contributing factor in terminating the relationship, a petition on Change.org urging Southwest to end its affiliation with SeaWorld garnered more than 30,000 signatures. SeaWorld went public in 2012. It was formerly owned by private equity giant The Blackstone Group. While investors dove into the stock initially, it dropped over 45% in the past past year, largely due to the negative effects of the
Blackfish
documentary.  After Wednesday's decline, the stock is now below its IPO price, a clear warning threshold for stock holders. Universal Parks and Resorts, commonly and also known as Universal Studios Theme Parks, is the theme park division of NBCUniversal, a subsidiary of Comcast. According to Comcast's annual report, the theme park division is NBCUniversal's strongest performer with a 24% increase in revenue. NBCUniversal is the third-largest amusement park operator in the world.  A potential buyout could spur new faith in the brand, or could severely damage Comcast's reputation, as many are calling the SeaWorld brand name "toxic." The director of Magnolia Pictures documentary
Blackfish,
which exposed the park's practices of capturing and training killer whales, thinks the park's falling revenue can only mean good things for her cause. "I don't think SeaWorld speaks the language of ethics, of right and wrong. But they do speak 'Revenue'," said 
Gabriela Cowperthwaite.
 "This could spur meaningful, massive change on their part." What do you think about the potential merger?  Do you think Comcast can pull SeaWorld back into the black, or do you think the park will be shuttering its doors permanently?  Sound off in the comments!
Keep Up With PopWrapped On The Web!
Twitter
SoundCloud
Facebook
Instagram
Tumblr
Pinterest
YouTube