One would think Connor Franta has done it all.  Franta, 22, has a loyal following on YouTube with 4.6 million subscribers, a successful coffee line (Common Culture) and a NY Times best-selling autobiography A Work In Progress: A Memoir. 
Franta can now add clothing designer to his long list of accomplishments. Last Sunday (June 14), Connor joined Junk Food Clothing Company in LA for the launch of his limited edition line.  
With high success on Sunday and multiple fans around the world asking, Franta announced via Twitter: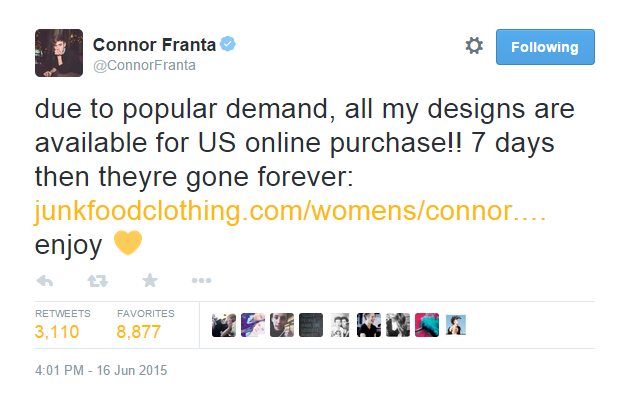 Credit: Twitter
For one week only, fans of Connor Franta  can order his clothing designs at Junk Food Clothing. There you can see  what he has created in the forms of t-shirts, tank tops, and even tote bags. Grab what you can now because once it ends, the designs are gone forever.
So what do you guys think? Will you be purchasing one of Franta's designs? Let us know what you think in the comments below!
Don't forget to follow Connor on his Twitter for more!