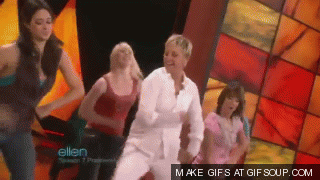 Zoe Ambrozewska




Staff Writer
Well there's a shocker (not)! One of the most internationally popular talk-show hosts, Ellen DeGeneres, has had her daytime show renewed through the 2016/2017 season. This renewal spans 96% of the United States, including all 10 NBC owned and operated stations, and 179 additional stations.
This is unsurprising, as the show is up 13% year-over-year among the key women 25-54 demographic, and has on average 3.2million views, its most-watched season since 2005/2006.
"Ellen is quite simply the best," Ken Werner, president, Warner Bros. Domestic Television Distribution said in following the announcement. "Day in and day out she and her team produce a unique and compelling hour of entertainment which is appointment television for legions of women.  We are absolutely thrilled that NBC, Ellen, Warner Bros. and all of our station partners will be continuing our successful relationship for years to come."
Valari Staab, president, NBC Owned Television Stations added "Ellen is the crown jewel of the NBC Owned Television Stations daytime lineup. We are proud and thrilled to extend our relationship with Ellen DeGeneres, all the great people working on her show and our friends at Warner Bros."
So, is this music to your ears? Or are you not a big Ellen fan? Let us know!
http://www.Facebook.com/PopWrapped
http://www.SoundCloud.com/PopWrapped
http://www.Twitter.com/PopWrapped
http://www.YouTube.com/PopWrapped (COMING SOON!)
http://www.PopWrapped.com (COMING SOON!)