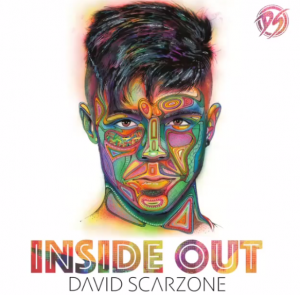 Courtesy of Itunes
Singer/songwriter David Scarzone does it again. This time, he released a full length EP. The EP is entitled Inside Out includes five brand new tracks from Scarzone. The EP written by Scarzone and produced by Keaton Stromberg will seriously have you getting up and moving along with the music.
After listening to the tracks I can seriously hear the passion Scarzone has for music and how he gives a very unique style to each song.  
Lets get  into a track by track review of  Inside Out:
"Before We Go":
This track starts Inside Out wonderfully. He tells the story that before "we" go, he wants to chase his dreams, fall in love and do what people who are in love do.  The music and beat of this song is phenomenal. 
"True Colors":
I think this is a really touching song. He goes into depth about someone who was hiding and not being the one he knew. He finally saw their true colors show and I think that is very powerful. I can relate to this song on a personal level.
"Believe In Love":
Another touching  and beautiful song. What I really enjoyed about this song is that it has a message about believing. Even though one person doesn't believe in something doesn't mean you should stop believing in it.  In this case believing in love.
"Sticks And Stones":
"Where's my super suit?" Enough said?
Ha! In all honesty this song screamed David when I listened to it. The beat of this song along with the lyrics made this song for me.
"Eternity":
Being in the moment with endless possibilities. I feel like this song has multiple meanings as far as an eternity. An eternity of love, of what you want to do with your life etc. I do believe this was a wonderful way to end the EP. 
Overall, I am very pleased with Inside Out. I heard a different side of him that I didn't expect to hear.  I have a feeling this is only the beginning for him and can't wait to hear more music from him. Don't forget to check out Inside Out on Itunes along with his singles: "Ex-men" and "Sometimes"
You can also check out David on twitter and instagram.
Let us know in the comments below what was your favorite song off of Inside Out.