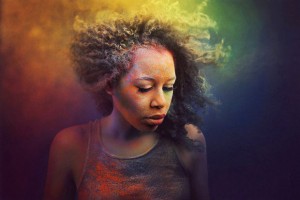 Courtesy of DeQn Sue
Known for her quirky songs and unique blend of multiple music genres, up-and-coming artist DeQn Sue has just released her music video for her song entitled, "Bloody Monster" the first single of her EP, Snack.
The video itself was very interesting, and after watching  it, I wasn't really sure what I had seen and needed some time to process the creative production. However, after listening to the lyrics of the song a couple more times, I finally understood the meaning, and then I just couldn't stop listening to the song and watching the video! I was very pleased with the unique vision she had. 
We asked DeQn Sue about the inspiration behind the music video, and she replied that 
"'Bloody Monster'...was born out of a dark, unfortunate experience, and for the video, we wanted to capture both that darkness aspect as well as my quirkiness, so we ended up with this 'faux spook'." 
Check out her music video for "Bloody Monster" below:
You can also follow DeQn Sue On twitter!
Let us know what you thought of the music video in the comments section below!