Craig Aiken, 37, is flushed with emotions during the reunion between him and 18-year-old daughter Kamiyah Mobley. He tells CNN, "The first meeting was beautiful. It's a feeling that you can't explain." This was Aiken's very first time meeting his biological daughter who went missing from a Jacksonville, Florida hospital nearly two decades ago. Well, she didn't exactly just go missing -- she was kidnapped. Right from her mother's arms.
This strange story began on July 10, 1998, when a 33-year-old woman named Gloria Williams entered the Florida hospital dressed as a nurse wearing a floral smock and pacing the halls of the hospital, appearing as a relative to staff members but an employee to patients.
Mrs. Williams entered the room of 16-year-old Shanara Mobley and began to befriend the girl. Gaining the trust of a young, first-time mother was not difficult for a con artist like Williams. She had just had a miscarriage a few days prior and was eager to ease the sting of losing a child. As the day turned into night, Williams decided to finally execute her plan. She wrapped the baby in a pink and blue blanket, placed her inside of her purse and drove to South Carolina. It is still unclear whether she initially planned to kidnap a baby that day or not.
For years since, Shanara Mobley has made desperate pleas to the kidnapper of her first born child; her story waseven featured on America's Most Wanted but to no avail -- until now. Investigators were tipped off about a girl with the same birthdate as Kamiyah Mobley named Alexis Manigo. Over 2,000 leads later, there was finally a break in the case.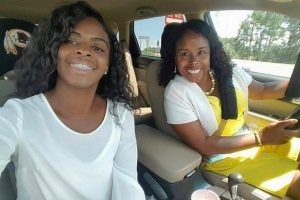 The Sun
Apparently, an unnamed caller tipped police off, although it has been said that the young woman recently had a "feeling" that she might be kidnapped. One of Kamiyah's friends even told People Magazine that Kamiyah realized her true identity two years ago. She had been applying for jobs only to be turned around because of fraudulent birth documents. If this were true, why didn't she come forward to police? Many assume this is a case of Stockholm Syndrome -- when an abductee develops feelings towards her kidnapper.
Charles Manigo -- the man who claims to have raised Kamiyah as his daughter -- came forth in an interview with ABC News claiming he was "heartbroken" to find out she is not his biological daughter. A few days afterward, a Facebook page which appeared to be Kamiyah's allegedly posted that she could "count on her fingers" how many times she's spent the night with Manigo, insinuating he was an absentee father.
Gloria Williams was arrested from her home in Walterboro, South Carolina on January 13. According to neighbors, Williams was a normal, everyday citizen. She was well respected in the community and raised her two biological children and Kamiyah to be well behaved. They were shocked to hear this unfortunate news. It has since been discovered this is not Williams' first run-in with the law. She has a rather lengthy rap sheet which includes welfare and check fraud.
Many are questioning exactly how a child can disappear from a hospital without anyone becoming aware. This is not the first time this has happened. Several children have been snatched from their hospital cribs over the years, including Carlina White, whose story is eerily similar to Kamiyah's and was documented in a Lifetime film entitled The Carlina White Story.
Kamiyah was fortunate enough to receive the opportunity to reunite with her birth parents, yet, given the circumstances, she is still defending her kidnapper. She took to Facebook to let the world know her "mom is no felon." She conducted her first interview with ABC and admits she will always love her kidnapper Gloria Williams.