It's been nine months since the 'Osborne Family Spectacle of Dancing Lights' ended at Disney Hollywood Studios, and, to ease our worries, the theme park has just announced a new nighttime holiday spectacular.
The show, entitled Jingle Bell, Jingle BAM!, will feature fireworks, various special effects, snow, and projections of some of your favorite Disney characters. The spectacular will be shown in front of Disney Hollywood Studios' iconic Chinese Theater and will follow characters from various movies, including Jack Skellington from Tim Burton's The Nightmare Before Christmas, Elves Wayne and Lanny from ABC's Prep and Landing, and other familiar faces from classics such as Bambi, Mickey's Christmas Carol, Beauty and The Beast, and Pluto's Christmas Tree, as they embark on an adventure to see Santa Claus safely return to the North Pole on Christmas Eve.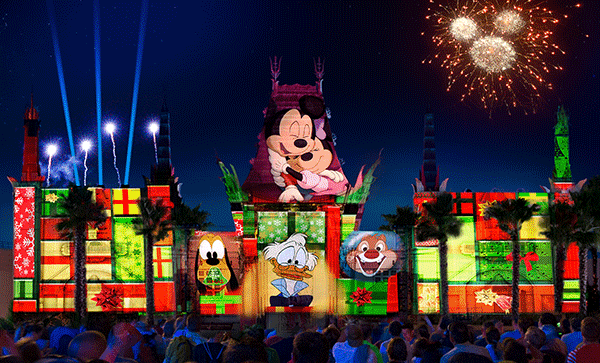 Walt Disney World
Jingle Bell, Jingle BAM! will be given a musical score that will add an amazing experience for viewers of the show. There will be various renditions of beloved Christmas songs with some unique twists. The show will end with a special message to viewers from the one and only Santa Claus.
One hour before each performance of the show, guests can reserve a spot in the courtyard for a special holiday party. The party will include seasonal snacks, desserts and specialty beverages. During the holiday season, guests will be greeted by a giant Christmas tree near the park's entrance. Visitors are also given the chance to meet Santa Claus.
The show's announcement comes after the news of Disney's multi-year renovation to Hollywood Studios park, which has seen the demolition of long-standing attractions, including the Studio Backlot Tour and Streets of America, to make room for new rides, shops and eateries based on movies like Star Wars and Toy Story.
Jingle Bell, Jingle Bam! will begin its run every night starting November 14th through December 31st, 2016.
For more information about the new spectacular, you can check out Walt Disney World's website.