If you love Disney and love cakes than you definitely want to get married at one of the Disney parks.  Disney Enterprises have unveiled a new technology that will give any happy couple an animated wedding cake.  What is this magic? The "
mapping projection technology
"  has been in the works since 2010 and creates a wrapping projection around the cake. A couple will be able to fully customize and can include images of the couple, personal quotes, or even a slideshow.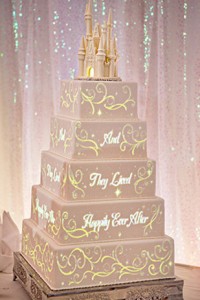 Courtesy of Buzzfeed
This is Disney, so of course they have thought of everything when it comes to the cake. According to Stitch Kingdom, this new interactive cake experience can detect when pieces of cake have been cut and change the images accordingly. "For example, cut out a slice where there's a simulated lake and you may instantly create a waterfall in which water is now represented as flowing down the sides of the new missing cake portion."
You can also include props like having Captain Hook battle anyone that is holding a knife. I think it's safe to say that every cake shop should just stop because Disney takes the win.
Check out the full video of the cake below:
What do you think of Disney's interactive cake? What would you have animated on your cake?
Keep Up With PopWrapped On The Web!