No Other Show On Earth Could Have Pulled This Off
The finale countdown has begun for Doctor Who, a moment in time feared and anticipated in equal measure by the most loyal of Who aficionados. You never quite know what you're going to get with a finale of the now 54 year old show, and, this year, it's especially worrisome with the upcoming departure of the 12th Doctor, the phenomenal Peter Capaldi. It's a time that's desperately sad as we say goodbye to an actor who has become iconic in the role (and many consider him to be their all time favourite), on the flip side, it's a time where we can get excited all over again about who exactly will be taking the keys to the TARDIS. At the time of writing, we are still unaware of who the new showrunner Chris Chibnall -- taking over from the also outgoing Steven Moffatt -- has chosen to be their first (and our fourteenth -- yes, I'm counting War Doctor, so just deal). It's a terrifying/exciting time to be a Doctor Who fan, and it was celebrated in all its glory in Cardiff last night.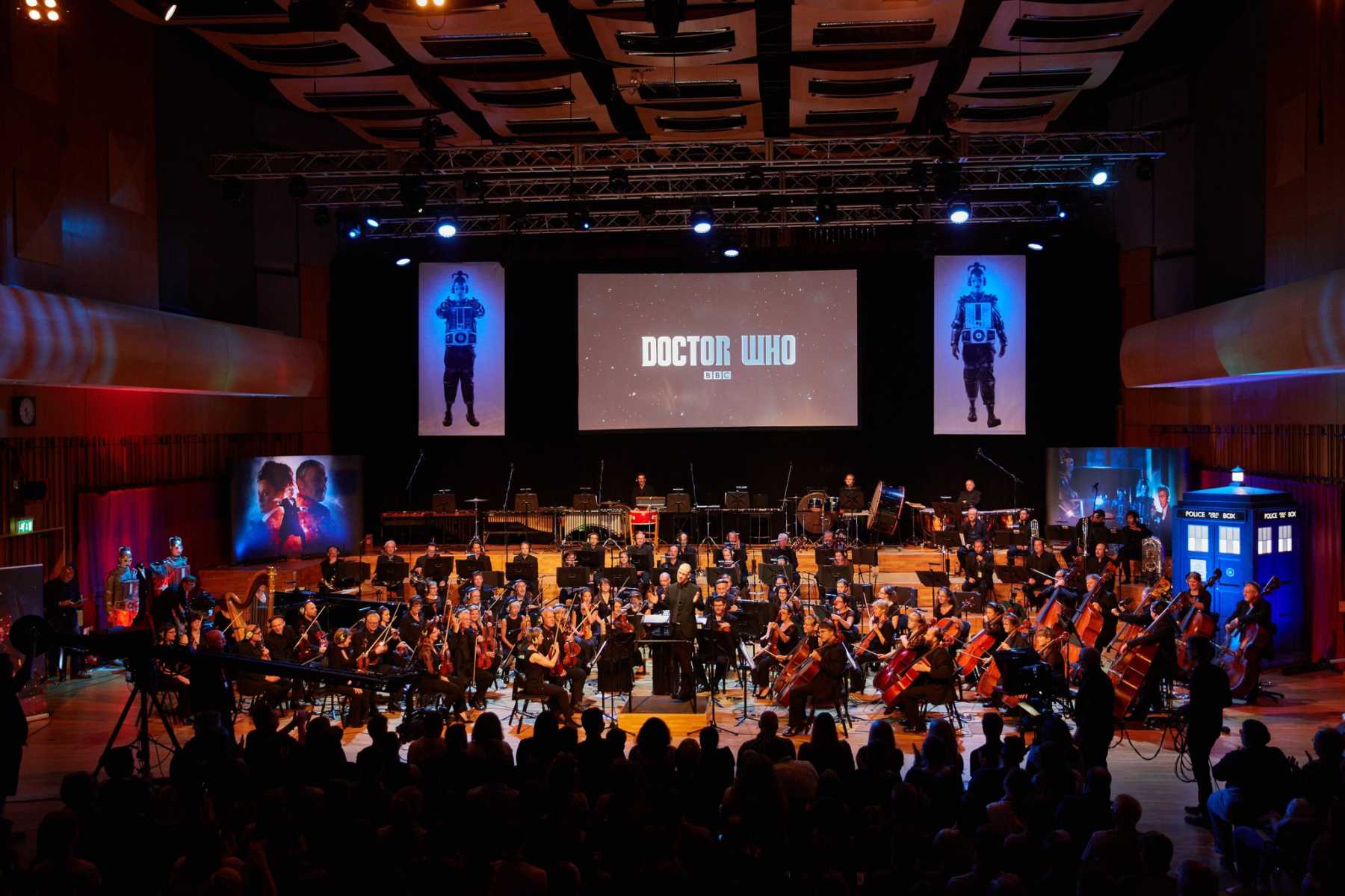 The BBC, in their infinite wisdom, decided to throw a hell of a bash to mark the beginning of the end for Capaldi and Moffat -- and in the home of the National Orchestra of Wales, no less. The Hoddinott Hall in the iconic Wales Millennium Centre in Cardiff Bay was where they chose to showcase the latest episode "World Enough and Time" accompanied by the orchestra themselves, who scored the entire episode live on stage in front of a lucky audience of around 200 fans. When we say lucky, we mean lucky. Free tickets were supplied through a random giveaway. I met several fans in the audience who just could not believe their luck and were close to bursting into tears by just walking into the auditorium.
Before the show, we were told to join a queue outside and be ready with identification to secure entry into the screening. Security was on super high alert -- more so than normal at the WMC due to a VIP attending the opera in the main theatre which was performing on the same night. I still don't know who the VIP was, but, with armed police everywhere, I'll take a guess it was someone royal. This meant that all the Doctor Who attendees were chaperoned upstairs away from the main seating areas and placed in a second floor area where orange juice, wine, water and beer was available at no cost to the lucky attendees. After being up there for around 45 minutes, we were moved on to a second area -- in a queue lead by a literal Cyberman -- just outside of the auditorium where we would see the episode.
As we filtered into the auditorium, I was taken aback by the sheer amount of effort the BBC had put into make this a truly special event. There were costumes and props from the show placed on either side of the orchestra -- naturally including the TARDIS -- and enormous posters of the episode's promotional material along with a whacking great big screen we would watch the episode on right at the back of the stage above the orchestra.

As one of the 'hardcore' Doctor Who fans, this was a sight to behold. I had been to the Doctor Who Experience in the Bay many times and been to other screenings, but nothing had been prepared like this, and it was unlike anything I had seen before. The fact this entire event was completely free was a true indication that this was an event completely for the fans, a gift wrapped in TARDIS blue handed to each of us individually but opened together at the same time. What other show could do this? The Doctor Who fanbase is unlike any other, and the BBC are enormously aware of this, and we can only admire the way they continuously give back to those that support and appreciate all they do. If only they could have pulled some more strings and allowed the Experience to stay open, eh? Sadly, it's now been confirmed the Doctor Who Experience will close on September 8. Here's hoping there is a new home somewhere in the Bay it can live, because there's simply nothing else like it.
But I digress...
As we took our seats, admiring the wonderful set and the glorious auditorium we had found ourselves in, there was another small treat in the free programme which was placed on every single seat in the house. The programme included interviews with Steven Moffat, Peter Capaldi, current companion Pearl Mackie and plenty more and was a rather lovely surprise, produced with the quality of West End musical programmes but given to us at no charge. A small thing? Perhaps. But I have it now, and, as a fan, that little extra insight into how this show is put together is always appreciated. If you've seen the Who homage to Sgt. Pepper's Lonely Hearts Club Band doing the rounds on social media, that was the front cover. I'm pretty sure I'm going to frame it and put it on my wall for all times.
Then came the episode, along with a full live performance of the score which accompanied near enough every scene -- including a live performance of the iconic theme tune, something I had never seen live before and send pure shivers down my spine -- and, well, it was a phenomenal experience. I guess, in a way, it's credit to this spectacular 90-piece orchestra that as I was watching the episode I just got completely lost in it, forgetting for a moment that every note and every instrument I heard was being played directly in front of me. It all seemed so seamless and is something I won't soon forget. Every drum beat, every string accompaniment, every electric guitar and double bass pick hit the audience like a train and made everything feel bigger and more expansive than ever before. I had seen Doctor Who on the big screen before but nothing like this; it was like walking into our very own episode, surrounded by the National Orchestra of Wales as we moved our feet to every melody and every jaw-dropping moment (if you've seen "World Enough and Time", you'll know what I'm talking about). I now want a live orchestra to come to my house and play through every single episode from now on. Is that really so much to ask? I'll make some calls.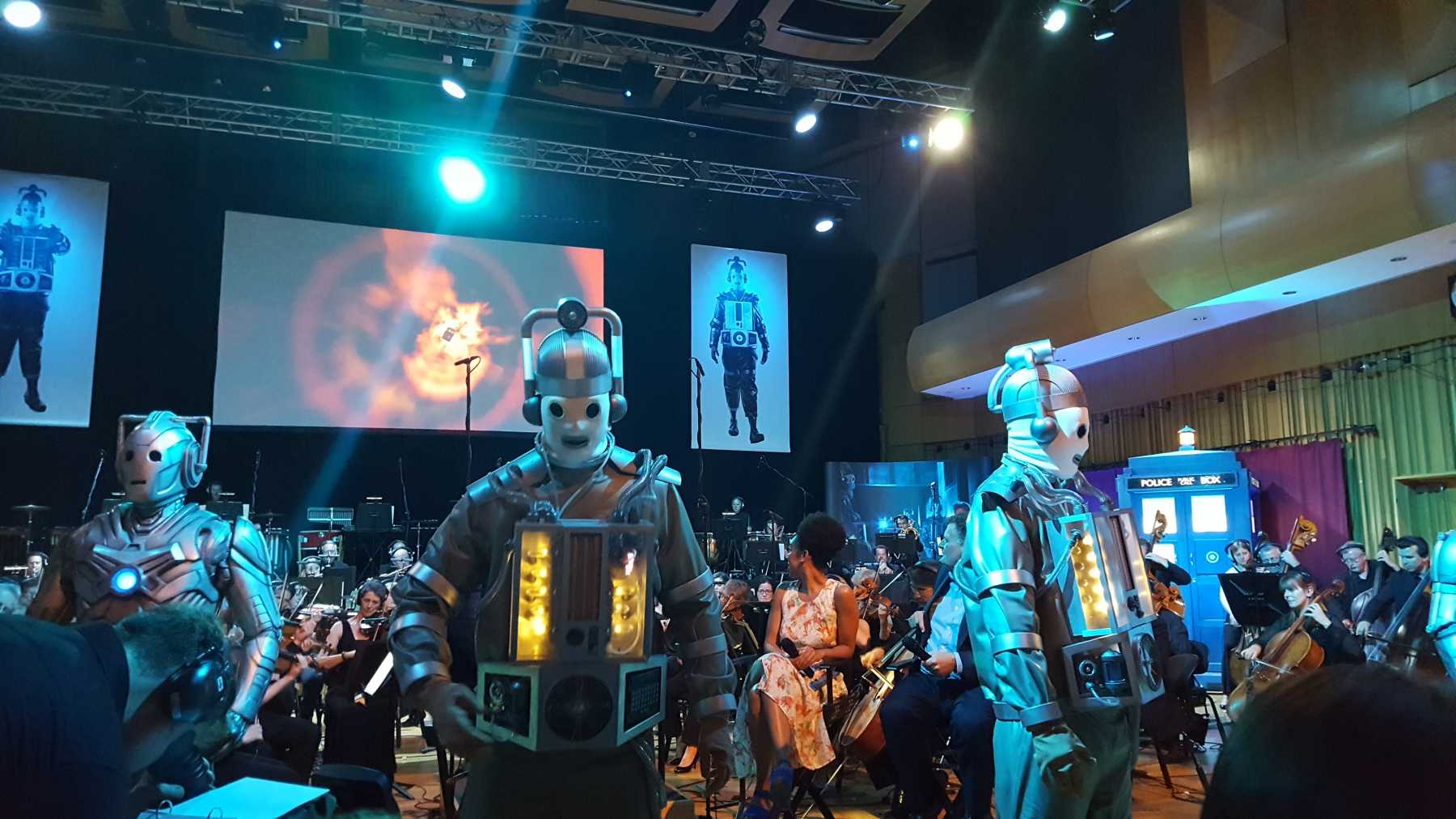 Following the episode -- welcome back John Simm, oh, how I've missed you -- we were treated to a Q+A with the wonderful, endlessly positive, seemingly-still-can't-quite-believe-that-all-of-this-is-actually-happening-to-her Pearl Mackie, who lit up the stage with that infectious, beautiful smile and shared with the audience her experience of working on the show and answered questions from the audience and from Facebook, where the live Q+A was being livestreamed after the first broadcast of the episode. Granted, the actual Q+A portion of the, erm, Q+A was rather minimal, instead giving way to more live performances from the orchestra, including Bill's theme. Watching it being performed live with Pearl just sitting there taking it in must have been quite the experience for her. It's a beautiful piece of work, and I may have shed a tear. Maybe. You didn't hear that from me though, ya hear? If I hear you spreading that filthy rumour, I'm gonna...well, I'm gonna do something, and you're not going to like it, you Daleks.
Following that rousing performance where I absolutely did not cry, the main man himself Mr. Steven Moffat appeared to take more questions from the host Jason Mohammad and very few from the watching audience. It's always a pleasure to watch Moffat on panels, and it is something I could do for the rest of my days and never feel particularly bored. As a fan, being in the presence of the showrunner is very cool, and his enthusiasm for the show is infectious, with his hilarious outlook on Doctor Who as a whole and his persistent trolling of the audience, which many find frustrating but, honestly, I find really rather funny. Case in point; Jason asked Moffat what we can expect from the second part of this episode and, brilliantly, in the most apocalyptically Moffatt way you can imagine, he answered simply, 'it's on next Saturday'. Never change, Mr. Moff.
And, with that, and another goosebump-inducing performance of the full Doctor Who theme, the evening came to an end. I couldn't be happier with how this event turned out. As a Doctor Who fan, it was about as close to nerd-vana as you can imagine, with live monsters roaming the auditorium, a terrific episode with an accompanying orchestra and a Q+A full of positive energy and uplifting moments. It could have probably done with more questions and answers and should have probably gone for another half an hour if this was the last time a UK audience would get this opportunity to speak directly to Steven Moffatt and Pearl Mackie, but it's a small gripe. I couldn't really have asked for anything more.
I guess that's the beauty of Doctor Who. As I left the hall, I was trying to think of another show that could have done something like this on this scale, and, honestly, nothing came to mind. I can't think of another fan base that the BBC want to cater for as much as the Doctor Who hardcore, and that's such a beautiful thing to witness. Tonight didn't need to happen; it wasn't compulsory and could have probably saved them an awful lot of hassle by just not doing it at all but, damn, the fact they did and to pull it off on this scale was so special and made me feel appreciated as a Doctor Who fan. It made me feel like as we go through this transitional phase in the show all over again that the BBC actually care about us as fans and are ready to throw together a screening of an episode with the frickin' National Orchestra of Wales for seemingly no other reason than 'why not?'.
Not everyone loves Doctor Who, and I understand that. But for those who do -- and yes, they really do -- this was a wonderful event and a huge pleasure to have been a part of. If nothing else, it proved to me why I'm such a fan of this ridiculous, enraging, abnormal, wonderful show and how proud I am to be a part of its fan base.
Oh, BBC. Give us a kiss.