Damn. Anyone else think Trixie Mattel would have NAILED this challenge!? Following last weeks shocking elimination, our beloved remaining queens were given a high task.... To show off their best comedic sides!! RuPaul challenged the queens to a comedy act in which they had to act as presenters (and throw their best shade) while also accepting a 'Despy' Award. This show and the names it comes up with.... GIVES. ME. LIFE. Things kicked off to a harsh, uncomfortable start, while visiting the workroom, RuPaul locked horns once again with Pearl. The intense face off was cringeworthy, albeit memorable TV. Max's reaction to the incident was just as amazing, calling it "uncomfortable".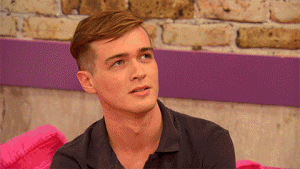 Tumblr
It was on with the show though!!! RuPaul, Michelle Visage and Ross Matthews were joined by acclaimed fashion designer Isaac Mizrahi and ere you wondering how our beloved teams did?
Kennedy/Jaidynn
- Actually really funny. The quick wit by Kennedy to the 'Root's comment was GOLD.
Katya/Kasha
- The intro was strong, but you could tell guest star Kathy Griffin shook their confidence a bit.
Pearl/Max
- YES PEARL!!! Giving me comedy realness!! Max of course was great too, but so proud of Pearl.
Miss Fame/Violet
- Love these two I do, the act was a trainwreck
Ginger/Kandy
- Ginger of course stole this number while it appeared that Kandy really struggled with the comedy. It was time for Ru to deliver some critiques..... But the winners of the challenge? MAX AND PEARL!! Pearl then acknowledged Ru's smackdown in the workroom (THANKFULLY) and it seemed our beloved hostess finally woke Pearl up. Ru also announced Kennedy and Jaidynn were safe. This left our remaining teams to be critiques individually, and Ru then announced who would lip sync for their motherf*cking life!! The final two came down to Mrs. Kasha Davis and Kandy Ho, who both gave it their all...... But in the end, Mama Ru sent the matriarch home. Kasha Davis then sashayed away, and that's two eliminations in a row that yours truly is not happy with!!!! What did you guys think of the elimination? And the episode?