A few months back, I compiled a playlist of songs that reminded me of specific scenes, themes, or characters in Diana Gabaldon's third novel, Voyager. Some of those songs have also been featured in multiple film soundtracks, so I began thinking of films that shared a common element with Voyager, upon which the third season of the Stars series is based. Every Friday up to the season premiere in September, I'll suggest a film to watch over the weekend alongside the Starz channel's rebroadcasting of previous episodes in order.
How a Film Made the List:
In selecting each title, I looked at one or more aspects in common with Voyager or the Outlander series up to the third book. A film may contain a character who reminds me of Jamie, Claire, Frank, or any other person in Diana's world; it may share a similar theme; it may be remarkable for its costume design, set direction, or cinematography. At the least, dear reader, you will watch (or rewatch) an outstanding film.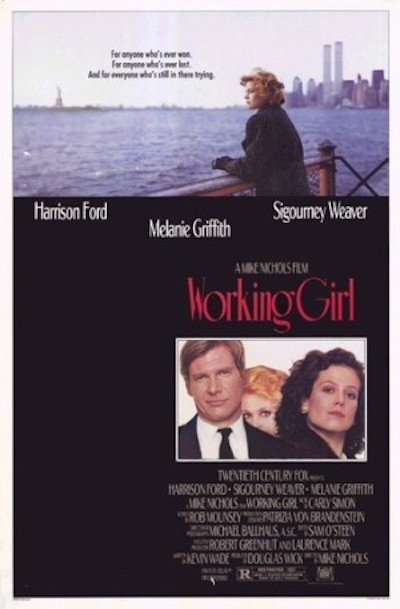 Film 2: Working Girl (1988, directed by Mike Nichols)
Why It's Included: Costume design
This week's essay was hard to nail down because I love costume design in film and who to pick: classic icons like Edith Head or Irene Sharaff, or perhaps contemporary masters like Sandy Powell or Jenny Beavan? I wanted this week to be about working women, as that is what Claire Beauchamp Randall Fraser has been one of since her early twenties, and I wanted my film selection to have a lead character on a career path usually reserved for males, as Claire went to medical school in the 1950s and became a surgeon in the 1960s. Even in the areas of her life outside work, Claire is constantly immersed in places, social situations, and time periods not entirely accommodating for someone like her, and she constantly balances perception with personality, social mores with self-image. In that respect, Mike Nichol's Working Girl stood out because it features the spectacular designs of Ann Roth, whose six-decade strong career is brilliant, as a significant part of a character trying to bust through, stand up, and prove herself worthy of a life bigger than the one she was born into.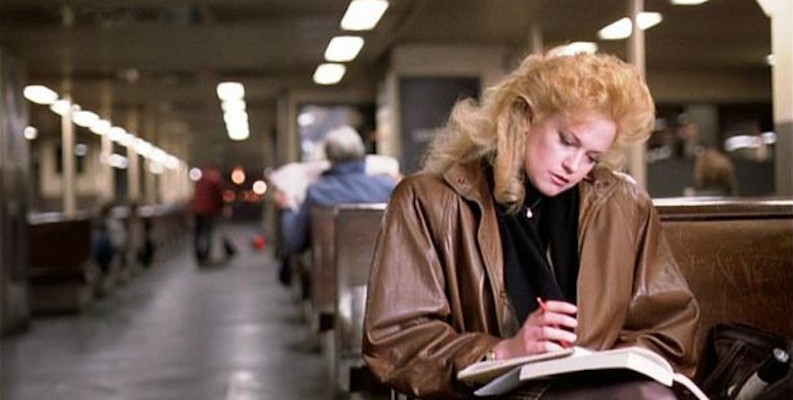 Tess McGill (Melanie Griffith) is essentially restless in nature. This works both for and against her throughout the film in which she can see a new life for herself beyond the looking glass - that is, the waters of Upper New York Bay that separate her home in Staten Island from the glittering cityscape of Manhattan. Every morning, she and her best friend, Cynthia (a superb Joan Cusack) take the ferry to their respective secretarial jobs in the high rises of Wall Street; every evening, Tess is either studying or taking classes on emerging markets or speech. She has a business degree with honors from night school, but as her chauvinistic boss, David Lutz (Oliver Platt) reminds her, she's competing against graduates from Ivy League schools for promotions, leaving her to scrounge for any opportunity. Two aspects of Tess's character we constantly see are that she is constantly reading - books on management efficiency and speaking better English, trade and culture magazines, newspapers, anything - and archiving notable articles in folders, and she is always observing people in powerful positions: how they dress, walk, and interact with the same and opposite genders.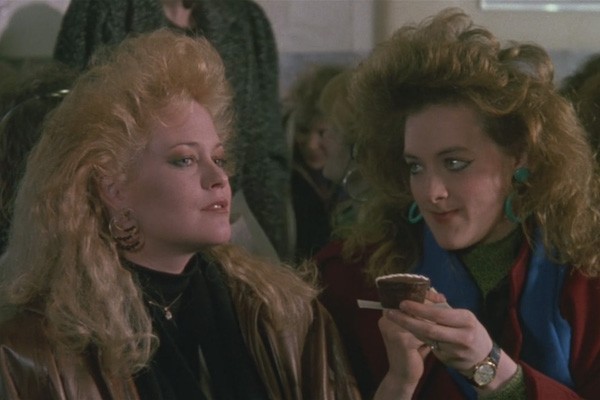 As a team, Ann Roth, makeup artist Joseph A Campayno, and hair stylists Alan D'Angerio, J. Roy Helland, and Francesca Paris treat the women of the film as meticulous creators of their own images, using all the color splashes and kudzu architecture of late 1980s fashion. There is a notable difference in Cynthia and the other secretaries, the women in middle management, and the few in upper positions like Katherine Parker (Sigourney Weaver), Tess's new boss after she quits her old job in retaliation for Lutz pimping her out to a colleague. Even in early scenes with Tess and Cyn walking together, we see a difference in their personalities. For Cyn, her job is just a job, and her life is back on Staten Island, where she is engaged to be married. It's not that she has a lack of vision or ambition, but her goals are a home and family, not a fast-paced career, and Kevin Wade's terrific script respects her for knowing what she wants and being happy and confident with those decisions. That confidence comes out in her styling, as Cyn's hair reaches high towards the heavens and her multicolored eye makeup (straight out of Carole Jackson's Color Me Beautiful) matches her geometric earrings. She's all about color and fun and flirtation, while Tess's wardrobe is as demure as Staten Island will allow at the time: muted colors, patterned tights, high-top sneakers with pumps kept in a filing cabinet. It's like she wants a Manhattan wardrobe on an Island budget, and the little shades of rock and roll in her chunky jewelry and leather jackets and crispy strawberry blond bangs are tiny glimpses into her tough and tenacious core. Cyn is satisfied, but Tess wants more.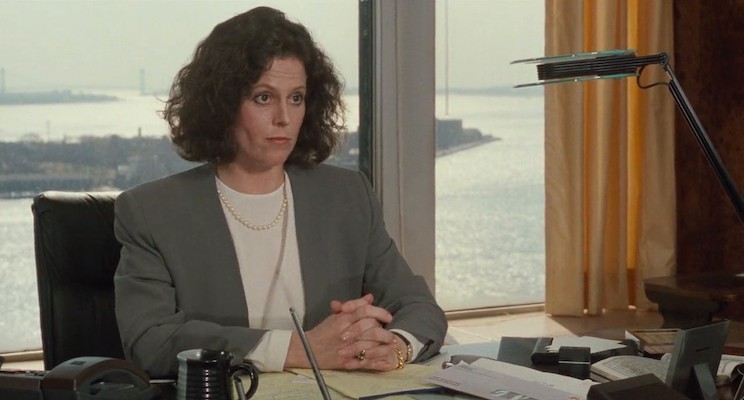 Tess turns 30 at the beginning of the film, and her new boss, Katherine, is just a few weeks shy of turning the same age. Admittedly, Tess has never worked for a woman or someone her age before, and Katherine fascinates her. Impossibly tall and lithe (Weaver is 5'11'), with wavy brown hair and a yuppie wardrobe to kill for, Katherine is an immaculate amalgam of upper-class, old-money Manhattan and the modern career woman, alternating fitted tweed suits and gorgeous overcoats with cocktail dresses that are form-flattering and bold without being overtly sexy. Wade and Weaver created such a fantastic character in Katherine as she dictates the terms of her world while remaining calm, cool, and collected: for instance, in her first private meeting with Tess, she basically tells her to change her look but says it in a smooth, innocuous manner. "People's impression of me starts with you…(and) we have a uniform: simple, elegant, impeccable. 'Dress shabbily, they notice the dress; dress impeccably, they notice the woman.' - Coco Chanel."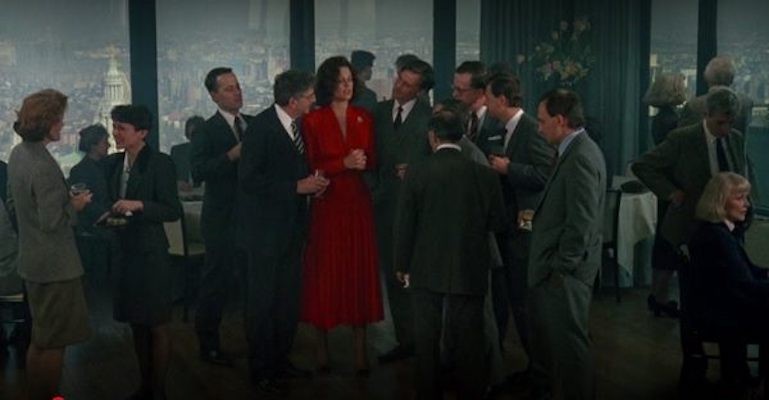 One of Weaver's best scenes (and the reason I can't totally hate her) is when she throws a company party to celebrate her new position and to hobnob with the big players. Tess had suggested an idea for the hors d'oeuvre which Katherine had readily agreed with, but then found herself used as a servant pushing the steamy cart around while her boss deftly managed a group of men gathered around her. Weaver is truly amazing to watch in her long, cherry red dress with wide belt and deeply cut V-neck, keeping the crowd laughing while later smoothly fending off advances of a pasty corporate creep. "Never burn bridges," she tells an impressed Tess, "Today's junior prick, tomorrow's senior partner." Even with her Wellesley education, social privilege and background, and work experience, Katherine still has to deal with the same boorish behavior that Tess does, just at a higher corporate level.
In her early days with Katherine, Tess is ecstatic to be working under a woman for a change, one who listens to her ideas, encourages her input, and might become a mentor. "You don't get get anywhere in this world by waiting for what you want to come to you," Katherine had told her, "You make it happen." Her oily bohunk of a boyfriend, Mick (Alec Baldwin), is outwardly indifferent but I always felt that he sensed she wanted more than he could offer, while he just wanted a simple, supportive girlfriend. He never asked about her work or classes, or encouraged her to extend past the limits of his own happiness. When Katherine flies off to Gstaad for a birthday ski weekend and breaks her leg, Tess has to take over at the office and soon discovers that one of her ideas for a corporate merger has been stolen and deliberately hidden. On top of that, she catches Mick sleeping with another woman (who had attended her birthday party, ugh!), and is at the end of her rope in every way.
When we next see Tess, she's raided Katherine's townhouse wardrobe and wears a smart black suit on and her hair is pulled into a French twist. As she contacts Katherine's partner in the merger, a broker named Jack Trainer (an adorable Harrison Ford being adorable), she experiments more with the vestments of the life for which she aspires, adopting Katherine's clothes, living in her home, and speaking in a deeper, breathier voice that avoids the long o's and w's of the Island. Again, that rock n' roll edge is hard to tame, and Trainer is smitten the first time he sees Tess at an evening schmoozefest where she has come in a short, sparkly party dress that is way too fun amidst the gray and navy suits. "You're the first woman I've seen at one of these things that dresses like a woman, not like a woman thinks a man would dress if he was a woman," he tells her, to which she replies, "Thank you, I guess?"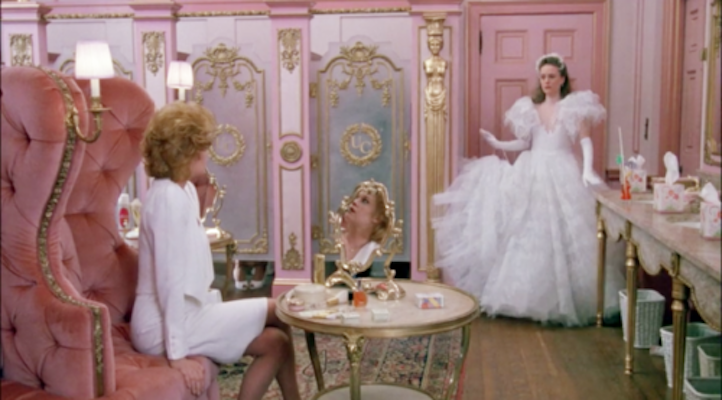 As Tess and Jack's business and personal relationship deepens, Roth's costumes echoe the qualities Tess lists to Cyn in Katherine's dressing room: simple, elegant, risk-taker. In a risky move, she tricks Jack into escorting her to the opulent (and downright tacky!) wedding of the daughter of Oren Trask (Philip Bosco), one of the key players in the merger, and actually wears a white suit! It looks gorgeous but that took some stones. Tess wants to accomplish two things: first, to stand out to Trask, then to "hit him with her smarts," as she has researched his career and deftly points out his past achievements as they share a quick dance together, impressing him enough to arrange a meeting.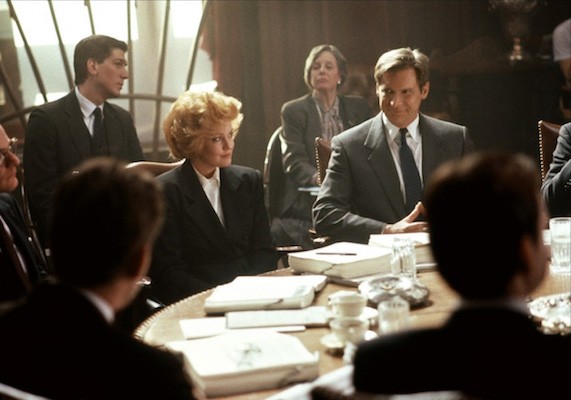 Without giving away the ending of the film, Tess earns her success through her ingenuity, knowing how to balance who she innately is with what people expect her to be or become. She isn't afraid to bend rules to break through because she knows it is essential to sit at the table with people more privileged than herself, but she won't compromise her pride or disrespect others by stealing ideas as Katherine had done. She's more of a fox than a shark.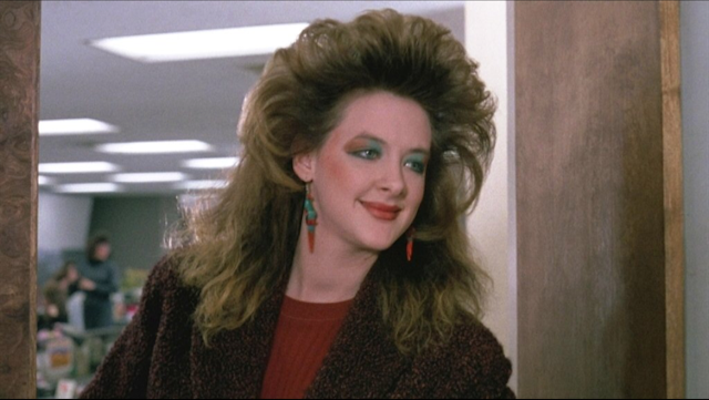 When Cynthia calls Tess out on the risks she is taking, it is less a judgement against throwing her old life away than a warning about losing everything she has worked for - something Mick never understood. She wants her best friend to have everything, but she knows that unlike Katherine, who will bounce back and get extra chances because of her social and educational advantages, Tess will probably only get one shot and if she fails, she won't ever be happy back on the Island. Tess responds with the one line that shows the different outlook between them: "I'm not gonna spend the rest of my life working my ass off and getting nowhere just because I followed rules that I had nothing to do with setting up, OK?" Sounds a bit like Claire, right?