15-year-old Canadian actress, Ella Ballentine, has been performing for about five years now. She has done theater, television and film; she is also a dancer and a singer.
Ella Ballentine clearly has the full star package, and we are sure we're going to see and hear lots of more of her.
At such a young age, Ella Ballentine has had the good fortune of working with and learning from acting icons such as Susan Sarandon (The Calling), Martin Sheen (Anne of Green Gables) and big movie stars like Ryan Reynolds (Cautiva); she has also taken the iconic role of Anne of Green Gables in the reboot of the beloved TV film.
Her new movie, The Monster, is directed by acclaimed horror filmmaker Bryan Bertino (The Strangers). In the horror film, a divorced mother (Zoe Kazan) and her headstrong daughter, Lizzy (Ballentine), make a late night road trip to see the girl's father. As they drive through the stormy night, they have a collision that leaves their car dead, and, as they try in vain to get help, they come to realize they are not alone on the desolate road. The film is scary and full of suspense, but it's also much more than a horror film; it really tells the tale of the family's dynamic and the relationship between this mother and daughter. Ella Ballentine and Zoe Kazan are a fantastic duo and give strong performances, with Ella giving serious Reese Witherspoon on The Man in the Moon vibes.
A24 released The Monster in theaters and On Demand on November 11th. The film is available now exclusively on DirecTV as well.
Besides Ella Ballentine and Zoe Kazan, the film also stars Scott Speedman (Felicity), who plays Lizzy's father.
Check out the film's trailer below:
We had the pleasure of having a chat with Ella Ballentine about The Monster, working with big stars and about how much she enjoys being an actress.
PopWrapped: You started performing when you were about 10 years old; did you always know you wanted to be an actress?
Ella Ballentine: I don't know. When I was really young, I was always really shy around people, but I always wanted to goof off in front of my family. And, then, when I was 4, I started dance, and I loved performing there. And, when I was 9, I started into theatre, and I realized I loved acting, so I kept doing it since then. And now I can't stop.
PW: How do you pick your projects?
EB: I have fun with acting, so it's not really a pick and choose. I'll get a call for a role, and, then, if I'm interested in it, I'll audition and cross my fingers that I get it. I just love acting. And I like variety.
PW: You've done television, too; how would you say shooting TV projects differs from film?
EB: I don't know, actually. I think it's more of the genre than from TV to film. I think the genre of the film you're doing is kind of what depends because I've done a TV movie, which was Anne of Green Gables, so the acting from that is much more theatrical and eccentric. But something like The Monster or even ... I did an episode of Reign -- those are much more serious.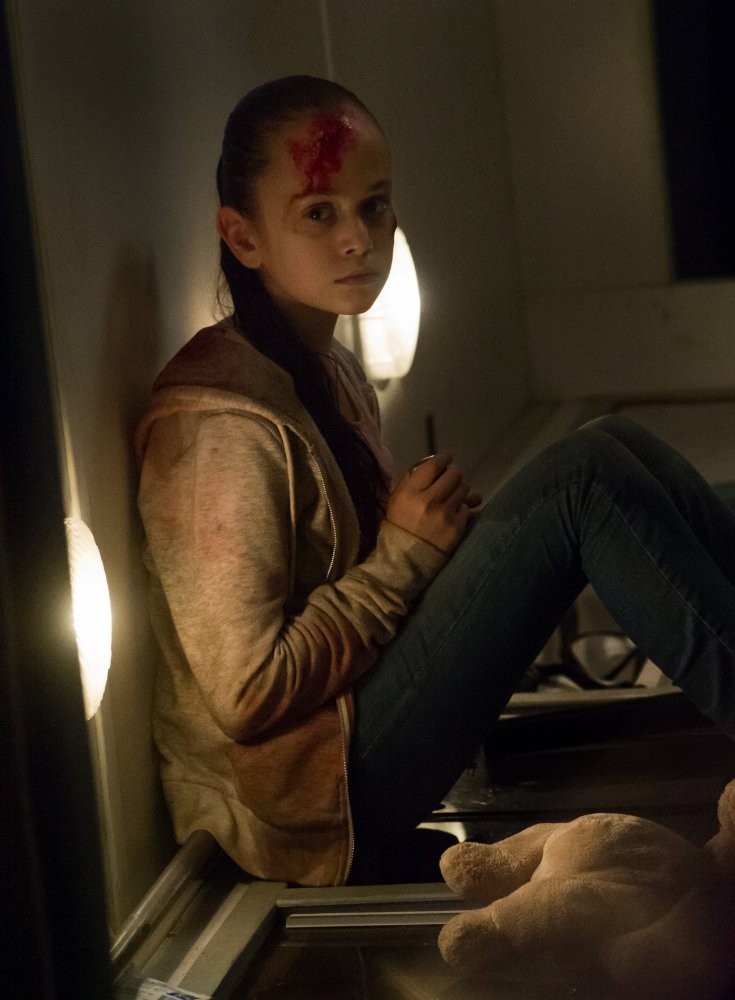 Courtesy of A24
PW: You've performed alongside some heavyweights at such a young age; how do you keep yourself from being intimidated around them?
EB: I don't know if I keep myself from being intimidated (laughs). I think I always am. I've definitely worked with some exceptional and talented actors. I'm kind of always star struck with them. But I think it's just trying to get to know them and know their personalities is kind of what keeps me distracted from who they are and what they've done. So I like getting to know them as a person. They've always been really nice. I've had good luck with working with really nice people.
PW: Tell us a little about the movie The Monster.
EB: Well, The Monster is about this mom and daughter who have a difficult relationship. And they're kind of taking care of each other in different ways and loving each other in different ways but also really hating each other in different ways. So, eventually, the daughter, who I play, Lizzy, she wants to go live with her dad. So they prepare to drive to her dad's house. They get in a car accident. They get stuck on this old road. And there's a creature living there. So it's how they live out the night trying to survive.
PW: How do you relate to your character, Lizzy?
EB: I think I relate to Lizzy [in the sense that] she likes to think of herself as being independent. And, in a certain way, she is because she is mature for her age. She understands what it means to be an adult, but, at the same time, she is growing up, and she needs to accept the fact that she does need her mom around -- she does need her parents -- no matter how hard she tries to be a full grown up. I think that's how I relate. I'm a young teen, and a lot of the time I'm independent and I don't need help, but there are always times when I go "okay, I need my parents right now."
PW: What prompted you to star in a horror film?
EB: My audition for this movie ... the scenes I got from it were totally random, so I couldn't get away anything from the story. And, normally, when I get an audition, they'll give a synopsis for the movie, but this was not the case at all. And so my mom and I were kind of guessing, and it's really hard to do a scene when you don't know anything about the character or the other character you're talking to. But I did my best. I kind of just winged it, and we didn't really think too much what happened because we weren't sure if we were getting this right. And then when I got it, and I got the script and I read it, I was so ... I don't want to say happy, but I had a feeling I never felt before, that was ... I kind of read it, and I realized what it was about and thought, "wow, this is going to be really cool, this is going to be something unlike anything I've ever done before". And I got really nervous wondering if I could do it or not because it's so intense. But I was really glad I did it.
PW: What was your favorite scene to shoot?
EB: I loved shooting the whole movie. I think my favorite scenes would be ones that are really difficult, the ones more intense or more dramatic, [where] a lot is happening. I had to try and find a way I could react to that. Obviously, supernatural things are happening in the film, so how would you react to that? In acting, I'm like "how would I be in this situation?" But in this whole movie, there are so many things ... like, I would never ever be in that situation, I couldn't imagine being in it. And so those were always really fun because it was really ... I had to collaborate with Zoe [Kazan] and Bryan [Bertino], and we had to really work together to find a way that it would work. And so those were always really cool.
PW: For people who get scared easily and are not particularly keen on horror films, why should they watch the movie?
EB: It is definitely a really, really scary film, but I think there's so much good backstory to it. And so, even though it's horror, I would also put it under the category of a drama because it's not just about this monster trying to kill these people; it's about this mother and daughter and their relationship and how it grows and how it progressed through the years. And you get flashbacks -- and you get to learn more about them [throughout] the whole film. [Learn] of their situation and, before it progresses, you get to learn more about their past and that part is really interesting, too.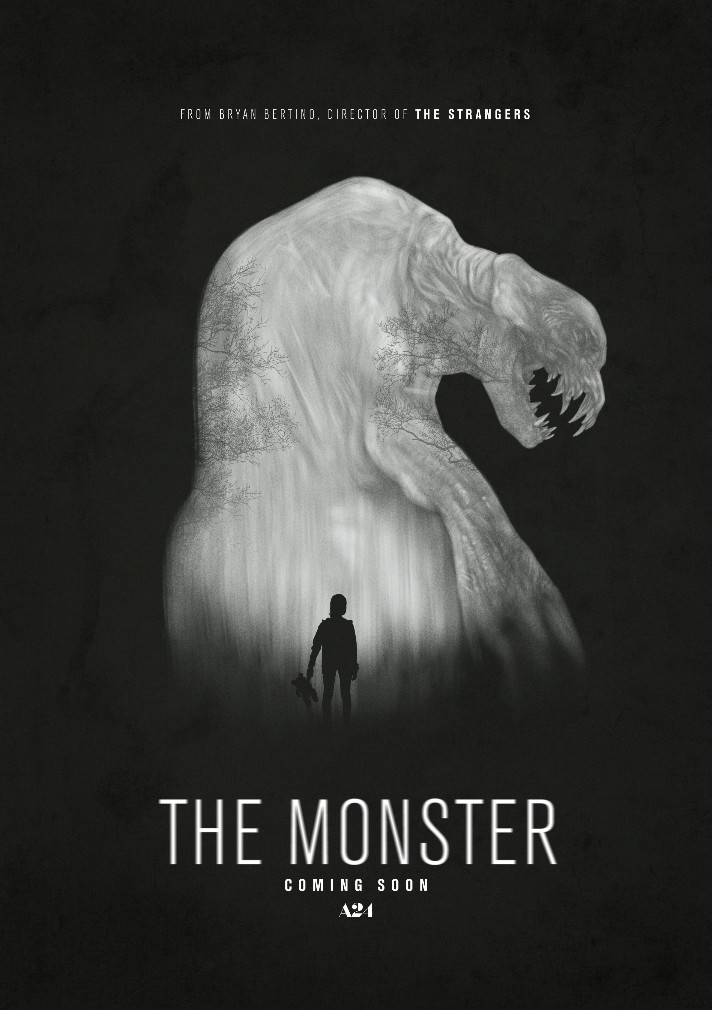 Courtesy of A24
PW: You are also a dancer and singer, and you've done theater before; would you like to focus on a film career at the moment or would you like to go back to the theater, maybe do some Broadway?
EB: I love everything. I like to do whatever is thrown my way. I will take it. I love performing in any way possible.
PW: Any new projects coming up that you want to tell us about?
EB: Well, I have Anne of Green Gables. It's airing on PBS on American Thanksgiving. So that's about it. And now here's The Monster, which everybody should watch.
You heard her people; go catch The Monster on theaters, On Demand and on DirecTV.