There has always been a kind of separation between celebrities and the general public. Fans and "common folk" tend to hold these people on a pedestal. It's the way it has always been. These days, with social media platforms like Facebook and Twitter, fans have way more access to their favorite celebrities. This kind of access blurs the lines of privacy and basic rights between fans and the rich and famous. Some stars have taken precautions to protect their privacy as much as possible. One such star is Emma Watson. 
We all know Watson from the Harry Potter movie series and for her highly-anticipated role as Belle in the upcoming live-action adaptation of Disney's Beauty and the Beast. She's a mega movie star and because of that, she is instantly recognizable while out in public. If fans happen to be fortunate to meet Emma while she's out and about, she is happy to stop and chat, but she adamantly expressed that she will not take photos with fans. It may be disappointing for fans, but Watson is just as entitled to privacy as anyone else. 
The reason she is making this choice is because of the underlying metadata attached to photos that are posted online. This includes the timestamp indicating when the photo was taken and the location coordinates. Some people may be privy to these settings and know how to circumvent the attachment of such sensitive information, but Watson isn't willing to risk that. Look up any location on Instagram and hundreds, if not thousands, of photos will come up that were taken at that location. Most of the time, there is no problem, but for someone living in the public eye, this can be a dangerous thing. There are several examples of stalkers and obsessed fans being resourceful enough to use information in unsettling ways. 
Emma Watson stated, "For me, it's the difference between being able to have a life and not. If someone takes a photograph of me and posts it, within two seconds they've created a marker of exactly where I am within 10 meters. They can see what I'm wearing and who I'm with. I just can't give that tracking data ... I'll say, 'I will sit here and answer every single Harry Potter fandom question you have but I just can't do a picture.'"
She does make a valid point, although she further clarified that her decision will be on a case-by-case basis. She went on to explain, "I have to carefully pick and choose my moment to interact. When am I a celebrity sighting versus when am I going to make someone's freakin' week? Children I don't say no to, for example."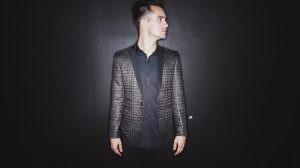 chorus.fm/Brendan Urie
Watson isn't the only celebrity that had to set boundaries and take drastic measures to ensure privacy. Brendan Urie, frontman for the band Panic! At The Disco, tweeted recently that he had to move into a new house due to the overstepping of some fans into the sanctity of his private life. The full statement from Urie is transcribed below.
Three years ago I bought a house. A dream home, really. I had a studio built in part of the house, wrote an album there, jumped off the roof into the pool countless times. It was incredible.
Also during that time, since my address was public, I would receive letters and/or gifts from fans. This never bothered me. But as time progressed, so did the amout of letters. Not just letters and gifts, this soon changed into visits and constant harassment from fans. It got so bad that I didn't feel safe in my own home.
So it's with this statement that I'm announcing I have moved on from what was once a safe place.
I only hope this sheds lights on what inappropriate behavior looks like. Boundaries are boundaries for a reason. Everyone has a right to feel safe and everyone has an obligation to be happy. So I'm taking my family somewhere that might make this a possibility.
Thank you, old house, for giving me a creative space and for lending me a place of rest, even if just for short periods of time.
That being said, I would LOVE to continue reading your letters and gifts. So I leave you with an address nowhere near me that I'll have checked periodically. Thank you, love ya.
901 N Fairfax Ave, #176, Los Angeles, CA 90046-7203
Beebo, out.
Farewell, old house. pic.twitter.com/g4bxmW3pQF

— Brendon Urie (@brendonurie) February 25, 2017
These are just two examples of celebrities having to reel in their accessibility to fans. Watson and Urie have the right to privacy and to make choices based on keeping themselves and their families safe. It's about balance and compromise. We are privileged to live in an age where information and communication is so accessible, but knowing when things are going too far, that is where respect comes in. Urie said it best, "Everyone has a right to feel safe."