Chad is an indie artist from North East England who first caught our attention when he released his track "Swim" as Cape Cub, only to really reel us in with his debut single "Lantern,", as well as stun us with his new single, "Keep Me In Mind." Already being considered one-to-watch among the blogosphere and delivering music of such quality, a little Q&A for us and the rest of the world to get to know more about him seemed inevitable.
PopWrapped: Hello Chad, I'm glad to be chatting with you! Can you shortly introduce yourself to our readers to start with?
Cape Cub: Hey! My name is Chad, and I go under the name of Cape Cub.
PW: How did you come up with Cape Cub as your stage name?
CC: Sadly, there's nothing too inspiring! The phrasing takes itself from the place Cape Cod, but I'm not hugely keen on the name 'cod' in a band name haha.
PW: When did you decide music was what you wanted to do and how did it all begin?
CC: I first picked up the guitar when I was about 9-years-old. When I was about 11, I started writing songs – note: they were pretty awful. And then since the age of 14 I've played in bands. Some pretty questionable songs have been written since, mind. But ever since those ages I've felt like it was the one thing I had to do.
PW: What drives you when crafting a song and how does it all take place? Can you walk us through the creative process?
CC: It can start in a number of ways. Sometimes I have a full song in my head that I need to just get out. It can have all the drums, the keys, the guitars etc. It gets messy man. But then sometimes it just starts out with a guitar part, or a vocal part. "Lantern" started out with a piano part. "Swim" started out with a guitar part. And "Keep Me In Mind" started out with a guitar part but I already had the verse in my head. Sometimes I just loop stuff when recording and see what happens over the top.
PW: How would you describe your own sound in three words?
CC: Atmospheric, intimate, widescreen.
[soundcloud url="https://api.soundcloud.com/tracks/227133015" params="auto_play=false&hide_related=false&show_comments=true&show_user=true&show_reposts=false&visual=true" width="100%" height="450" iframe="true" /]
PW: Now that "Keep Me In Mind" is out, what's the next step for you? A music video, any performances planned, or another single?
CC: The debut EP is going to be out in the New Year. I'm also working on a visual now for "Swim" with our drummer who's a filmmaker. We've got a couple shows scattered in the North East leading towards Christmas too, but in the New Year we're going to be hitting the road properly and really getting these songs out there. I can't wait.
PW: The emotion in your vocals and the lyrics of the song are truly admirable. Is there a personal story behind it?
CC: Thank you, Lazaros! I'm glad you think so. There's a personal story behind every song I've put out. Sometimes I'm maybe bordering on too personal. But what the hell, I guess people connect with honesty!
PW: I suppose there's an EP or a full-length LP on the way, so which one is it and how is it coming along?
CC: Debut EP in the New Year! Coming along very nicely indeed, I can't wait for everyone to hear it.
PW: It's unbelievable that you don't already have a major record deal. Would you be down for one, or do you choose to release your music independently?
CC: I try not to think about those kinds of things too much. As long as I'm able to put food on the table and have a roof over my head, and to keep doing what I'm doing and have a label that believes in it, then that's all that matters. Major or indie, it's more important that they invest their hearts in it.
PW: Unfortunately, we've heard lots of stories about artists who have to sacrifice part of their creative control in exchange for label support these days. How do you feel about that?
CC: I think it's a shame really. I guess you have to be wise in who you choose, and to make sure they know exactly what you're trying to do and not settle for second best.
PW: From producers and songwriters to singers and instrument players, can you name your top-3 dream collaborations?
CC: Bruce Springsteen. Flood. Markus Dravs.
PW: What kind of music are you listening to at the moment? Can you name a couple of songs from your current playlist?
CC: Yeah sure! In fact I have a Spotify playlist called | THE NIGHT DRIVE | if you wanna check it out, it's got all sorts of stuff I'm into at the moment… The most recent I've added are The Staves – "Mexico" / Spooky Black – "Pull" / Drake – "Over My Dead Body" and The Smashing Pumpkins – "1979".
PW: What's the single most important piece of advice you've been given regarding your career?
CC: Know what you want to do and stick with it.
PW: What would have to be the #1 goal you'd like to achieve as an artist?
CC: Right now, and I always say this, is to own a van! Haha. Things would be so much bloody easier for shows. But other than that, it would be to play Leeds Festival. I pretty much grew up at that festival, so that would be a sick milestone for the boys and me.
PW: And before we call this a wrap, would you like to say goodbye with a few words for your supporters?
CC: Thank you so much for being a part of this and for believing in the music. You're all incredible humans and I hope you stick with me so we can enjoy this ride together.
If you're already hooked and don't ever want to miss another beat by Cape Cub, you can follow him on Facebook, Twitter, Instagram and Soundcloud.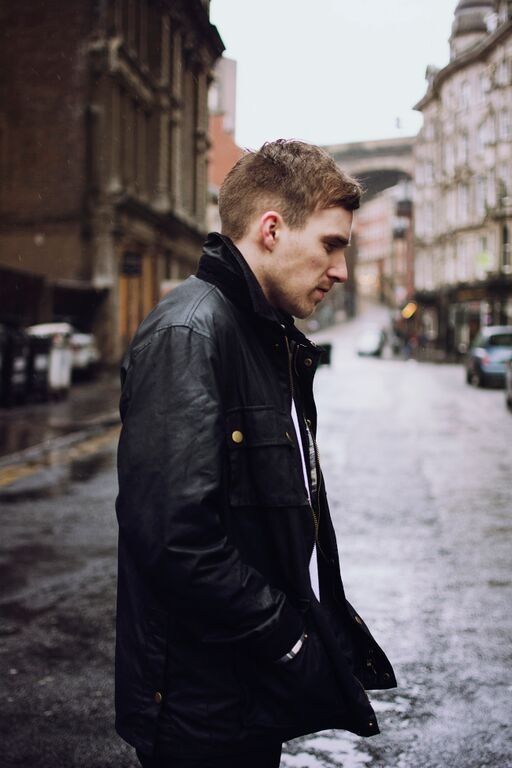 Courtesy of Cape Cub