I got the chance to chat with the amazing Felicia Day about gaming, life on the internet, overcoming barriers and, of course, her new book, You're Always Weird on the Internet (almost). You may or may not know it, but our beloved Queen of the Geeks, as well being one of our favorite actresses (long live Charlie Bradbury), is also a merit scholar, classical violinist, graduate of the University of Texas on a full scholarship where she double-majored in music performance and math, and, of course, created a TV show based on her life as a gamer! She sings, dances, and owns the multi-media company Geek and Sundry. That's right slackers, and now she has written a book.
What have you done with your life?
One of the coolest things about getting to interview celebrities is when they actually make you feel like you can do just about anything, which is definitely what you feel when you chat with Felicia Day!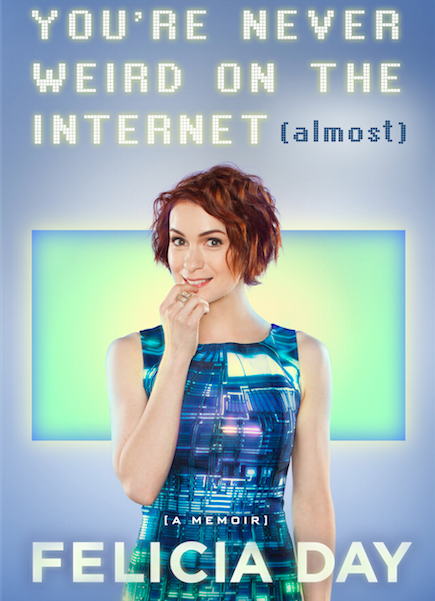 Courtesy of Liza Anderson/ Felicia Day
PopWrapped: Did you always intend on writing a book about your life or was it a more recent idea?
Felicia Day: Actually it was never on my radar to do an autobiography. I do love reading autobiographies of other people because, especially if they're inspiring, to see what they've gone through to get to their success helps you overcome the setbacks and barriers you might encounter yourself. I'm a fan of autobiographies but I never thought about doing my own. I actually always wanted to write a book but probably more fictional because I'm a huge reader myself. I read lots of fantasy and Sci-Fi and romance, it's the way I spend my time. So the reason I wrote a book was because frequently over the last couple of years after being online and doing what I do for so many years, a lot of people were looking for me to do speeches and presentations, not only about creating content for the web but for being out of the box and embracing your creativity. And when I meet people after these speeches to see the journey that I'd been through had an impact on them inspired me to try to put it in a more permanent form so that it would maybe last beyond my fame. Even if it's just one person who reads it and enjoys it and maybe makes different choices or is brave enough to create [because of it], I think it will have been worth a year of my life writing it.
PW: What was the process like, writing a memoir and revisiting your life?
FD: I think I'm a much better person now that I've been through that process. It's kind of a year of self-therapy that I went through. The most valuable thing was looking at my life in an objective way and always thinking, how can this be useful to someone else versus 'let's put down the emotion of what I experienced, let's just tell a funny story'. I wanted to make sure that each chapter and each incident that I shared had a deeper meaning that someone could take away from it. And on top of that made them laugh a lot. So there were two tiers I was going for. One creative, because I love comedy, and one more meaningful that made it useful to other people versus me just talking about myself, because that would be way too much.
PW: Gaming is a huge topic in the book – you even created The Guild based on your experiences as a gamer – how do you think gaming has changed since you started gaming as a kid?
FD: I was homeschooled so I didn't really know people around me physically who were gamers, except my brother. There were some incidents I actually tell about this in the book, where I actually met some people I had met online in person, but really I kind of grew up in a vacuum so I just kind of enjoyed what I enjoyed without other people having an opinion about it, which was kind of freeing in a way. Certainly I've seen a huge shift in the demographics of gaming, just the size of gaming culture. Gaming is not only one of the biggest businesses in entertainment but it is a lot more mainstream in that people from all walks of life are gamers especially since mobile emerged and I think the diversity of the kinds of games is kind of in a renaissance. The indie game scene I think rivals anything about indie films or even visual art that's out there now even music. I think it's matured as art form and I think the demographics have gotten broader and I think that's fantastic because it's inviting more people to feel like they can have a voice in gaming and their creativity or business aspirations are more inclusive and just broader. So I think it's fantastic because I'm gaming instead of watching TV.
PW: One of the first and most successful web series was your creation from start to finish, The Guild, which you talk about in the book, but tell us a little bit about the creative process, the biggest challenge of writing and creating that piece of art from scratch.
FD: A lot of it is in the book. There were a lot of barriers to success and really there's a lot more templates to look at now and days - just 8 years later. Web video is not [a] foreign concept to everyone. Back then trying to convince somebody that gamers are actually online and can talk to each other while they game was such a foreign concept. The idea that you could have web video online that wasn't web video at all. Really, YouTube had just started a year and a half before we uploaded. It was a lot of education and overcoming barriers. I guess the biggest challenge was in the chapter where I just decided to write and finish something. I mean really, that was the biggest barrier because I had so many inhibitions about being creative enough in that way and feeling like I didn't have a right to put something down on a page. It was scary to actually finish something and not just stop myself every second because it wasn't perfect. Once I finished that process and felt the fulfillment that I felt with completion, that was really the biggest barrier. And when I found that sense of meaning and that sense of community in the show with my friends, that was hard but it felt like it was possible at that point. So whenever anyone asks me how do I start creating I always tell them to see something through regardless whether anyone will see it or not. Don't think about the end result, just enjoy the process of putting something brand new down on paper. And surround yourself with people who are doing the same thing and you guys can support each other through all the hard times because no one creates out of joy all the time. I think that's just unrealistic. I think we look at the results of other people who have already gone through the process and see their finished product and think "Why can't I be like that instantly," but you don't really understand how hard it is for that person to have arrived there and what they're struggling with. So everyone's journey is individual and you have to find it in yourself to do it for yourself, regardless of what you think other people will get from it.
PW: What advice do you have for people looking to follow their dream?
FD: Make sure your dream is something that's yours versus something someone else is telling you that you should want. Know If you're trying to do something out of the box or something unusual based on who you are you're going to encounter a lot of resistance as you go along, but if you have that in your heart, that sense of meaning, that you have to be on that path it's a lot easier to overcome resistance from people or negativity or barriers that we're always going to encounter. And surround yourself with positive people who are encouraging is the way to get through those times as well.
You can find You're Always Weird on The Internet (almost) here and visit here to see if Felicia Day's book tour will be coming to a town near you!