From providing odd Do-It-Yourself techniques, to videos of cats being absolutely adorable, YouTube has become a regular part of people's everyday lives since its inception in 2005. Other than providing a pleasant way to procrastinate, the video-sharing website also acts as a way for people to learn more about others, as well as themselves.
This was the case for Kaitlyn Alexander. In a relatively short amount of time, Kaitlyn went from just another person who discovered a home in YouTube during their college years, to becoming a YouTuber that is proud to be who they are.
I got the incredible opportunity to talk with Kaitlyn about some of the experiences that brought them to where they are today.
College can be a strange, intense time for anyone and unfortunately for Kaitlyn, they were not spared from the intimidating uncertainty that awaits students after school ends. When they were graduating from the University of Toronto and Sheridan College's Theatre and Drama studies program, they found themselves not exactly in the presence of encouragement and hope for a successful future in their major.
"A year ago, I was graduating theatre school and I had just been told that if I ever cut my hair short, I would never get a role in the industry," Kaitlyn explained. "I was literally told for four years that I had to look a certain way and act a certain way just to get roles. So I was like, 'Screw it. I don't want to be an actor.''
http://kbearluna.tumblr.com/post/123739359001/about-a-year-ago-i-would-have-been-so#notes
Despite cutting of their hair and essentially giving up on acting, they were still signed up for headshots as well as a casting workshop from their time at school. Although Kaitlyn had given up, they soon found themselves getting calls for auditions for roles.
Acting has played a major part of Kaitlyn's life. They have only been acting professionally for approximately 11 months, but have been involved with the art for 12 years. It was definitely surprising to learn that this very open, humorously opinionated person was actually very shy and only got started because of a school requirement in Grade 9.
"I was like the shyest kid," They reminisced. "I didn't talk to people, I didn't speak up in class. I was just invisible. So, I was forced into it and it literally changed my life. I became a different person because of it, which I'm really grateful for. If it wasn't for acting, I'd be a doctor who binge watches Miranda Sings."
The irony wasn't lost when Kaitlyn shared that they had originally been studying to be a doctor. Kaitlyn is known for their role as biology major/probable mad scientist LaFontaine on the YouTube Series Carmilla.
"I actually had to research terms cause when I gave up being a doctor, I gave up on everything science related," Kaitlyn joked before going on to describe LaFontaine. "They're loyal and fierce and really into science. There's nothing they can understand better than science."
LaFontaine is not just a budding scientist and unofficial truth speaker. LaFontaine has been shown throughout the series as someone who no longer wishes to be called Susan because that's not who they're comfortable with.
LaFontaine, like Kaitlyn, uses they/them pronouns because they are non-binary. Other than people's concerns about them, combined with science that could go wrong, and the occasional slip up of their lifelong best friend's adjustments to their new identity, LaFontaine is an important character because they are treated like everyone else. No sugar coating, no special treatment, just as normal treatment as one could get in a supernatural cornucopia that is Silas University.
Because of their role with Carmilla, they had discovered some major facts that changed their life.
"Before playing LaF, I did not know that there were genders outside the binary," Kaitlyn shared on their experience. "It was completely out of my league. I grew up and went to Catholic school, where you didn't even know what gay was. I always felt weird in my own skin. I was comfortable with the whole gay thing, but I didn't want to be a guy. I also wasn't comfortable being a girl. I thought I was just honestly messed up in my brain. Then I got to play LaF and I was like 'Oh my god, there's a word for this? There are other people like this'?"
"I watched any videos I could find but there's not much," they said of their research. "Actually, one of the writers was the one who explained the concept to me. And from that, I wondered: 'What's gender queer? What's gender fluid? What's all this? They're all different things'."
Kaitlyn elaborated that they personally identify as gender queer, meaning that they don't identify as a male or female. They are happy with being in the middle ground, without having to pick a side or label who they are. They also enlightened me a bit further on the subject of gender queer.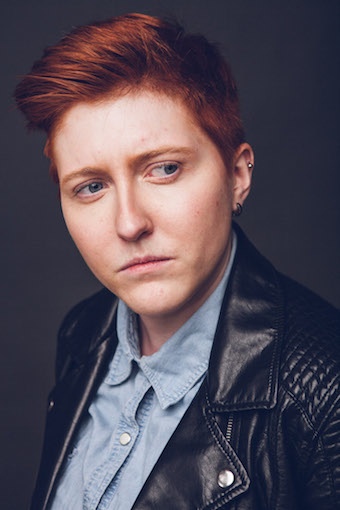 Kickstarter.com
"Gender queer means different things to different people," Kaitlyn said. "Some use it as an umbrella term for anybody that may be non-binary. Some people use it as a synonym, some people don't. Some people are like 'No, I'm not gender queer. I'm non-binary' or vice versa. Some use gender queer as an umbrella term."
Kaitlyn's own search for answers revealed that, unfortunately, there is not that much media out there to help inform people about some of the identities that exist beyond male and female. They actively have been using various forms of media to help be a voice for those, such as this video on their YouTube Channel, Realisticallysaying:
The world can be a confusing and scary place for young people just trying to find out who they are. Thankfully, there are great individuals like Kaitlyn Alexander who are trying to make a difference by putting out more content that has representation of the true variety that exists in the real world, such as their upcoming web series Couple-ish. Kaitlyn may be one person, but all it takes is one person to make a difference. Even if all they're doing is making some videos where they talk about life, sing a little or have interviews accompanied with a little bit of gin, their bravery to be who they are is more than enough for this journalist to be immensely grateful for everything they've done and everything they will do in the future.
For more on Kaitlyn Alexander, you can find them on