Anime: Fairy Tail (Collection 5)
Released By: FUNimation
Release Date: November 3rd, 2015
Retail Price: $54.98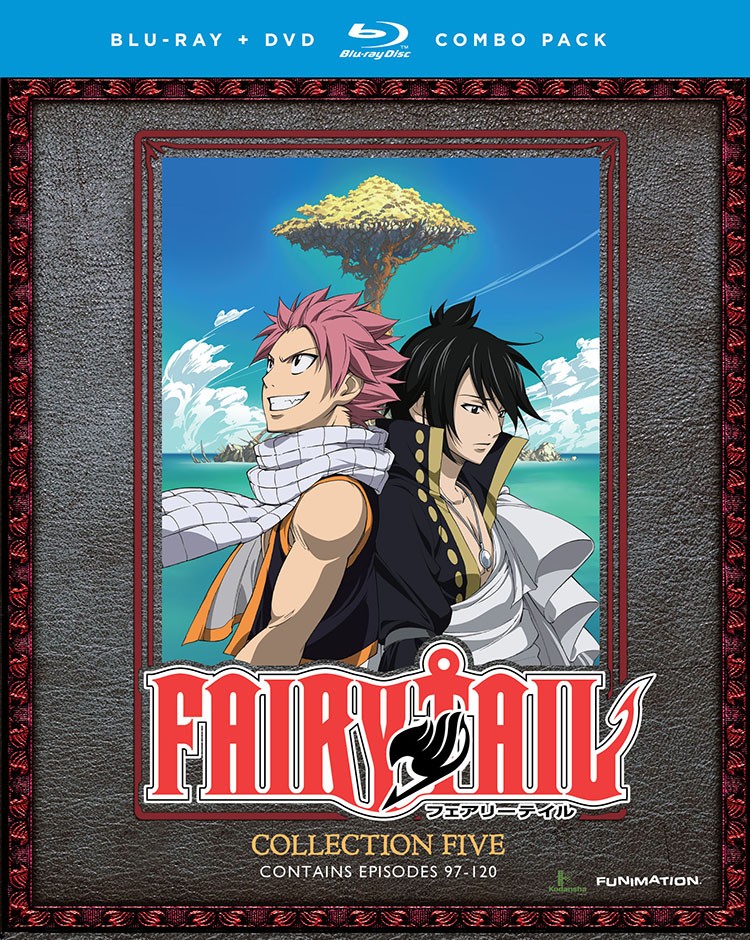 FUNimation
FUNimation has released another collection of the popular anime series Fairy Tail, with a large bundle containing one of the fan favorite arcs of the anime on DVD and Blu-ray. Fairy Tail (Collection 5) contains episodes 97-120, where the most powerful wizards in Fairy Tail make a journey to a secluded and historic island that thrives on potent magic (Tenrou Island). Once there, they will each partake in a competition against one another where they fight for the acclaimed title of "S-Class" Mage. The position of power is comprised of numerous trials for them to prove their worth, but things don't play out as planned. The most recent addition to the S-Class test is shaken up when they are interrupted after one trial - by a dark guild known as the Grimoire Heart, the strongest of any dark guilds in Fairy Tail. The Grimoire Heart comes to Tenrou Island in search of a mythical wielder of black magic. If they can discover him, they hope to harness his abilities as a catalyst for death across the globe. Fairy Tail must take this opportunity to come together if they have any hope of defeating the insanely dangerous foe, but that's not the only imminent threat…
This arc marks the appearance of an ominous character known as Zeref. Zeref is an ancient (and considered to be the strongest dark mage around) and the sought after character that the Grimoire Heart is searching for. From his introduction, the cool and collected demeanor of Zeref gives an air of mystery, and he claims to have anticipated the arrival of his "brother" and series protagonist Natsu. The two get off on the wrong foot, but the relationship could be crucial to each character with Zeref's possible plans could jeopardize the age of magic entirely. His character varies, giving off wisdom for his life of 400 + years, hoping to make amends for his decisions he has come to since regret. Despite his regrets, Zeref also isn't afraid to punish those he feels deserve it – making him a dangerous character even to those who like him. Zeref's unpredictability proves itself best with a rivalry that pits him against the founder of the Grimoire Heart guild (Hades himself). The character definitely is a strong aspect of this arc, reminding me of one of my favorite television character (Godrick from True Blood) for his sense or questioning or morality.
The arc deals with several characters, and additionally dives into several individuals back stories that can on more than one occasion hit an emotional chord. Meredy and Ultear are two characters in the arc that are examples of the seriousness that Fairy Tail captures. Though both characters are actually on the dark side of the story, their own personal agendas and experiences become the forefront of their plot, escaping the traditional villain persona. Of course, that's not to say they aren't responsible for trouble (at one point they even obtain Zeref) but their loyalty in regards to each other is tested with certain reveals that cause questions to surface for their parental dynamic. Towards the end of the arc, one character even makes a life altering decision to spare the other's feelings, making a consequential decision that puts their relationship on the line. The arc itself presents these interactions in an enclosed location, with tension arising in every way possible.
This particular setting and storyline also provides viewers with a better look at certain characters on the outskirts, and their respective roles in Team Natsu. Of course there was major growth and exploration for Natsu, dealing with his family, and the task of coming to terms with decisions that could essentially alter the fate of the world. His decision (which I was relieved by) was a definitive moment in the series – but others like Cana found themselves center stage. Cana was a character that was known, but wasn't given such prominence until this recent arc. In the beginning she tries to make a final decision on her participation with Team Natsu if she can't achieve the level of power she has tried to reach countless times. When things derail and the Grimoire Heart makes their presence known – she doesn't get to find out her answer, but her importance is surely embraced. For one, she finally gets the chance to discover her family roots with a parental revelation that isn't an easy conversation to spearhead. Her quest is left unanswered for now, but it gives viewers a better appreciation for the others that have dreams of their own.
The concluding chapters of the Tenrou Island arc begin to focus on darkness and looming devastation with a creature wreaking havoc on all who get in its path. This apocalyptic dragon is hell-bent on destruction, and the characters are reminded how quickly they can be rendered helpless. The storyline comes to a screeching halt with something that certainly concludes the particular plot, but effectively sets up future stories for the other characters. The animation in Fairy Tail is on par with the rest of the series, allowing a new important location to take in, and many characters to process both in plot and art. The English voice cast includes Todd Haberkorn, Cherami Leigh, and Joel McDonald, and there are extra features or additional content that also includes textless songs, and episode commentaries for the large Fairy Tail fan-base to enjoy on DVD and Bluray now. 
Overall Score: 6.8/10
Aedan's Final Thoughts:
- As someone who hasn't been able to experience the entire series this may have been plot heavy, but it gave enough intrigue to enlist new or returning viewers.
- The concept of Tenrou Island was a fun particular setting for the ongoing anime, and the trials would have also been interesting to see develop.
-Seeing multiple characters have a chance to explore their own personal lives while battling was a tricky/rewarding plan.
-Having a bundle such as this is a great opportunity for fans to binge watch the series for a larger number of episodes on either DVD or Blu-Ray.