Fandom Fest had a fan-tastic experience for all fans at NYCC! Taking up a huge section of the main convention floor, Fandom Fest celebrated all things fandom with a Fandom Factory screen-printing station, a Hulu's Future Man inspired Gamer Den, and a Fandom Fantasy Food Truck!
At the Fandom Factory, fans could have t-shirts or tote bags screen-printed with different designs inspired from some of our favorite shows/movies, including Wonder Woman and Game of Thrones. Who doesn't love some free swag?
In the Gamer Den, fans had a chance to play some modern day and 80s style games. The older games brought back so much nostalgia and parents were able to show their children games that they used to love! These kinds of fan interactive booths make Comic Con so much more exciting. Fandom is always trying to feed fan passion and they did just that!
Fandom even went above and into the beyond to make food inspired by some of our favorites: The Walking Dead, Rick and Morty, Star Wars, and Stranger Things.
The first one we tried was a The Walking Dead chocolate and caramel dipped pretzel Lucille Bat. It was even topped with a candy eyeball to give it the full effect. Although seeing Lucille can be a bit frightening, this version was very delicious!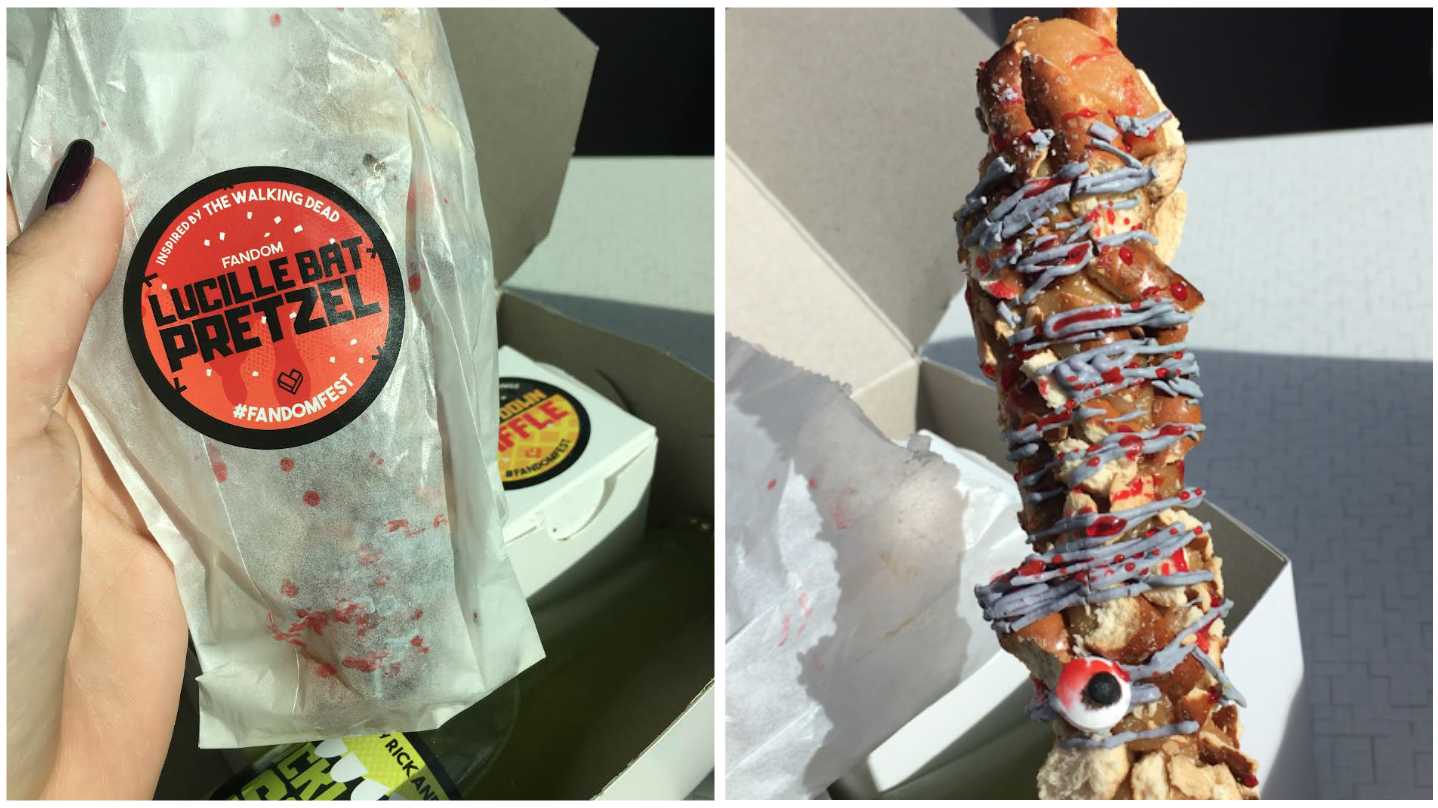 The second food we tried was a waffle from the Upside Down, inspired by Stranger Things. This waffle was topped with chocolate goodness and we think Eleven would approve of it too. It was truly from another dimension.
The food truck even had Porg in a Blanket, inspired by Star Wars. This little guy looked almost too cute to eat, but of course we had to try. The cuteness dusted with cinnamon was spot on!
The last one was Pickled Soda from Rick and Morty. After eating a lot of chocolate and caramel, this pickled drink was just what we needed. Fandom Fest really "nailed" all of these tasty treats and brought a great element of fun to the convention floor! We can't wait to try and recreate some of these fandom foods at home.