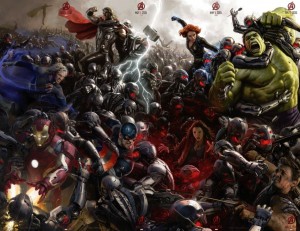 Shane Avery
Senior Staff Writer
Avengers: Age of Ultron
gathered without their director Joss Whedon (who was nursing his knee following surgery) and a pregnant Scarlett Johansson. The crowd DID get stars Robert Downey Jr., Chris Evan, Chris Hemsworth, Samuel L. Jackson, Jeremy Renner, Mark Ruffalo and newcomers to the franchise Aaron Taylor-Johnson and Elisabeth Olsen. And the crowd got a MAJOR treat for the May 1st 2015 film. While the teaser hasn't been made available to the public yet (or more specifically YouTube),
PopWrapped 
can fill you in on what was seen, and the fact that the crowd erupted in cheers is a telling sign. I'll keep this brief, but for the full SPOILER from the teaser, click 
HERE
. But for the rest of you wanting Coles Notes:
SPOILERS
Following some lighthearted moments between our superheroes (jokingly trying to lift Thor's hammer), the menacing Ultron (voiced by James Spader) arrives. And chaos ensues. During the furious battle, the classic song "I've Got No Strings" song begins playing, with Ultron finishing with: "There are no strings on me." And with that, we see a glimpse of Captain America's iconic shield SHATTERED and a shot of Tony Stark surveying the damage..... And ALL of the Avengers DEAD.
SAY WHAT!!?!?!?!?!?!?!?!?!
Many have begun placing theories on the ending of the teaser, with most saying that Tony has a premonition of the outcome and vows to change it. What do you guys think of this? Are you even more excited for
Avengers: Age of Ultron
now?
Keep Up With PopWrapped On The Web!