Welcome back, Speedsters! It's time for another episode of The Flash! Last week ended on a bit of a cliff hanger, with Barry proposing to Iris and Wally catching a glimpse of Savitar in a terrifying final scene! Now, with things left unresolved, let's see how our band of heroes fares this week, shall we?
"The Wrath of Savitar"
We open with Jesse and Barry helping Wally train so that he can get fast enough to confront Savitar and save Iris. As they celebrate Wally's improvement, Wally sees another flash of Savitar in the distance. Back at S.T.A.R. Labs, Caitlin and Julian have a brief awkward exchange before Barry and Iris announce their engagement. Everyone is very excited ... well, except Joe, who is upset that Barry didn't ask his permission (a bit archaic, if you ask me, but to each his own...).
Meanwhile, there's a fire in Central City, and Wally and Barry race off to put it out. On the way, Wally sees Savitar again and is attacked. Barry, however, can't see him and tells Wally that it's all in his head. Barry is angry that Wally kept it from the team, and Caitlin decides to test him to see if it's all mental or mind control, like Julian. Barry decides to bench him until they can definitively know that he isn't being controlled. He also asks Julian to let them use him to speak to Savitar again.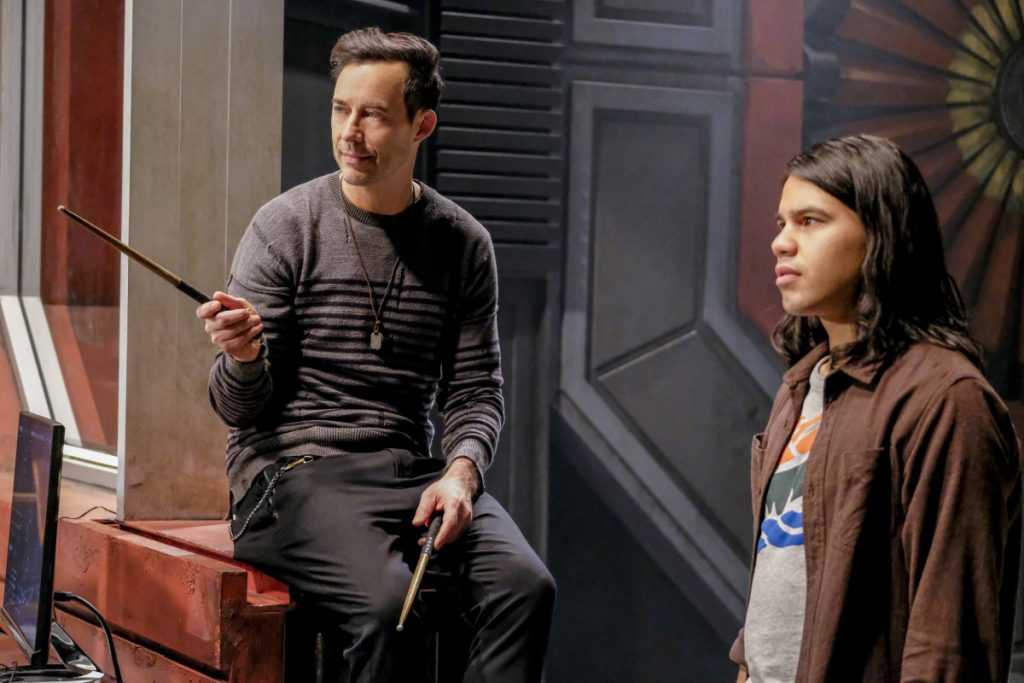 CW
Although Julian refuses, not wanting Caitlin to see him as Savitar, she tells him that it won't matter to her, and he agrees, kissing her in the process (and may I say, it's about damn time). Savitar tells them that he's trapped for an eternity and that Barry put him there. He says that he's Barry's biggest foe, that they took everything from him, and that they made him the way he is. Barry says that he's not a threat, especially with the stone gone. But Savitar seems to think the stone is still in play.
After a few more creepy threats, the team wonders what Savitar may have meant about the stone. Barry heads off to see if the Acolytes know anything and finds them worshiping the evil god with a box that looks oddly similar to the one he supposedly threw in the Speed Force. Barry takes the box back to S.T.A.R. Labs, where Julian tells them that the box is the one from before. The team stresses over the possibility that the enemy could have the stone.
Wally continues training with H.R., but his stress and fear get in the way. Wally says that, maybe if he could see how Iris' death happens, he could help her better, and he and H.R. ask Cisco to help. Cisco reluctantly agrees and vibes him into the future. Afterward, a distressed Wally confronts Barry and reveals that Barry only proposed to Iris because he wanted to change the future, where she wasn't wearing an engagement ring. Naturally, Iris is upset and leaves.
Later, Julian tells Caitlin that he's worried he may be the one who betrays the team, but she quiets his fears by admitting that she kept a piece of the stone to try and use it to get rid of her powers. Barry asks Julian to let them summon Savitar so that they can find out where he is and finally end their battle. Julian agrees but is angry with Caitlin for keeping the stone and using him to try and get rid of her powers. She tells him that she wanted him on the team for more reasons than that, but he doesn't believe her.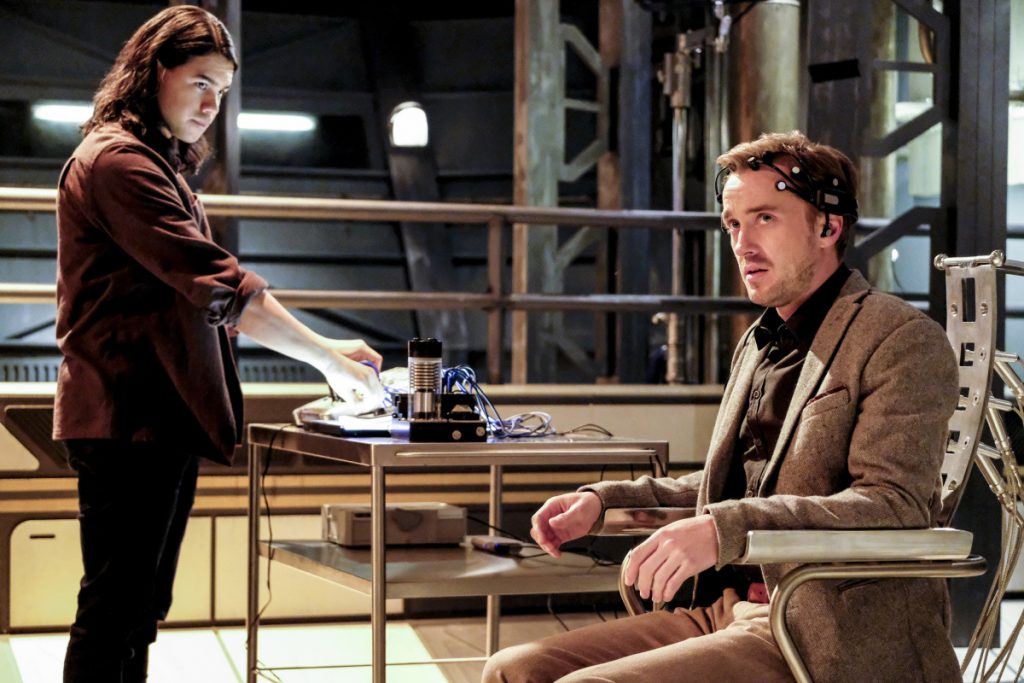 CW
Joe visits Iris to comfort her after her fight with Barry. He tells her that, despite his mistakes, Barry loves her and that their love is the one thing that should stay simple. Meanwhile, Cisco tries to triangulate Savitar's location, and Jesse confronts Wally about his outburst. He tells her that he feels like Savitar has a hold on him because of the way he got his powers and that he's scared he won't be fast enough to save Iris. Just then, Wally sees his mother, who tells him that he'll never be fast enough.
Wally realizes that it's Savitar in his head, who tells him that he has everything he needs to escape his prison once he gets the stone. Wally races off to stop him on his own. Later, Iris tells Barry that she wants to be his wife, not just someone he's trying to save for all of eternity. Inadvertently, this leads Barry to realize that Savitar is trapped in the Speed Force and that he can't come out until he has the full stone.
Jess tells Barry about Wally, and they realize that Wally has taken Caitlin's sliver of the stone to try and stop Savitar. Elsewhere, Savitar taunts Wally in order to get him to throw the rest of the stone into the Speed Force, unintentionally giving him exactly what he wants. After Wally throws the stone, he is sucked into the Speed Force, taking Savitar's place. Barry arrives too late to save him, and Savitar escapes, telling Barry that Wally's speed was always a part of his escape plan.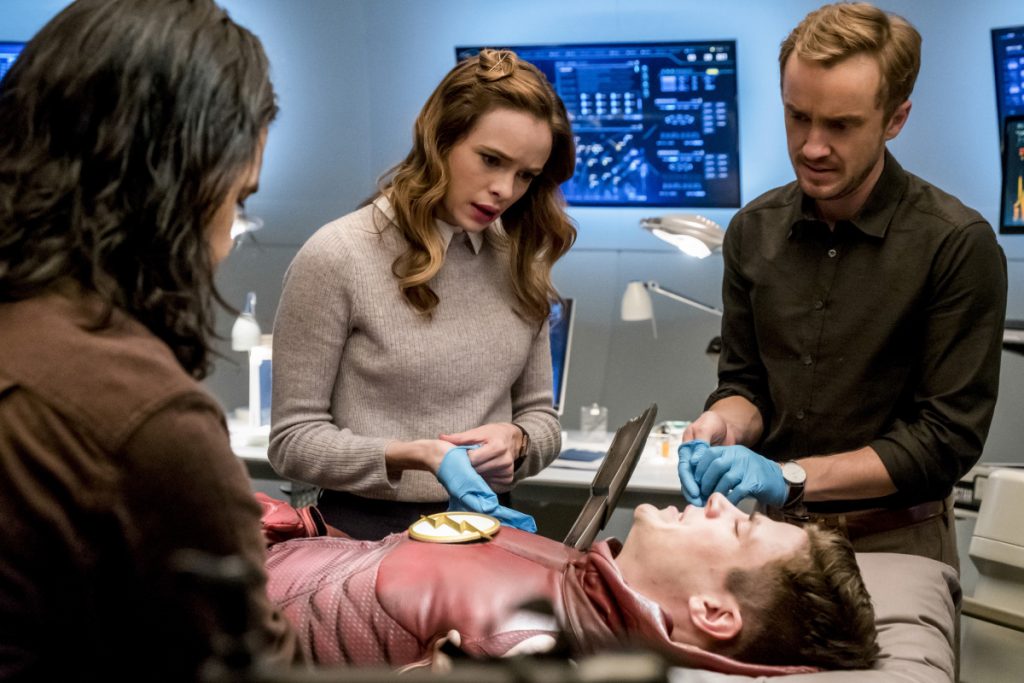 CW
Savitar threatens Barry and his family, and they fight, leaving Barry stabbed and Savitar on the loose. Back at S.T.A.R. Labs, Caitlin apologizes for her part in Wally's fate, but Barry takes the blame, and we're left to wonder what will happen next and if/how the team will save Kid Flash.
Final Thoughts
Whoa, that was a big one! So much going on in this episode, from Iris and Barry getting engaged and then un-engaged, Julian and Caitlin having a moment and then fighting, and Wally being trapped in the Speed Force and Savitar escaping. It seems like this episode was a lot of give and take ... but mostly take. Thanks for that, Berlanti!
Sidebar: I can't be the only person who thinks Wally could be Savitar, right? I mean, sure, it would be a little strange, especially considering his future fate as the one and only Flash (sans Kid). But, really, it would be an amazing twist, and, with so much connecting him to Savitar, it does make sense! Thoughts?
Until next time, Speedsters! Tweet us your fan theories and catch up on The Flash with Season 2 on DVD or Blu-ray!