Lord knows the gays and girls have need something to argue about and we've been waiting for this since last summer's finale! Usually I only have the
"Meet The Queens" interviews
to form my initial opinions off, but this year I had the pleasure of being invited to the
RuPaul's Drag Race Season 7 Los Angeles Premiere party.
I must say after speaking to the queens on the red carpet AFTER they've filmed the season and THEN watching them on-screen, I have a lot more of a grasp on their personalities than if I was coming in cold like most viewers. This may or may not persuade my opinions, but if you aren't familiar, I'd probably have had strong ones regardless *shade emoji*. For those of you new to the show this is when you would hear an autotuned voice telling you to START YOUR ENGINES (if they havent been already), it's time for
RuPaul's Drag Race
! WARNING: *This post might be a bit voluptuous, but we're making up for lost time.*
INTRODUCTIONS
Miss Fame

walks in first as the crowned Queen of the Purple People Eaters, claiming she comes in peace but we all know better. Since she's from New York, I assume nylon spikes are always in, judging from Vivacious' look last year! At the premiere party, Fame was #PaintedForTheGods and we will obviously see that as her strongest skill throughout the season. Also, Fame makes up the first part of the "Out of Drag Hottie Squad" as voted on by my closest internet friends.

Ginger Minj

is a self-proclaimed "overweight, asthmatic, chainsmoking, crossdresser" or more #eloguently "a glamour toad". She's a "big girl" and proud of it. Don't let the size fool ya, I've seen her in action at many a Broadway Brunch back in Orlando and the woman can SING/ACT/MAKE A WAIST SHRINKING A-LINE DRESS! We should watch out for her in the more musical challenges!
No stranger to the over-worked drag name,

Jaidynn Diore Fierce

is anything but over-worked! She comes in to the workroom big hair, big booty, big appetite... to WIN. Jaidynn feigns some disappointment that she can't be the only big girl in the competition, but I don't think Ginger has to worry. She's also "giving us" every catch phrase in the homosexual dictionary, so my side-eye is going to be over-worked as well.
Another vision in purple,

Violet Chachki

strolls in with "ooh-la-las" abounding. Dubbed a "one-of-a-kind collectible" Ms Chachki is young but not to be underestimated. Her aesthetic and shade are definitely on point, and is sure to volley that shade when Miss Fame throws her some first.
Read all about it, and read they do when

Max

comes in with her newspaper accessory. "A starlet on the rise", Max brings an odd accent to the other girls, among other things about her they just don't understand. When asked where she's from she claims Wisconsin, much to their confusion. Ginger reminds us that "this is a contest for queens, but not the Queen of England!" Not to be out-shaded, Fame literally takes a page out of Max's newspaper to blot the shine off her face.
Just your "average, run of the mill, bisexual, transvestite hooker"

Katya

demonstrates her Russian heritage right off the bat. Gunning for my new fave comedy queen (YOU HEARD IT HEAR FIRST), she had me at the premiere party carpet and still has me rolling during this episode!
She is here, bitches!

Jasmine Masters

brings her "tired of the BS" attitude and bare abs, looking like she just got home from the club. Taking her aesthetic seemingly from the Real Housewives of Atlanta (not a read...maybe), she has a very "honest" and at times unpolished feel to her, so we'll see if RuPaul can get that trouty mouth in check!

Mrs Kasha Davis

was sure to correct me on the red carpet for accidentally omitting the "Mrs". She is a married woman after all! She projects that she is an "international housewife" and perpetuates that in her glamorous looks. From 50s homemaker to bedazzled on the runway, she's got camp and wit in spades. Let's see if she can keep up!
Painting her face "for the check cashing place down the street",

Trixie Mattel

draws her inspiration from the obvious Barbie doll. Everything exaggerated is her aesthetic and it definitely works as a commentary (and comedy) on the art of drag. *Insert shade from other contestants here*
Bringing a whole new meaning to the word "Ho",

Kandy

struts her way in like a true Puerto Rican bitch on wheels (mucho amor to my Latinas)! No puedo con ella! She has all of the PR-Queen points down to a tee, from hair to Miami mistress jumpsuit, yet there's something... como se dice "fake"? For this reina, everyday is obviously a show, but more like an act, and one that I doubt will show any vulnerability.
Gorgeous and sleepy-eyed,

Pearl

meanders in with golden locks and a painted on black beard. Yes, a beard, complete with a "Sup?" salutation! As we soon see, he is the front-runner in the "Out of Drag Hottie Squad", but his aloof personality may not keep this bae on in our line of sight for long. *crosses fingers, opens legs*
Looking like a Vegas showgirl, the "Dancing Diva of Texas"

Kennedy Davenport

comes in with shoulders back and chin high. Jasmine soon recognizes her and quote "geeks the fuck out". She's very proper and poised, a true pageant queen.
I really don't want to but let's discuss

Sasha Belle

. In the words of Miss Kennedy Davenport, "Girl please. Sorry next!" Nuff said. #groupie
Last but not least, as if they were in order from shortest to tallest, comes

Tempest DuJour

"the momma" of the season as she told me on the red carpet. No momma is complete without her baby, as she soon opens her legs, gives a little push, and drops one on the ground! Let's just say it was the perfect ending for the intros!
CHALLENGE
A "SheMail"-less announcement from a naked baby Ru tells the girls that "you're born naked (PLUG) and the rest is BALENCIAGA (REFERENCE)!" Clark-Kent Ru as I like to call his out-of-drag persona let's us know that the first competition will be a Spring/Summer/Fall/Winter/whatever-you-have-in-your-bag Fashion Week RUNWAY challenge, followed by a "nude illusion" look on the Main Stage! Yes, TWO runways tonight!
*Opening credits... Kathy Griffin revealed as guest judge, along with new permanent judges Ross Matthews and Carson Kressley replacing Santino*
We open on the runway with only a few attendees: Michelle Visage, RuPaul, Carson Kressley, Anna Wintour...er Alaska Thunderfuck as Anna, and the incomparable
Mathu Anderson.
 Basically the only people who matter in fashion today.
STAND-OUTS
: Max's and Fame's overall couture, Pearl's season-defying fur coat moment, and Violet's INSIDE OUT TARTAN SEQUENCE (Roxxxy read) JUMPER TRANSFORMATION YAS! It was like a fashion deathdrop.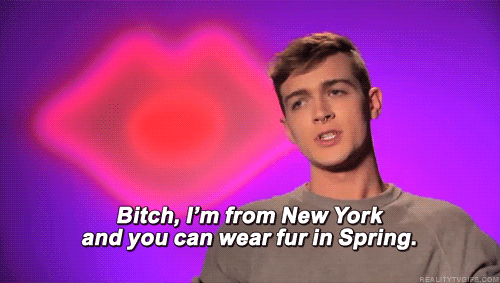 Pearl
FAILS
: Kennedy's Oprah-inspired look, Jaidynn's futuristic stage onesies (lol @ "Other other OTHER Tyra"), Jasmine looking like Dionne Warwick, Sasha.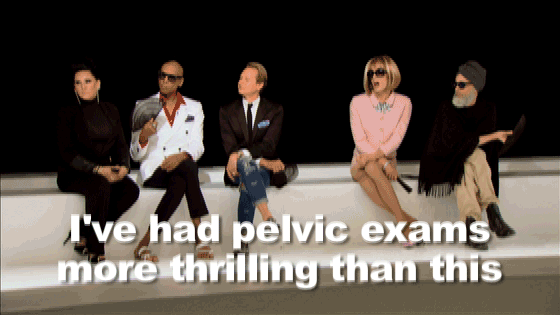 World of Wonder
Once the ladies become boys again back in the workroom, and everyone checks for trade, RuPaul returns with a censored-for-TV Pit Crew in tow. Take it in while you can because soon all you'll be seeing is big girls in body suits and skinny boys with no boobs! Yes, the boys have to present an original resort look with a tear-away (Roxxxy REFERENCE?) moment to reveal a nude illusion. As Ru goes around the room, we learn that Tempest lost a ton of weight (no pun intended), Kandy can't sew, Jasmine's word of the day was "cocoon". If I was taking a shot for every time she said that word, I'd be asleep under my barstool! Fame is ready for the challenge, while Trixie is worried she wont have her obnoxious accessories to rely on, just her boy body.
HEARTFELT MOMENTS
: Tempest lets us see a picture of her family and tells us they're the reason she had to lose the weight. Trixie mentions that her boyfriend's family loved him until they found out he did "clown drag". "Clown" is his whole shtick so clearly he isn't changing for nobody!
MAIN STAGE RUNWAY
Ru appears in a vision of blue-streamer-bondage-bosom-bearing beauty! Kathy is brought in to complete the #GayMountRushmore and things are looking good! Katya gives us some "Russian red hippie realness," but eventually resorts to just showing her other asset... her asshole. Mrs. Kasha, Fame, Tempest, Max, Trixie, and Pearl are a bit forgettable and safe for my taste. Kennedy, Ginger, Violet, Jaidynn fall in the middle for me. Jasmine shed her cocoon much to our dismay, Kandy forgot to wear pants, and Sasha forgot she wasn't supposed to show her black undergarments (but she "didn't get that memo"). Ultimately, it came down to Jasmine, Tempest, and The Incredible Bearded Kandy in the bottom three, and the latter two were forced to Lipsync for their Lives! *cue slightly obvious battle for ratings* Tempest and her slouchy skin did their best considering Ru's "Geronimo" is NOT the easiest song to memorize, but could not compete with the Boricua Body Señorita Ho who killed it.
UNTUCKED
Probably the most gaggiest half hour of the Monday night drag programming was, IMO, 
Untucked
. However, in a presumably obvious ploy to get some views and subscribers on the World of Wonder YouTube channel, the behind the scenes show has moved to Tuesday mornings online. Complete with a new docu-drama feel and backstage set, 
Untucked
still served some strong breakfast tea, but lacked the usual routine we may all be used to. Long since gone are the days of Interior Illusions, but now we've even lost the Silver and Gold "rooms" and are simply left with a few gold pieces of furniture. Only time will tell if we will see the return of the Big Pink Furry Box, but we did see the ladies go at it, recanting who they said on stage was the weakest player in the competition. Spoiler alert: if you didn't know it was Sasha"Not So Fierce" Belle, you must be headless. WoW did bring a somewhat realistic feel to the show, playing what happens once the Logo cameras are off and the eliminated queen has to pack up and leave the Ru Mansion (read: Best Western Plus). Also, if you didn't fall into a Youtube-hole like I ALWAYS do, make sure you check out the two BTS videos of the
ladies arriving
to their hotel rooms and 
before entering the workroom.
 IF anything Drag Race is about fandom and figuring out which queen is your fave both off and on camera. WoW is doing a great job of helping us out, showing their individual personalities in these videos. For me the most enjoyable to watch behind the scenes has been Pearl as we get to see a bit more behind those sleepy eyes and septum piercing.
Well on to another week! Remember: DON'T FUCK IT UP! *cackle*
Keep Up With PopWrapped On The Web!