When we left the characters of Fuller House, Kimmy Gibbler decided to date her fiance/ex husband instead of marrying him and DJ chose herself instead of Steve or Matt. We won't lie when we say we were a little disappointed by her decision. We open Season 2 exactly eight weeks after Season 1 ended, and everyone is getting back together. Some of the characters spent their summer traveling, while the kids went off to camp, but DJ was home with Tommy, waiting.
As the first episode begins, we learn that the youngest Fuller boy, Tommy, is about to start walking, and DJ is going to reveal her decision about which man she wants to date (after playing her own version of The Bachelor last season). We learn very quickly, however, that Steve and Matt are now best friends, and, in a twist of events, they have gotten each other girlfriends. We never learn who DJ was going to choose because it doesn't matter now anyway.
Stephanie focuses this season on launching her music career, while Kimmy is focused on dating her fiance/ex-husband, Fernando. The kids are all pretty much at the same place as last season, and the major plot-lines of the show continue to focus on the adult characters.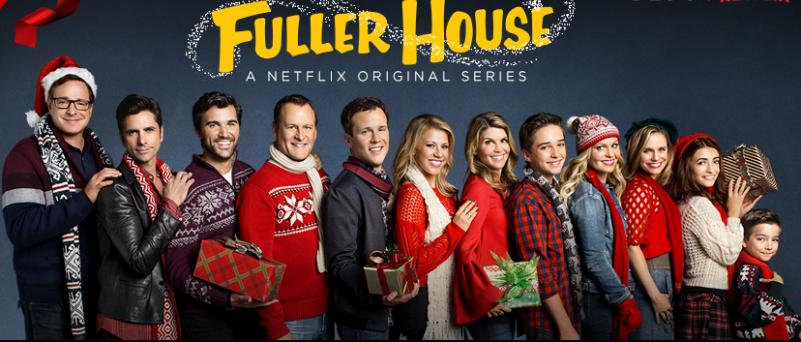 Netflix
We want to keep this review pretty spoiler-free, so we are just going to give you our thoughts after binge-watching the second season. The show is definitely still as cheesy as it was in the first season. Creators and writers did not cut back on the corny tone at all. The season is enjoyable, and fans of the series will be satisfied by seeing many Full House characters in all their glory.
There is one specific scene that truly bugged us about Season 2, though. Joey shows up to Thanksgiving dinner with his wife and four children, ages 5-8. The characters seemed so foreign to us that we thought the episode was going to be a dream sequence. When the episode ended (and we realized it wasn't a dream), we did a little research and found out that he was always supposed to have a wife and kids, but it was never mentioned in the script during Season 1. The line that mentioned this was cut from the script last season, so to us, it made zero sense.
Overall, Season 2 of Fuller House was enjoyable. If you've finished your binge, what are your thoughts? Remember to keep comments spoiler free for those who might be taking their time and basking in the joy the show brings them.