According to a recent report by Huffington Post, Gene Simmons, co-founder and bassist of the massively popular rock band KISS, has filed a U.S. Patent for the common "devil horns" hand gesture that has been closely associated with rock and metal music over the past fifty years.
Simmons's official patent application with the U.S. Trademark Office states that Simmons first used the gesture "in commerce" on November 14, 1974. As a result of this claim, the 69-year-old rocker wishes to trademark the gesture's use in "entertainment, namely, live performances by a musical artist; personal appearances by a musical artist."
Specifically, Simmons's application officially describes his hand gesture as "a hand gesture with the index and small fingers extended upward and the thumb extended perpendicular."
It's highly debatable though, that Simmons even has the right to make this claim, seeing is how this and similar gestures have been used, both in music and elsewhere, for literally centuries to communicate a number of different things.
In rock music history alone, the gesture was closely associated with the late Ronnie James Dio, who was widely known for the gesture prior to Simmons's 1974 invention claim. It may be worth noting however, that Dio's gesture most often was depicted with a tucked thumb, where as Simmons specifically states the thumb is to be extended.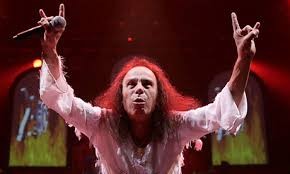 Additionally, despite many opportunities, Dio declined to take credit for the gesture. "I'm sure someone did that at some other point. I think you'd have to say that I made it fashionable," Dio said in a 2001 interview with the musical webzine Metal Rules. In fact, Dio claims to have gotten the gesture from his Italian grandmother, a theory which may actually have some degree of credibility.
According to an article by the Los Angeles Times, use of the gesture has been seen in medieval manuscripts dating back several centuries. Also, a 2015 article by New York Post claims that, in certain parts of Europe, specifically Spain, Greece, and Italy, the gesture can be used to suggest that someone's partner is committing acts of adultery.
Even today, the specific gesture that Simmons describes in his patent application is American Sign Language for the phrase "I love you", formed of a combination of the ASL signals for the letters "I", "L", and "Y".
This isn't exactly the first time the world has heard of Simmons making wild invention claims. According to several of his fellow rock musicians, including Dio himself, he's been doing it for years.
"Gene Simmons will tell you that he invented [the gesture]," Dio once remarked. "But then again, Gene invented breathing and shoes and everything else."
Late Motörhead frontman Lemmy Kilmister also once called attention to Simmons's outspoken claims, "Well, he would [have invented it], wouldn't he? He is so eeevilll," Lemmy told newspaper LA CityBEAT in a 2004 interview. "Come on, gimme a f*cking break," he added.
As of now, Simmons official U.S. Patent application is currently under review, but it's unlikely his claim will hold up.