We've seen the winter bring a tangible chill in the lives of our Gilmore girls, so I wonder if the spring will bring a thaw. After all, Lorelai and Emily are entering therapy together -- which will be useful or, at the very least, probably quite funny.
Spring
Lorelai and Emily are NOT talking in therapy. Lorelai offers a blanket apology, which Emily does not accept. They want their therapist, Claudia, to mark down in her scorebook things about each other.
Stars Hollow is holding an international food festival, and Taylor is distraught that not all the countries are represented. He and Kirk decide that each stall is now going to represent more than one country. Mrs. Kim has a Korean food stall and a new Korean choir which is frightened and fairly awful. Then, Lane says, "Oh, there's my dad!"
MR. FREAKING. KIM. WHAT?
I always liked the theory that we'd never seen him because, considering how overpowering Mrs. Kim is, we wouldn't have been able to notice him were he there anyway.
Lorelai bids on a basket and sets up a picnic date with a woman named Cassie (who seems less than enthused about sharing a meal with her).
Kirk has a bit of a freak out over a hog roast, given his new parentage of Petal. Luke reminds him that he chowed down on a BLT just the day before, and now he's having a crisis of conscience.
Rory has made it to London, and she's meeting with Naomi again. Rory wants to discuss a theme for their book, and Naomi wants to discuss Rory's skin. Instead of making a straightforward book, why not make it a children's book about a whale and a rabbit? She also announces that, given her hatred of Britain, she will be voting for Brexit. "It's a protest vote. It'll never win."
Rory and Logan have lunch, where she complains about Naomi, complains about Condé Nast (they've pushed her meeting again), and tries not to take a favour from Mitchum Huntzberger. Mitchum asks if Odette will be attending something with Logan, and we learn that he's engaged to a woman who lives in another country. Keep it classy, Logan.
In a Stars Hollow town meeting, Taylor says that they have to cancel the town gay pride parade because they simply don't have enough gays. Gypsy asks Taylor to think hard if there is ANYONE else in town who would participate, and he declines to share anything about himself. Surely, they could ask Michel to stick around after work!
The Dragonfly has a bunch of "B-level" actors staying, but Woodbury has all the A-list folks spending their fancy A-list money all around town. Stars Hollow needs the fancy money in their town. Gypsy suggests opening a bar, at which point Babette blabs about the Secret Bar. Taylor gets distracted, so he doesn't pursue it any further.
Michel is equally annoyed that the B-listers are stay in Woodbury. He thinks they are staying there because the Cheshire Cat over there has mini fridges, a spa, a gym... It sounds like Michel is going to leave the Dragonfly if they can't offer any more amenities because they've peaked: "What's the point of staying anymore if we're never going to bag Jennifer Lawrence?!"
Liz and TJ have accidentally joined a vegetable cult. Apparently you should never sign paperwork for a co-op without reading it very carefully!
Lorelai shares Michel's concerns about the inn with Luke, and he snaps that you shouldn't want more and what you've got is enough. I can't help but think he's not just talking about the inn.
Lorelai gets up in the middle of the night to check on Paul Anka, and it's another one of her Real Paul Anka/Dog Paul Anka dreams! It's the third this year. She's on the phone with Rory, talking about it, and, given the sunshine on Rory's end, she must be in London again.
Rory doesn't know any of the "B-level" actors -- and doesn't like them being called "B-level" -- who are staying in the inn, but she tries to comfort her mother that Michel is not leaving the Dragonfly.
Lorelai and Emily have another silent therapy session ... until, suddenly, it's not! They are laughing about Trombone Stan ... then silence again. Emily has a list of grievances going back to when she first left with baby Rory -- including a heinous letter she received on her birthday. Lorelai insists that she did not write an awful letter to her mother.
Naomi Shropshire called Winston Churchill "a fat poof" while complaining about her man trouble. Rory is upset when Logan hints that she needs to leave. His fiancee is coming to town. Rory is taken down a peg or two.
Saeed Adyani/Netflix
Luke and Lorelai are going to a movie night. It's Eraserhead, and Kirk tells everyone off for the comic level of bringing-in-outside-food they are partaking in. The film is starting and -- THERE'S A SHORT FILM! Kirk has been at it again, this time producing a film about his poor pet pig Petal being struck down by a car. It is everything we'd want and more from "a film by kirk".
Luke's phone interrupts the film, and it's Emily. Her voicemail invites him to dinner -- just him.
Back at the Dragonfly, Michel is on vacation -- in New York, where there are a lot of hotels. Rachael Ray is in the kitchen. SOOKIE'S KITCHEN.
I don't believe in trigger warnings, but "Gilmore Girls" should have had one for any and all Rachael Ray appearances.

— Benjamin Siemon (@BenjaminJS) November 27, 2016
Lorelai has attended dinner with Luke at Emily's, even though she was not invited and is clearly not wanted. Rory shows up, too, and she is also told she was not invited. Rory is staying over because she has a Chilton alumni event in the morning.
Emily has given a bunch of Rory's stashed boxes to Berta. She drags Luke into Richard's study. She asks if he knows when he will die. Richard had actuarial tables drawn up, and apparently he was very good at pinpointing death dates.
Richard also left a trust for Luke to franchise the diner. "The Luke's Diner Empire". Emily is steamrolling him a bit; she has contacted a commercial real estate agent shark and gotten everything moving.
Lorelai stands in the yard at Chilton, looking at the students as if they are smaller than she is. Paris appears, quoting Emerson, scaring teachers, and implying that Headmaster Charleston is embezzling money from the capital fund rather than applying it to the school's upkeep.
Charleston has friendly conversation with Rory but does not seem impressed by her current lifestyle. They are interrupted by Lorelai's call, and we switch over to her therapy session with Emily. Emily takes the opportunity to spring upon Lorelai's "roommate" situation again. She and Luke have been together "steadily" for nine years. The Luke's Diner Empire money was designed to give Lorelai a stable life. Emily is being pretty insulting, comparing Lorelai's love life to an Airbnb.
Rory gives a semi-inspiring talk about her time at Chilton to current students. I seriously doubt that Rory Gilmore would not realise that a music composition course required composing music -- we also would not have missed that breakdown in the original series. Paris, however, is scaring the faces off the students, as expected.
As they make plans for lunch, they see Tristan -- maybe. It's sure not Chad Michael Murray. Regardless, it gives us one fantastic Paris Geller meltdown in a school bathroom. Perfect in tone, no other than Francie walks in, asking if she accidentally stepped back into 2003 with all the Paris drama.
Headmaster Charleston asks Rory if she ever considered getting her Masters and returning to Chilton to teach. He recognises her "bad stretch" -- which she rebuffs. She doesn't want to teach, and it's clear that she feels it is a bit beneath her (which is properly best if she doesn't feel drawn to it. We've all had teachers who would rather be anywhere else.).
Paris lives in a five story house with no elevator, and the stairs are the bane of her existence -- worse than her creative soon-to-be ex-husband. Paris seems to love her children, brightly calling them "my babies". Paris and Doyle are fighting exactly like they did before. Rory offers to brave the stairs and babysit the children for a while.
While at a park (eating and feeding Paris' kids Funyuns, Doritos, Pepsi, and hot dogs...), Rory gets a kind of creepy video from Sandee of SandeeSays, the gossipy website that is heavily courting her. She immediately calls Logan -- who, despite how time zones work, is in bed at 2am -- to ask him to pursue that favour for her at Condé Nast.
The meeting is okay; they like her and her stuff ... until she talks about the book with Naomi Shropshire. They want her to think about either sports (uh-huh) or lines (as in people standing in). It seems sad.
Lorelai is late for therapy, but Emily isn't there. She isn't going to go, either. Lorelai decides to stay. We finally learn that Richard had another heart attack. She has a poignant line about how her phone rang, she got the news, and her "phone went back to being a calculator again". He never came home from the CICU. No one got the Lifetime movie moment where they announce their love for each other before he died.
Lorelai says that her marriage to Christopher ended because it was always supposed to be Luke. Then why aren't they married? She hesitates when she is saying that they are happy.
Emily shows up to Luke's Diner with Ida, the real estate shark. They sweep him up and make him visit a sad little greasy spoon. Ida and Emily denigrate the the business and owner in front of Luke -- and the owner. After several other visits, Emily announces that she quit therapy with Lorelai a week ago.
Back at home, Lorelai is insisting that Viggo Mortensen in A History of Violence is exactly Luke. He neglects to tell her about the day spent looking at diner franchise locations when she neglects to share that she doesn't go to therapy with her mother anymore.
Rory is at Paris' and agrees to look after the kids again. She gets a call from Naomi's lawyer, who explains that their nonexistent contract will be dissolved and Rory no longer has the rights to the "whale and mouse" (or "whale and rabbit") story. In her frustration, she phones her contact at Condé Nast to say she'll do the story on lines on spec. When she phones Lorelai to tell her about the story, she begins stress tapping again.
Our Gilmore girls take New York, and Rory starts interviewing folks in line. She talks to a guy (who, side note, must be Irish somewhere down the line with the dark hair and ginger beard...) and drifts off while he, effectively, explains how millennials have nowhere to be so, hey!, why not sit in a line for a treat for hours? She wakes up, and no one has stolen her phone. Lorelai, however, has a bag full of whatever tasty treats the line is for -- she flirted with a guy who works there, and he brought them around the back for her. 
In the next bit of the line, we learn that they are queuing for "cro-dough-cake" and MAE FREAKING WHITMAN IS THERE. I just can't stand it. Lauren Graham has BOTH of her TV daughters just standing there next to each other like it's no big deal.
Lorelai has found hot dogs (flirting again) at 7:30 in the morning. MAE FREAKING WHITMAN has to leave the line because she has to go to work. Lorelai offers her a sneaky cro-dough-cake so she wasn't queuing for nothing.
At the next stop, these guys are talking about fancy vintage and faux-vintage shoes. Lorelai walks up with a show store bag -- Marcy MAE FREAKING WHITMAN works at the shoe store and hooked her up.
The next line is a phantom line. The front of the line is just a couple of guys (from TVLine) eating their lunches. No pay off! They wind up in a cosplay/video game/movie tie-in line. Lorelai goes back to the hotel, and, apparently, Rory ended up sleeping with a guy dressed as a Wookiee. She freaks out about having a one-night stand, and Lorelai reveals that she's never had a one-night stand before.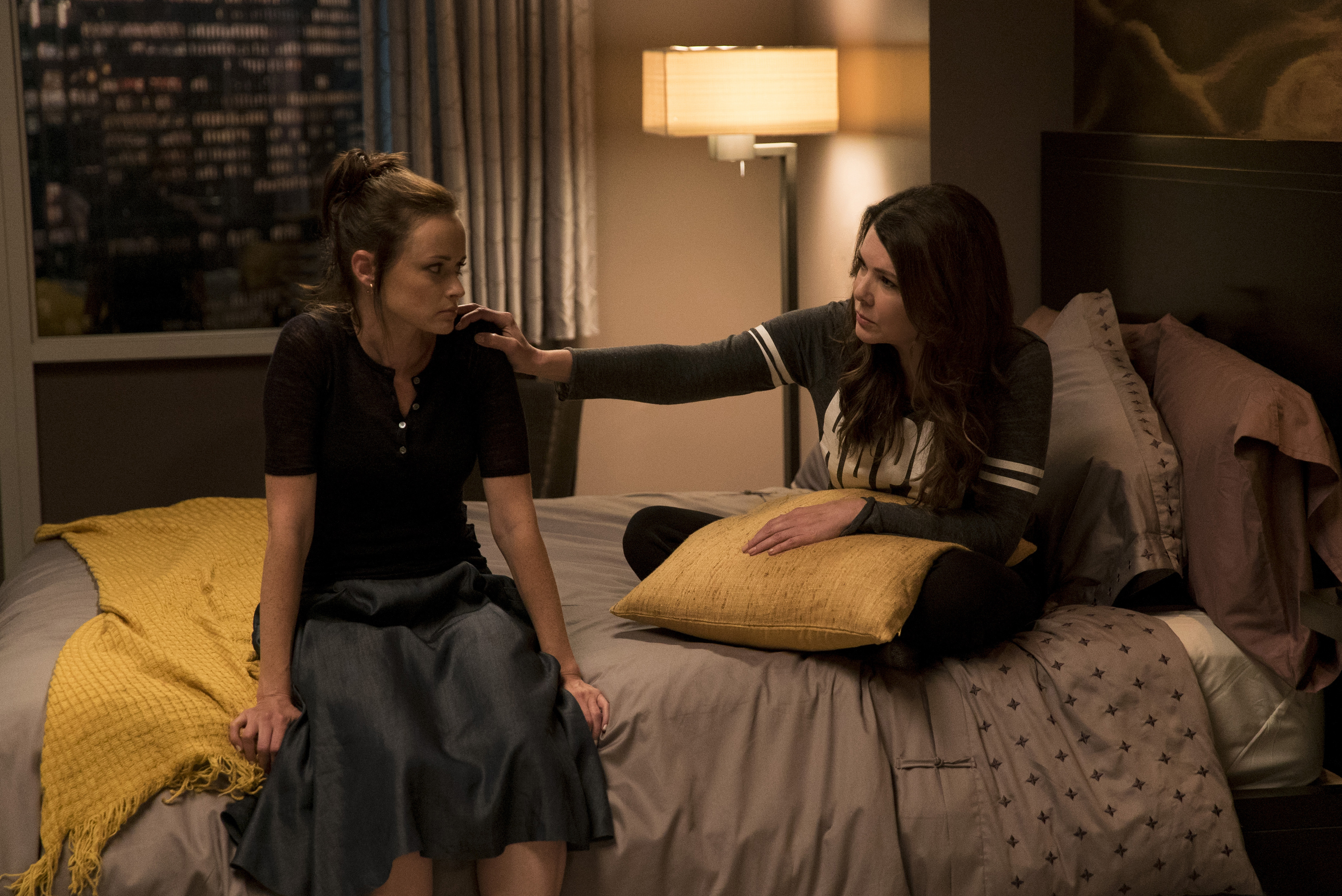 Saeed Adyani/Netflix
Rory thinks that Lorelai has long ago found out about Logan being "Didi" in London, but she hasn't. When she tells her about him and has a little panic about karma leading Condé Nast to not want her, Lorelai encourages her to "slum it" a little with SandeeSays.
She does go to SandeeSays, and Sandee gives her a tour of their new-agey Facebook-y workspace. Rory thinks this is a shoo-in for her, but Sandee wants to know what Rory would bring to the site. She bombs the interview because she hasn't bothered to prepare anything. She gets to the lobby before Sandee phones to say she hasn't got the job. They bicker back and forth because Rory was a bit egotistical about the whole thing, and she ends up tearing the SIM cards out of her extra phones, dumping them into a bin, and storming out.
The next thing we see is Rory busting into Lorelai's house with her arms full of luggage and announcing that she is moving home!
Spring is the season for change, isn't it? Well, it seems Rory's change is reverting backward. No one said being a grown up was easy -- it makes me wonder how she's managed in the nine intervening years to make ends meet!
Let us know how this episode made you feel, and see if you agree with our gut reactions to the series as a whole (which contains spoilers for further episodes).
Be sure to read up on "Winter", and check back tomorrow for our recap of "Summer". Gilmore Girls, the original series, is available now on Netflix or on DVD.