Gracie Terzian is a jazz singer on the rise. Her recent release "Saints and Poets" charted at #23 on Billboard and #3 on iTunes. Needless to say, the room for her Rockwood Music Hall performance on Sunday (July 5) was bustling and full; friends, family, and fans poured in to catch a glimpse of Gracie and her astounding quartet.
The band was introduced before the opening number: James Wengrow on guitar, Graham Doby on drums, and Georgia Weber on bass. A gentle swing kicked off the set, as though the drummer's brush strokes had conspired with the lazy afternoon sun - it was the title track from "Saints and Poets."
Immediately, the room was seduced by a dazed and dreamy swing. The song's casual and gracious melody wonderfully suited Gracie's alluring vocal. Her voice has an effortless vibrato, calling to mind jazz greats Ella Fitzgerald or Sarah Vaughn, but with a signature precision that is distinctively her own.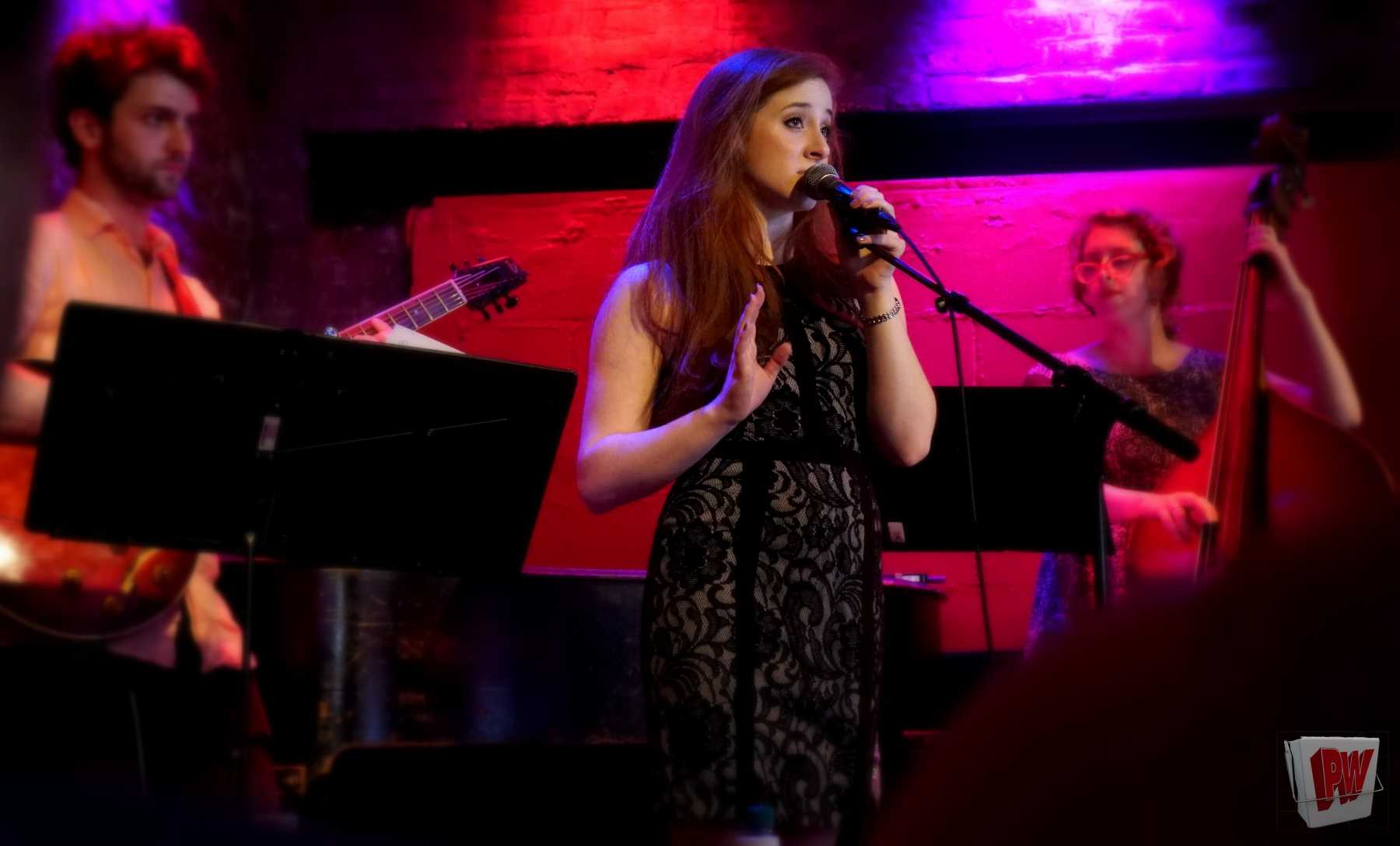 Credit: Brian Aiken for PopWrapped
The second number, "Sleepwalker," had a loungey Bossa Nova type feel. Gracie stood firm in the helm, signaling when to start and when to stop, offering coy greetings to crowd members, all the while crooning out heartfelt lyrics: "I apologize if I come as a surprise, I like to go on journeys sometimes." Like a wayward though well-meaning seductress she continued: "Don't be so patient just run with me, have fun with me, I'll give you presents and such."
Her lyrics walk a fine line: displaying her sensitivity and willingness to be a good girl, while bemoaning her fleeting and ephemeral side.
Following the head of most every tune was a surprising and jaw-dropping solo from the bassist. Her fingers danced across the fret board, weaving in and out of the song's chord structure; meanwhile her glasses balanced calmly on the end of her nose. It was as though the band had all mastered the art of making complex jazz appear easy and effortless.
The set continued on with more soothing and heart-opening numbers. In "Love Rest," we saw the bassist make use of her bow, laying the foundation for a delicate and beautiful composition. We also were introduced to suave phrasings of the lead guitarist, whose melodies wonderfully danced on top of an intricate chord structure.
Most impressive however, are the songs themselves. The melodies retain a classic tinge while being infused with a modern 21st century touch. In every original song, the lyrics felt genuine and natural, despite being overlaid on momentous and complex jazz melodies. In "Wait Silently," she intoned: "Not a whisper of despair, but love's own prayer," while in "Iris": "Take my time, because to love can come quietly." All of the compositions took turns unexpected and unpredictable, while retaining a natural structural flow.
In the final number, Gracie's passion soared to an ever-greater height. She poured her heart out proclaiming, "Why can't you love me like the other boys do, they stare at me while I stare at you." She met her match: having to pay the cost for the longing she creates in others by overcoming a lover that creates longing in her. Reaching its climax, the band launched into double-time swing for a last-minute burst; it was as though the underbelly of this sun-drenched afternoon came raining down in a welled-up, sultry avalanche.
It all amounted to an afternoon at Rockwood Music Hall we won't soon forget.
Check out Gracie Terzian's website at, her Soundcloud, and follow her on Twitter.