Last night, Vice President-Elect Mike Pence went to see Hamilton: An American Musical. Putting aside the fact that ticket prices are absolutely insane and getting a hold of just one has sometimes been equated to Edward Elric's own sacrifice for human transmutation, the cast is always grateful to see a packed house.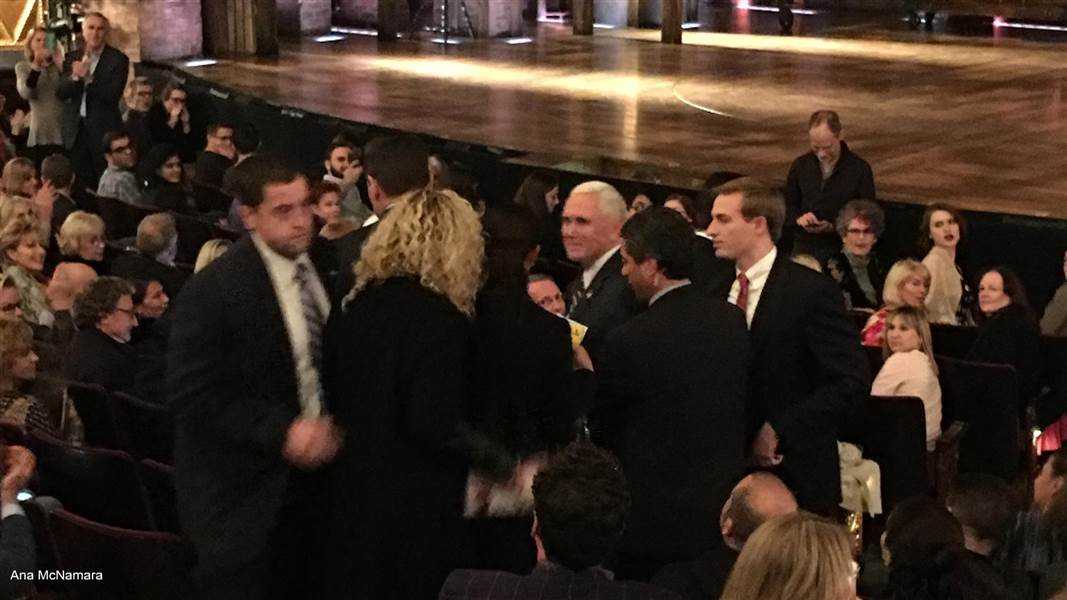 NBC
Last night was a special exception. While the cast was pleased to see the seats completely full, audience members were less than thrilled to count Pence among their musical-loving numbers. Many audience members booed the VP-Elect, earning the ire of Lin-Manuel Miranda, himself. Although Miranda was not in the show that night (the role of Alexander Hamilton is currently played by his stage twin Javier Muñoz), he definitely heard about the encounter:
Proud of @HamiltonMusical. Proud of @BrandonVDixon, for leading with love.

And proud to remind you that ALL are welcome at the theater.

— Lin-Manuel Miranda (@Lin_Manuel) November 19, 2016
This is by no means a slap to the cast, who asked Pence to stay and "hear just a few more moments" after the final number and listen to a special message (and no, we do not mean the Reynolds Pamphlet). It said:
"We, sir — we are the diverse America who are alarmed and anxious that your new administration will not protect us," said actor Brandon Victor Dixon, who plays Aaron Burr.
"We truly hope this show has inspired you to uphold our American values and to work on behalf of all of us," Dixon said. "This is one American story told by a diverse group of men and women of different colors, creeds and orientations."
The audience cheered after Dixon finished speaking, though it is unclear whether Pence actually heard most of it. According to the Associated Press, Pence left before Dixon even began to speak, while a report from The New York Times said Pence stood out in the hallway and heard the whole thing.
President-Elect Donald Trump, in true form, tweeted his own reaction before 6AM the following morning.
Our wonderful future V.P. Mike Pence was harassed last night at the theater by the cast of Hamilton, cameras blazing.This should not happen!

— Donald J. Trump (@realDonaldTrump) November 19, 2016
Trump, then, followed with another tweet demanding Dixon and the Hamilton cast apologize for their "rude" message.
The Theater must always be a safe and special place.The cast of Hamilton was very rude last night to a very good man, Mike Pence. Apologize!

— Donald J. Trump (@realDonaldTrump) November 19, 2016
But that was not the end of it. Dixon replied to Trump's initial tweet, saying that "conversation is not harassment" and thanking Pence for listening to what they had to say.
@realDonaldTrump conversation is not harassment sir. And I appreciate @mike_pence for stopping to listen.

— Brandon Victor Dixon (@BrandonVDixon) November 19, 2016
But how did Dixon even know Pence would be in attendance that night? The Secret Service motorcade might have had something to do with it.
VP elect Mike Pence taking time out of planning transition to catch #Hamilton. pic.twitter.com/ViorURcxff

— David Novarro (@DavidNovarro7) November 19, 2016
However, just because he went to see an acclaimed musical about our "founding father without a father" does not mean Pence has been "woke" –– as one user asked in response to the motorcade tweet.
The play highlights several issues that have been targeted by the Trump/Pence campaign, including immigration. Other topics near and dear to the cast members involve religious freedom, the LGBTQ community, and refugee status -- all issues Pence has stood against despite public outcry and only signed to protect public discrimination after he received national backlash.
If you ask me, Dixon and the Hamilton cast did nothing wrong. Like Burr, Dixon saw an opportunity and took advantage of it. The message was not offensive and merely asked someone in a position of power to take another look at what they can do with that power.
You can watch Dixon's full speech below: