Lin-Manuel Miranda's Broadway sensation, Hamilton, has quickly become a "non-stop" sensation! It broke the Tony record with a grand total of 16 nominations, and is going on a national tour.
Unfortunately, the original cast members, including Lin-Manuel Miranda (Alexander Hamilton) and Phillipa Soo (Eliza Schuyler-Hamilton), will not be staying with the cast for the duration of the tour.
Here's what we know:
Hamilton will stop on the West Coast
According to Broadway.com, the Hamilton cast will be making the first show stopping performance of their national tour on the West Coast.
Performances will begin in March 2017 at the SHN Oprheum Theater in San Francisco, before moving on to the Hollywood Pantages Theater on August 11, 2017 (where it will continue through December 30). The show even added two more cities to its 2017-2018 run: San Diego, CA and Charlotte, NC.
Tickets for Washington's Kennedy Center performances during their 2016-2017 season are now available. Season pass holders for this season will be first in line to get seats for Hamilton performances during the 2017-2018 season.
The show, directed by Thomas Kail, is the beautiful brainchild of Lin-Manuel Miranda, who also wrote the official companion book, Hamilton: The Revolution, and the musical's lyrics.
According to Playbill, the show will have a "sit down" production in Chicago. This series of performances will be separate from the national tour, and run from September 27, 2016 for at least a year.
The show is currently playing at the Main Stem's Richard Rodgers Theatre, and will begin an open-ended Chicago run this fall.
Lin-Manuel Miranda was inspired by Ron Chernow
Lin-Manuel Miranda was inspired to create this award-winning musical after reading Ron Chernow's biography, Alexander Hamilton. Chernow's biography of the "founding father without a father" follows Hamilton from being a newly orphaned immigrant, his role as a great writer and war hero, his part in America's first great sex scandal, and finally his death at the hands of a man he once called a friend.
The original cast will not be staying through the national tour
Jonathan Groff has already passed the crown as King George III, and Lin-Manuel Miranda will bow out of the lead role less than a month after the Tony Awards (after July 9), according to the New York Post.
Miranda has been with the show since it premiered at the off-Broadway Public Theatre in January 2015.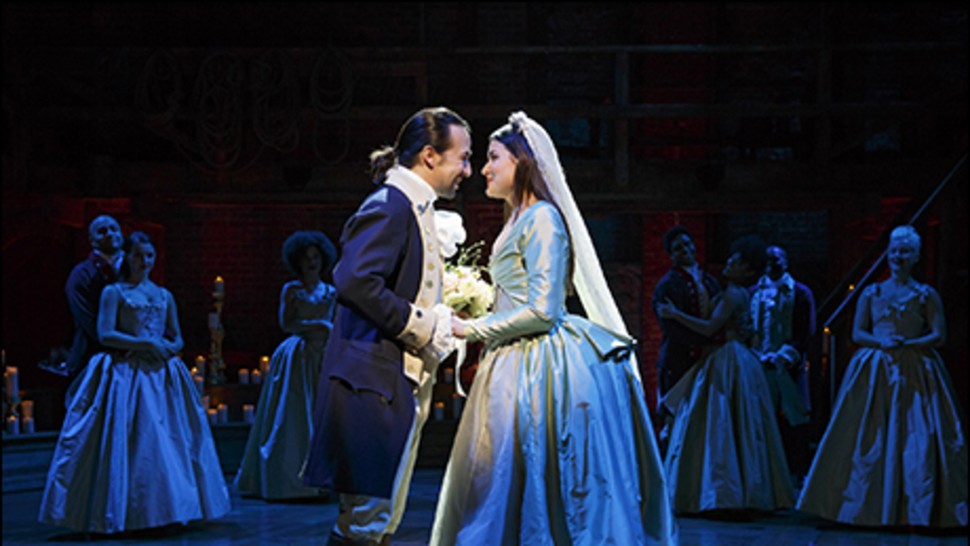 playbill.com
Phillipa Soo, the show's iconic Eliza Schuyler-Hamilton, will also be making her last performance in July, according to The Hollywood Reporter. In fact, most of the original cast members' contracts will expire after the July 9 performance.
Both Soo and Miranda have begun work on Disney's Moana. Miranda has written music for the new Disney project, while Soo will be starring as a voice talent (her role has yet to be disclosed).
You have a chance to audition for the show!
Casting calls for various parts in Hamilton have been put out across the internet. You can find many different links on Facebook and Twitter. However, most of these links will lead you to one place: Backstage.com.
Through Tesley + Company, Backstage is looking for "excellent performers for the current Broadway company and upcoming national tours of Hamilton."
All you have to do is be over the age of 18 and be "extremely skilled" at rapping, singing, and acting. You should also send them a professional headshot, video reel, and cover letter.
Unfortunately that'a all we know. For more details you need to have a Backstage membership.
We hope you're "Satisfied"!