Actor and producer Harrison Ford was involved in what was described as a "potentially serious" incident while piloting his private plane in California. On Monday, the 74-year-old was operating his Aviat Husky when he flew dangerously close to a Boeing 737 airliner carrying 110 passengers and six crew members. Ford was given the green light to begin his descent and final approach by air traffic control at John Wayne Airport in Orange County. What would have been a routine landing quickly turned into a frightening situation, as he maneuvered the airplane over the airliner and onto the taxiway that runs parallel to the runway. The American Airlines flight was affected minimally, and the aircraft departed moments after the incident took place.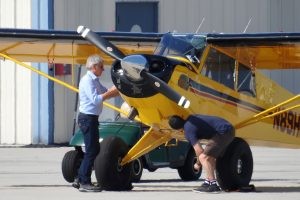 People.com
It was reported that Ford was heard on the air control recordings asking, "Was that airliner meant to be underneath me?" Officials replied that he had landed on the taxiway instead of the runway. Because of the magnitude of the hazard and the involvement of an airliner, the NTSB and FAA were both notified, and an official investigation into the events that led to the mishap has been opened. It is doubtful that any of Harrison Ford's actions were intentional. Many factors come into play as the operator of an aircraft. There could be an issue with trusting his instruments and his eyes to determine judgement and corrections while airborne, something that he was doing alone without the benefit of a second set of eyes.
According to an aviation expert cited in a report published by People magazine, Ford will likely have his pilot license suspended, if not revoked, for committing the violation. Although no one was injured, thankfully, the FAA is not taking anything lightly when it comes to the safety of travelers and the other operators of aircrafts that were in the vicinity at the time of the infraction. The investigation remains open, and there has been no word from Ford or his representatives as of this writing.
This isn't the only time that the actor has gotten into some very close calls. A collector of vintage aircraft, Ford encountered an engine malfunction with his World War II-era plane back in 2015 and was forced to crash-land at a nearby Santa Monica golf course. He suffered no serious injuries, save for a broken arm and a few cuts and bruises. Two other incidents occurred in 1999 and in 2000, both with no injuries. Even though fellow colleagues and pilots who know Ford have adamantly stated that he is a very capable and exceptional pilot, no one is immune to the unpredictable nature of aircrafts and environmental conditions. Anything can happen at any time.
We at PopWrapped are happy to report that no one was injured and no damage to aircraft was documented. Although he may return to the skies at some point, it looks like Harrison Ford won't be flying Air Force One anytime soon.