This past weekend at "A Celebration of Harry Potter" in Universal Orlando Resort, Harry Potter illustrator, Mary GrandPré met with hundreds of fans to autograph books, share inspirational messages, and talk all things Potter. Mary GrandPré is best known for her magical book cover illustrations and memorable chapter sketches, which helped bring the books to life for many young (and old) readers. We caught up with GrandPré at the Scholastic booth inside Universal's Soundstage 33 to uncover more about her artwork and the sentiment behind it.
When GrandPré would first get an early copy of a finished manuscript (one for each of the seven books), she would often start brainstorming ideas for artwork, as she read through chapters for the first time. "I would read the story through and highlight visually interesting things for the chapter headings and ideas for the cover," she explained. "J.K. Rowling writes so descriptively, and so there's a lot to pick from, and then I'd start a discussion with the art director on what we might want to see, and I'd start sketching on tracing paper with pencil for each chapter idea and also the covers, and that's a long process." The sketching process alone would take about two weeks, which would then be approved before she'd begin the final artwork, which was pastels on large paper.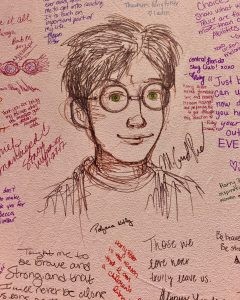 Mary GrandPré's Sketch Of Harry On "The Muggle Wall"
After having drawn one hundred and ninety-nine chapter sketches and seven book covers, it's difficult for GrandPré to pick favorites, but she revealed that she favors the last cover. "It was such a wrap up, and it was such kind of an emotional piece for me because I knew it would be the last one," she said. "We also got to show Voldemort finally for the first time on the cover on the back. There was a lot of drama, personally and with the book, too." She couldn't choose a favorite chapter sketch, but she said that one of the most memorable for her was the drawing in Prisoner of Azakaban of "Aunt Marge blowing up and floating away."
Along with getting books signed, fans were able to write, draw, and color on The Muggle Wall -- a giant stretch of cloth that became a graffiti board for Potter fans, including GrandPré. "I just did a little portrait of Harry back there," she said. "I'm going to actually wait a little bit and then start taking photos of some of the things people are writing because they're pretty amazing. There are some pretty emotional things that they're writing about."
GrandPré was at the Scholastic booth for the duration of the three-day event, signing books and meeting fans -- something she loves. "The most special part about that for me is seeing the kids, little kids and big kids, so engaged with the books and telling me that the pictures helped them get engaged with the story ... a lot of artists come through, and I get fan mail about drawing characters, character development and that kind of stuff." Getting to see the fans and speak with them about how they've been inspired is what brings her back to "A Celebration of Harry Potter" for 2017. She loves the Universal Orlando because of "people talking about what it means to them and seeing this new generation. "It's like there's a time warp," she explained, "and now there's a whole other group. It's growing, and it's cool. It's so good that we can bring this on as all positive messaging to enjoy."