Toy Fair 2017 recently took place in New York City, which meant some of your favorite franchises where there as well. We already showed you what's new from the DC/Wonder Woman camp, and now we're here to show you what the Transformers franchise has in store for your shelf!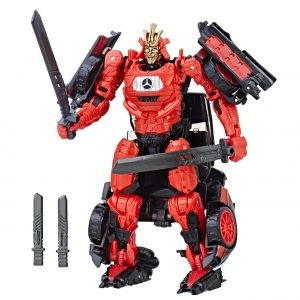 Comic Book Resources
Michael Bay's Transformers: The Last Knight promises to be a new beginning for the robots in disguise, and with that comes a new toy line from Hasbro that includes the updated film designs for some of your favorite characters, including Megatron, Steelbane, Scorn, Bumblebee, Drift, Bumblebee and more.
The characters have changed their look since the last Transformers movie. For example, Megatron is now bigger than he was previously, with more armor bulking him up.
The Dragonstorm Turbochanger is also matching the new aesthetic and looks more like a monster. Comic Book Resources added the disclaimer that since these are only toys, they may not 100% reflect the final product in the film.  You can watch their recap of the new toys HERE!
Transformers: The Last Knight will hit theatres June 23, and will feature returning stars Mark Wahlberg, Stanley Tucci, Josh Duhamel, Tyrese Gibson, and John Turturro as well as newcomers to the franchise Isabela Moner, Liam Garrigan, Jerrod Carmichael, Mitch Pileggi, Laura Haddock, Santago Cabrera, and Anthony Hopkins.
Will you be picking up one of the new Transformers toys?