Helionox is a deck building game set in a future solar system devastated by activity from a dying sun. Players are architects protecting the remaining population from dangerous solar events and attempting to control the solar system. The deluxe edition of Helionox includes the original game Helionox: The Last Sunset and an all new expansion, Mercury Protocol. Designed by Taran Lewis Kratz, Helionox plays 1 to 4 players in 30 to 90 minutes.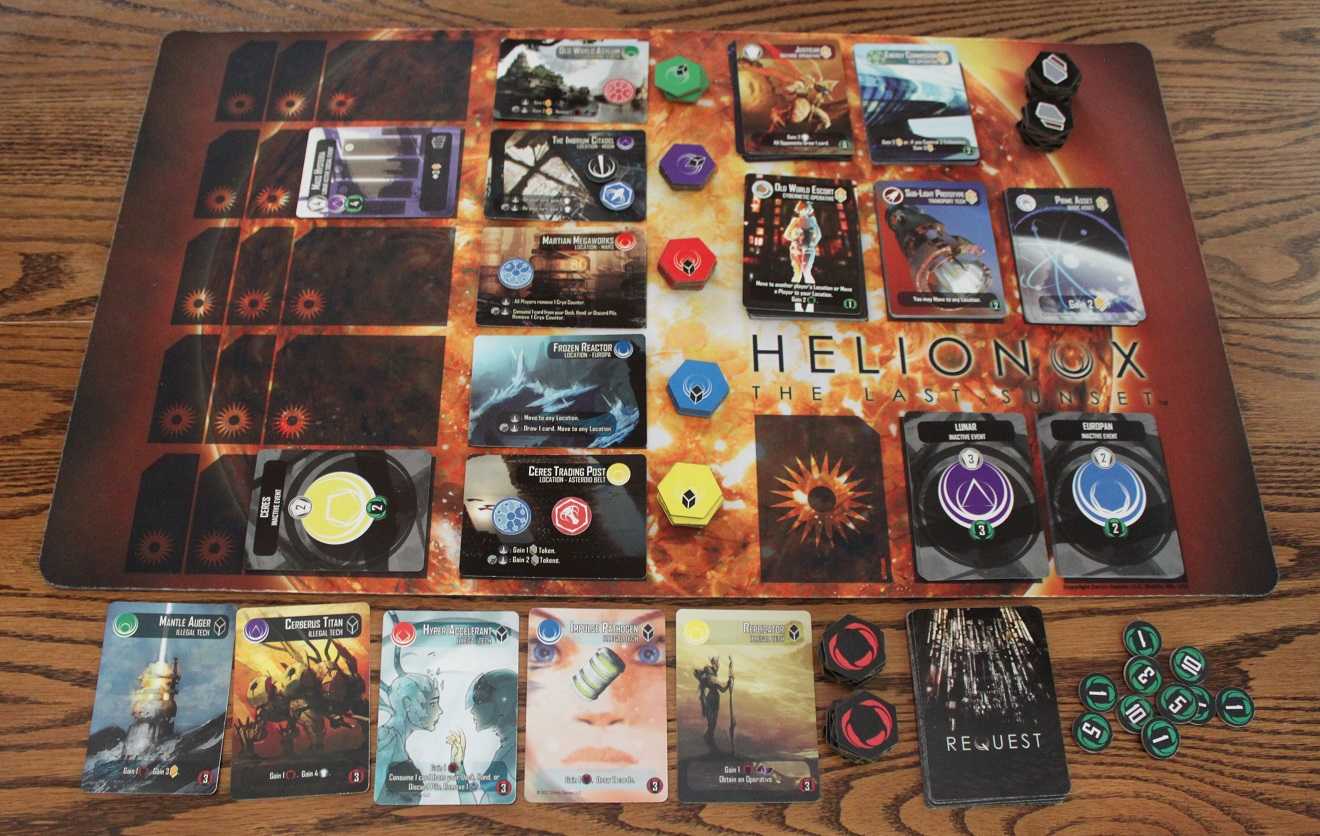 Those familiar with deck building will notice some slightly different mechanics in Helionox, which I will explain shortly. For those unfamiliar with deck building, it is simply a style of card games wherein you purchase and trash cards to create the most efficient deck needed to win the game. Helionox has the addition of architects, locations and events. Architects are character cards which have special abilities that cost cryo tokens and cannot be used again until enough cryo tokens have regenerated (1 per turn). Locations have abilities that can be used when players move to those spaces. Events prevent locations from being used and penalize players from moving off locations with active events. Overcoming events earns points and opens up the location ability to be used again. After the last event activates, whoever has the most points wins the game.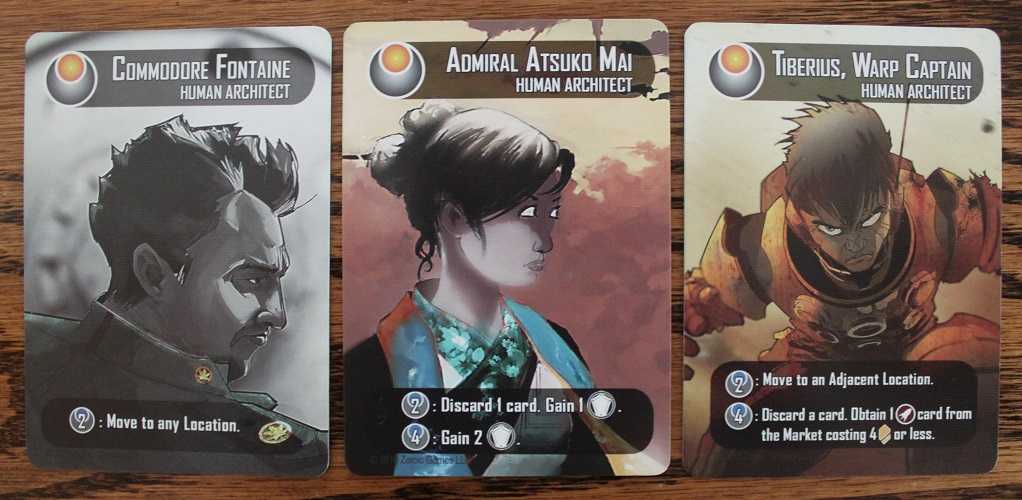 Deck Building With A New Focus
Helionox is more of a deck building game with a focus on hand building. Newly acquired cards are put on top of your deck, rather than in the discard. This allows players to craft their next or sometimes current hand. When a catastrophic event is about to shut down all the locations, defense cards can be purchased from the market and used next turn, rather than waiting for it to cycle through the whole deck. Although this was a bit strange at first when you are so used to discarding new cards, it was an interesting new element that can be useful. The second way Helionox focused on hand building was the end-of-turn card replenishing. Typical deck building has you discard played cards and your hand, then draw back up to five cards. In Helionox, unplayed cards are kept in your hand and you draw five new cards, then discard down to five cards in hand. This is useful by being able to save cards for your next hand, but, in practice, it slowed the game down. Players need to determine what they want to do and discard cards before the next player's turn. Players can proceed with their turn while their opponents decide what to discard, but this can inform their decision. Maybe I won't keep that defense card now that you've overcome the event I was planning to overcome on my next turn.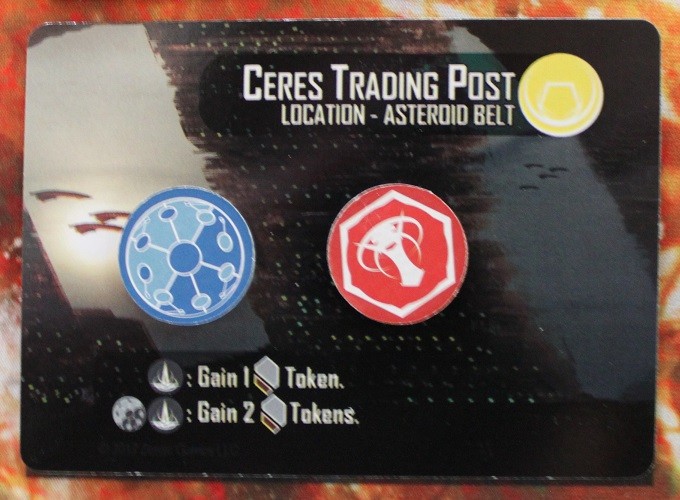 The game was a great challenge trying to ward off events before they shut down locations. However, if you fall behind, things can become overwhelming with catastrophic events shutting down all locations and more events continuing to activate. This can be a bit frustrating for new players, which became less of an issue with the expansion. This contributes to a sneaky scoring method in the game. Events become a focus, both for earning points and preventing everything from shutting down. This makes defense cards popular, but these are worth zero points. If you can quietly grab some transport or bio cards worth as much as three points, you can pull ahead without your opponent realizing it. This is an extra exciting way to win, since other points are visible at all times, opponents can be falsely confident in their lead.
A Few Issues With Helionox
The main flaws in the game are the card organization and rule book. Setup time, while not all that significant, could have been reduced if the box kept the cards organized and not stacked together. If card types were separated into slots like in Dominion or simple divider even, it would have been easier to get the game set up quickly. The other issue was the rule book which could use some editing to make it read a little easier and have more visuals. Note that this review is based off a copy of Helionox: The Last Sunset and a prototype of the Mercury Protocol expansion. The draft rule book I viewed showed improvement and I have not seen the box insert for the deluxe edition. These problems could be completely eliminated upon fulfillment of the Kickstarter. The last "issue" I want to point out is not a flaw per se, but a matter of taste in games. There is a lot going on in Helionox, with location, architect, and card abilities, building embassies, cycling cards in the market, overcoming events, moving locations, optional missions to complete, and even more with the expansion. If you like simple, streamlined games, Helionox may have too many things for you to remember to do in one turn. This didn't affect my opinion of the game, but I mention it for those who like simple play cards and buy cards deck building games.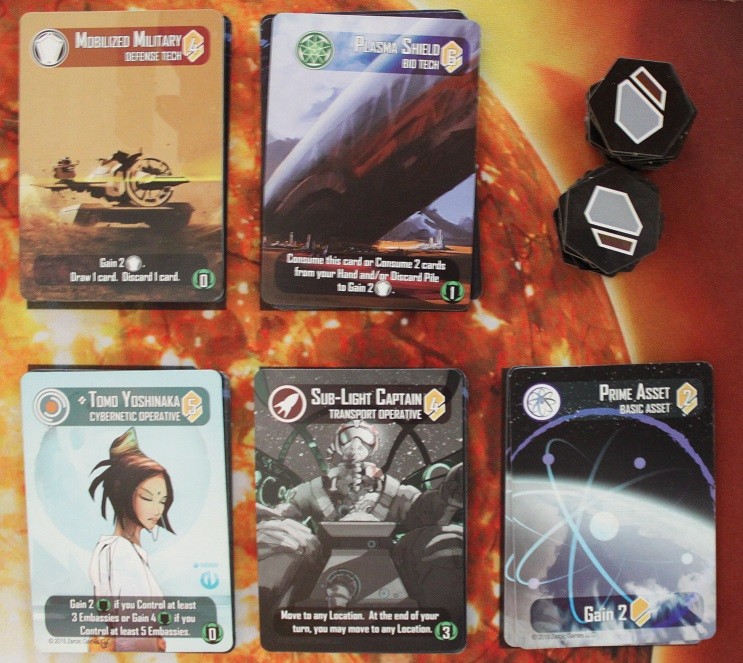 New Helionox Expansion - Mercury Protocol
The Mercury Protocol was a great addition to Helionox. It added new features, created multiple new strategic options, and improved the gameplay experience. Transporting cargo was a fun addition that made you feel like a space smuggler with your secret request cards. Not only was it fun theme-wise, but it created a new avenue for scoring points and allowed you to get illegal tech cards or market tokens. The market tokens are worth two credits in the market, which sounds like a small addition, but greatly improved the game. In the original game, it could be difficult overcoming events and buying cards in one turn. Market tokens make it much easier to acquire strong cards quickly, which could help prevent too many events from staying active for a long time and overwhelming players. The illegal tech cards created a risky new strategy. They have the downside of giving players infamy (negative points), but if you can develop a strategy to remove infamy tokens and trash your illegal tech before the game is over, they have a good upside of powerful abilities. The ability to buy cards faster and added scoring methods make Mercury Protocol highly recommended.
Helionox is a pretty decent game overall that does a good job differentiating itself from the many deck building games out there. It won't unseat favorites like Dominion when I'm looking for a deck building fix, but the other elements it offers will get it to the table. Mercury Protocol makes several additions that really improved gameplay. I won't play Helionox again without it. The mechanics and theme make Helionox appealing for fans of Star Realms. Get Helionox Deluxe Edition on Kickstarter and you'll be one step closer to ruling the solar system.