Anime: The Heroic Legend Of Arslan
Released By: FUNimation
Release Date: August 23, 2016
Retail Price: $64.98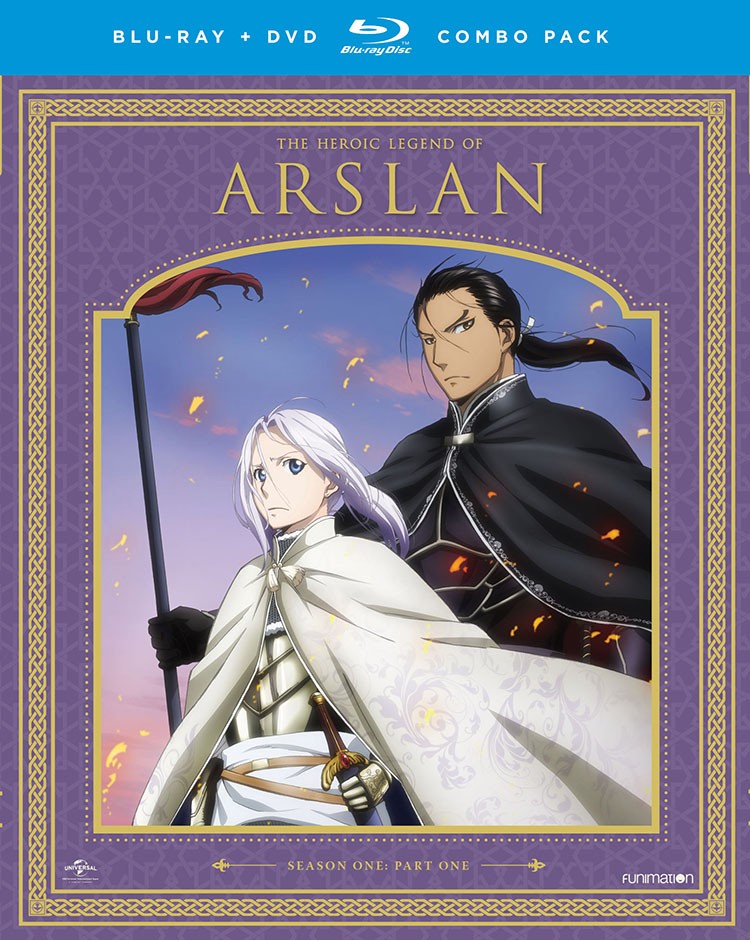 FUNimation
The anime series The Heroic Legend of Arslan is yet another action/adventure epic from Hiromu Arakawa, whose previous titles includes the immensely beloved anime Fullmetal Alchemist. The Heroic Legend of Arslan shifts between an action or adventure series with a major appreciation for war-time politics that run rampant in a quest for power -- even if it includes deception or hasty decisions to accomplish what they believe is right (sometimes self-serving). In Pars Era, year 320 BC (pre Julian Roman calendar), society has hit a boiling point that is entirely leading to a massive war. During the preparation for battle, Pars side is hit with a betrayal that hinders the army, population, and leaves the king of Pars kingdom at the mercy of an opposing kingdom.
With the rival kingdom Lusitania becoming a larger threat, a miraculous turn of events helps the Prince of Pars (who is known as Arslan, clearly the titular protagonist of The Heroic Legend of Arslan) survive the onslaught. The realization of his father's life in danger in addition to being betrayed sends Arslan on the run for safety, not pushing him to be too trusting of anyone surrounding him initially. Arslan escapes and is eventually found by his longtime friend Daryun, also known to the kingdom as the Black Knight of Pars. With the two linked up in the midst of chaos and battles, they begin an adventure that will utilize Arslan's position of power and the knight's abilities to ensure Arslan returns to the kingdom as a new king -- the place he is intended to be.
In terms of plot development, this is only the first half of a two-part story intended to branch out into greater depths, but there are elements that can be expected as well as some concepts that leave you wondering what resolve is possible. With Arslan's father being an advocate for war, I would assume that Arslan is clearly the intended "just" leader that the kingdom needs, but that doesn't give us all of the answers you might expect. Both Parsians and Lusitanians have their own problems with laws and leadership, including Pars' use of slavery, while Lusitanians have been known to execute both women and children when they deem it necessary. It adds a political and morality-based perspective to see how a meek, kind-hearted leader could change society for the better with all of the challenges attached to them.
Another strength to The Heroic Legend of Arslan would be honing in on two central characters with a deep connection and opposite qualities that make them who they are. As mentioned earlier, Arslan is more on the meek side with his own concepts of morality and justice that make him a more innocent figure in the series, while his friend and companion Daryun is a slightly hardened warrior with a rougher view on what people are capable of. The pair have their own strengths individually but together make a perfect pair of characters to follow throughout this multi-layered journey for redeeming the name of his family and separating himself from it at the same time. What makes Daryun equally interesting is his stoic sternness in unison with his extreme dedication to those he gives his loyalty to -- making them a pair that could be powerful and crucial to the evolution of their people.
The Heroic Legend of Arslan draws many artistic parallels to the series Fullmetal Alchemist (by the same creator) which work better for this series than that of the former. The softened character designs with unique color schemes and features makes it a warmer approach to a series with different ideals and goals, almost as if it solidifies Arslan as a more approachable series to general audiences with an appreciation for the beauty in anime. The structures are detailed as you would hope given the grand backdrop of the series, making it visually acceptable with only a few moments of repetition. The English dub voice cast does a stellar job at re-creating the characters, with Arslan's Aaron Dismuke as a perfect choice for the role of the primary character. All in all, The Heroic Legend of Arslan offers us many positives, and, although it isn't exactly perfect and captivating from start to finish, it's still a solid series that can be enjoyed by many.
Overall Score: 7/10
Aedan's Final Thoughts:
- Kudos for an awesome pair of protagonists.
- Setup for morality-based conflict is high in the first half of this series.
- Strong examples of artwork are used throughout the anime.