Are you tired of listening to the same artist on the radio? Have you been in search of a new artist with music that will blow you away? Well, you are in luck because PopWrapped is bringing you a brand new artist that you need to hear. Lucky for you, we are exclusively premiering Aaron Krause's song and music video, "Don't Wanna Lose You"  Believe me when I tell you, Aaron Krause is not only an amazing talent, but he is an artist that you will whole heartedly want to support.
Aaron's debut album 
Holding on to Love
, is a project that he threw himself into in order to make an album that truly meant something to listeners, "I began conceptualizing the album years ago.  Back then the goal was more abstract
: to create something that might mean as much to others as my favorite records me to me." However, his inspiration for the track "Holding on to Love" cam
e from a song he was listening to by Leeland, "About a year ago I was listening to a song by a band called Leeland.  In the bridge, he keeps singing this line "I'm holding on to love".  The line really resonated with me because I was in this crossroads at the time between making music from a somewhat cynical "industry" perspective, or making it from a more idealistic and loving place.  I decided then to commit to the latter."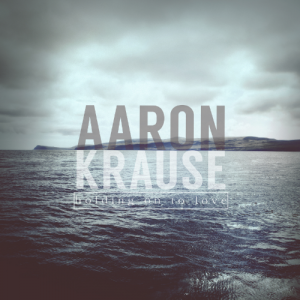 At a mere 22, Aar
on has already mastered the 
whole do it yourself idea. He not only writes his own music, but he also records in his home studio, not to mention he is also self-produced. If you're thinking to yourself what doesn't he do, the answer seems to be nothing. But, music isn't just an occupation for him it's a way of life, which he has always seemed to be in love with, "I was probably 10 or 11 when music began to really take over my thoughts and my heart.  It was very natural.  I certainly never went looking for it." He has always had music be an integral part of who he is.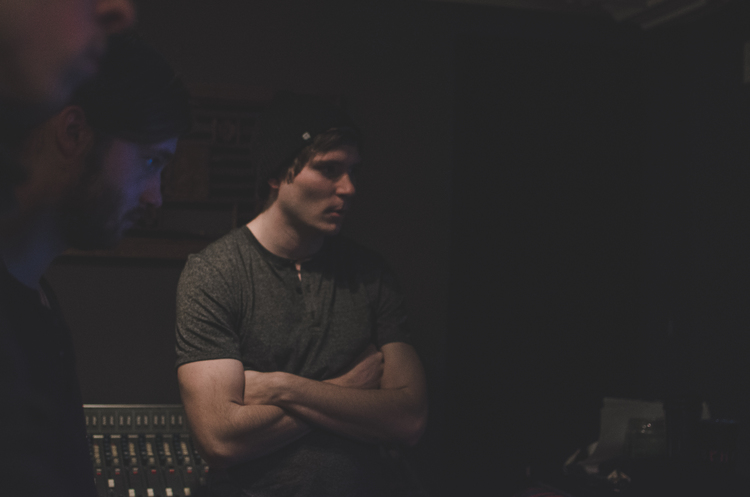 Aaron in the studio.
When I asked him what artist or artists have inspired not only him but also his music he had a difficult decision trying to narrow down just one talent, "Do I have to pick one?  There's a Coldplay record, Viva La Vida that I think literally changed the way I listen to music.  I'm also constantly inspired by anything Sigur Rós or their front man Jónsi does." So it doesn't come as a surprise that his dream collaboration also happens to be Jónsi, "I'm gonna have to stick with Jónsi from Sigur Rós.  I think he may be more in tune with beauty than anyone."
Aaron also likes to put his own spin on songs that we've already heard of, which is something he plans of doing more of, "I'm also going to start releasing a bunch more covers on youtube.  But not top 40, more like Prince, Céline Dion and Bonnie Raitt.  If I'm gonna do covers, I want them to feel fresh." If you haven't already done yourself a favor and listened to his YouTube cover of "Every Breathe You Take" by The Police then go ahead and waste no more time check it out here. Go ahead and admit it, that has you craving more covers from Aaron doesn't it?
His debut album is filled with a wonderful mix of songs for fans from all different genres. My personal favorites are "Honey, Fire" and "Only You," but don't just take my word for the best songs what you need to do is take a listen yourself! But when it comes to the music Aaron is grooving to now, he doesn't necessarily stick to mainstream music, "About a year ago, a formerly Nashville-based artist, Andrew Belle, put out a record called Black Bear.  It still blows me away every time I listen to it; I just can't get enough.  Also, I know I'm late to this party, but I just heard "Cool Kids" by Echosmith a few weeks ago and I think its perfect." Let's be honest who isn't obsessed with "Cool Kids?" After you finish listening to Aaron's debut album for the 50
th
 time, I know that you will have the same thought I had, what's next for him, and where can I get more, "'ve already started recording new songs.  One of them I wrote shortly after I finished Holding On To Love called "Jade" which is actually almost finished.  There's also a producer in town named Tim Lauer I've embarked on several songs with…" Not to mention he's playing an album release show at the High Watt in Nashville on October 27
th
, he will be playing college shows in the spring, and a fall house show tour. Not to mention he is working on producing music for upcoming TV shows and films while he continues to produce music from his Nashville home.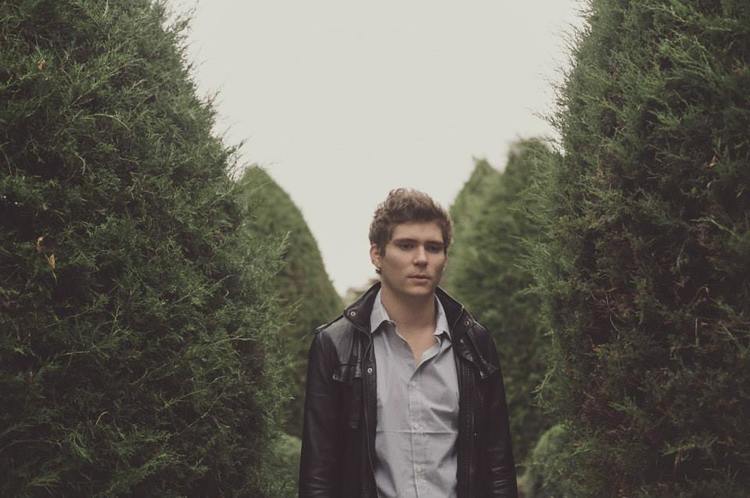 Aaron is the epitome of a self-sufficient artist who truly has the passion and talent to make music that means something. However, he's still trying to figure out the whole science to the music industry or more importantly breaking into it, "I'll let you know when I figure it out!  But also, that all creative people need to champion and celebrate each other instead of compete.  Competition is a death sentence to your creativity and spiritual health. " You can go ahead and thank me for getting you addicted on his brand new debut album 
Holding on to Love
, because there is truly not a bad song on the album. Each and every song has the ability to draw you in and totally memorize you. So stop what you're doing and go listen now! And while you're at it head over to twitter and give him a follow
@AaronKrause
, you don't want to miss out on any of his projects. So what are you waiting for, head on over to iTunes 
now
, to get this incredible new album, 
Holding on to Love
. As always let us know just how awesome you think this album is, but most importantly make sure you tell Aaron! PopWrapped is interested to know what your favorite song is! (And to answer your question, yes, "all of them" as your answer is appropriate.)
Keep Up With PopWrapped On The Web!
Twitter  SoundCloud Facebook Instagram Tumblr Pinterest YouTube