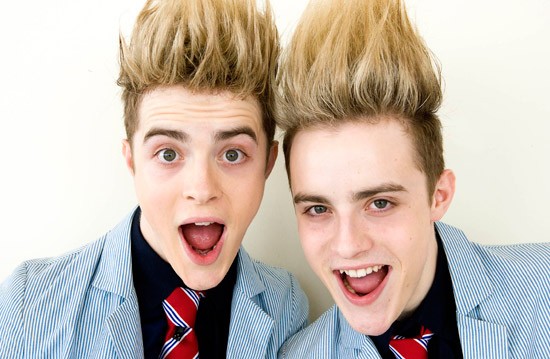 Jedward fans rejoice; John and Edward have announced the name and release date for the highly anticipated follow up single to 'Free Spirit', the lead single from their yet to be named fourth album. The Dublin twins tweeted this afternoon:
New Single Ferocious Out Oct 24th pic.twitter.com/2AepRgrBIC — JEDWARD (@planetjedward) September 22, 2014
As if that weren't exciting enough, John and Edward have also revealed that they will be flying to LA this week to film not one, but three music videos hopefully featuring some very familiar faces. Speaking to Derek Mooney on Ireland's RTE 2FM earlier today, the twins discussed filming, editing and directing their own music videos. Fans of Jedward will be long familiar with John and Edward's longstanding friendship with Tara Reid, and so it comes as no surprise that the twins have plans to work with the Sharknado actress in the video for 'Ferocious', having previously featured Tara in their 2011 video for 'Wow Oh Wow'.
http://youtu.be/DW6BSXDRCYAhttp://jackcrute.com/breaking-news-jedward-announce-new-single
Another returning face is Perez Hilton, who John and Edward hope to feature in a video for 'Make Your Own Look', another forthcoming song from the new album. Perez is a fan of the singing twins, and was shown via webcam in a scene during 2011 video, 'Bad Behaviour', as well as having met them on several occasions.
John and Edward also spoke about what could turn out to be the music video collaboration of the year - their hopes to feature William Shatner in the video for track 'Leave A Mark'. The trio are surprising friends, having first met in LA earlier this year. We don't know about you, but we think a Jedward/Captain Kirk video could be out of this world amazing!
Ferocious is out on October 24th, released independently. Jedward's self written fourth album is expected to be available in the Winter, date tbd. Jedward are touring Ireland this October, with dates in Dublin on the 24th, Drogheda on the 26th, and Castlebar on the 27th of October. Limited tickets for Dublin and Castlebar are available from ticketmaster.ie and tickets for Drogheda can be purchased from the TLT website.
Keep Up With PopWrapped On The Web!
Twitter  SoundCloud Facebook Instagram Tumblr Pinterest YouTube