This was not a good weekend for actress Leah Remini and singer Jennifer Lopez. The two celebrities were involved in a car accident that, thankfully, did not result in serious injuries. Law enforcement
tells
TMZ  that Remini was driving Lopez's car near the 22700 block of Pacific Coast Highway on Saturday (Sept. 27) when their vehicle was rear-ended by a pickup truck.
Deputies were able to find the driver a short distance away and arrested him on a suspicion of a DUI and hit and run.
Thankfully there were no apparent injuries.
Jennifer Lopez posted this message along with a picture to Instagram: 
"Sitting at a light, Riding high right before some drunk fool rear ended us in my new whip!!! Thank god everyone ok!!! #GRATEFUL #THANKYOUGOD #DontdrinkandDrive!!!! #cursedthatfoolout #theBronxcameout #dontmesswithmycocnuts #mamabear #leahstayedcalm #thatwasweird"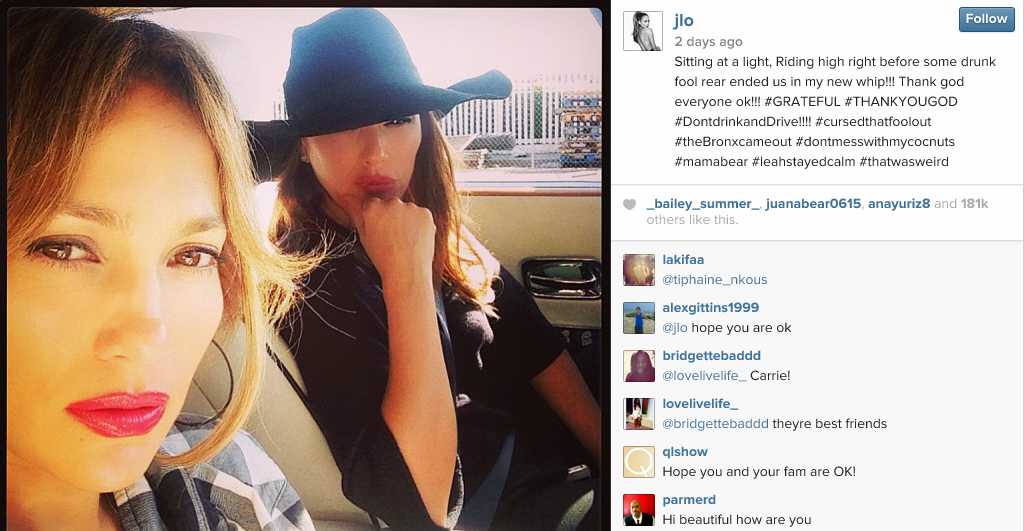 Courtesy of Instagram
Keep Up With PopWrapped On The Web!
Twitter  SoundCloud Facebook Instagram Tumblr Pinterest YouTube