Full disclosure, I'm a huge Beatles fan, so Across the Universe is a movie I can watch on a loop for hours on end. That's why I was ecstatic to have the opportunity to interview Jim Sturgess, who starred as Jude in the musical film. Across the Universe certainly put Sturgess in the map, but his talent and charisma have kept him there. He has starred in over twenty films, including 21, The Other Boleyn Girl and Cloud Atlas. This year, Sturgess broke ground by leading a television show, Close to the Enemy, an intriguing series with an incredible ensemble cast.
Close to the Enemy is a seven-part period drama from acclaimed writer/filmmaker Stephen Poliakoff (Perfect Strangers, Lost Prince, Dancing on the Edge), starring Jim Sturgess, Alfie Allen (Game of Thrones), Alfred Molina (Spider-Man 2, Frida), Angela Bassett (What's Love Got to Do with It, American Horror Story), August Diehl (Inglourious Basterds), Lindsay Duncan (The Honourable Woman), Freddie Highmore (Bates Motel), Robert Glenister (Hustle, Prime Suspect), Charity Wakefield (The Player, Wolf Hall), and Charlotte Riley (Peaky Blinders).
The Acorn TV Original Series and BBC One production tells the story of intelligence officer Captain Callum Ferguson (Sturgess), whose last task for the Army is to ensure that a captured German scientist, Dieter (Diehl), starts working for the British RAF on urgently developing the jet engine.
According to Acorn TV, "Over the course of the series, Callum encounters a number of other characters whose stories all intertwine. These characters include Victor (Highmore), Callum's younger brother, struggling to deal with psychological trauma caused by his combat experience; Harold (Molina), a Foreign Office official who reveals some startling truths about the outbreak of the war; Rachel (Riley), an enchanting Anglophile American engaged to his best friend; and Kathy (Phoebe Fox), a tough young woman working for the War Crimes Unit, fighting to bring war criminals who escaped prosecution to justice. Each character is trying to rebuild and move forward in the aftermath of a war that scarred them all so deeply."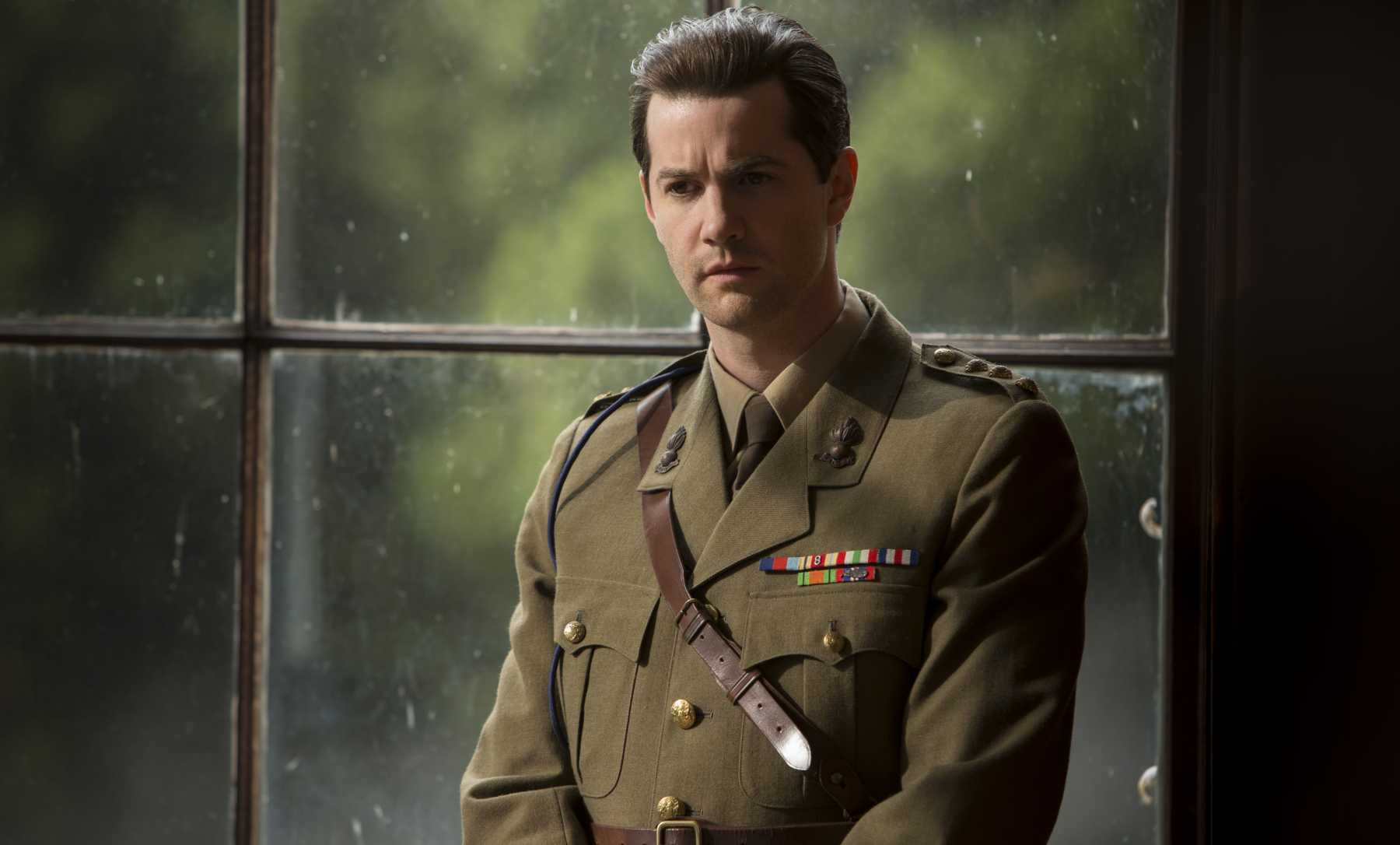 Courtesy of Acorn TV
We were thrilled to talk to Sturgess about Close to the Enemy, his character Callum and how he incorporates his love for music to his acting projects.
PopWrapped: This is the first time you've starred on a television show; the bulk of your acting work has been film. As an actor, how is television different than film? How was the experience?
Jim Sturgess: Yeah, it was the first time I've done a TV show. It was a very incredible experience. I mean, it was an amazing thing to work with Stephen Poliakoff, who is a very well known and renowned writer/director here in England. I was really very excited just to work with him. I guess it was very difficult for me as I'm sort of in most of the show, pretty much every scene. You know, you're shooting seven stories, seven episodes, rather than just one. So it was a lot of work and a lot of preparation that had to go in before we started filming. It's just a much bigger journey we have to take. Rather than a two-hour journey, you're taking a seven-hour journey, but you're filming it on the same amount of time you might film a two-hour journey, so it was a lot to get through each day. And just a huge amount of lines to learn, because of the way that they shot it. We didn't shoot one episode at a time, we actually shot it like a giant movie. So we would shoot a scene from Episode 7, a scene from Episode 5, then a scene from Episode 1, then another scene from Episode 7 again. So you really had to be on top of where you are on the story and what your character was doing. So that was very difficult, that was a lot of hard work. But Stephen has a very particular way of working; he works in a very similar way as a theater production, really. So we were given a four-week rehearsal period before we started filming, which is, in film and television, completely unheard of. So it gave us a lot of time, it gave me a lot of time to really kind of map out and work out what we were going to do by the time the cameras were rolling. So, in that sense, I was very blessed, it was a luxury.
PW: Tell us a little bit about the show.
JS: The core of the story really is about the relationship between a British officer and a German aeronautical engineer. And it's set just after the Second World War. It was a period of history that I didn't know that much about. After the war, the British, in particular, were giving a lot of German Nazis -- they were giving them pardon; they were giving them new passports and having them held up in hotels and basically sort of extracting their knowledge and information -- military information and scientific knowledge -- and were giving these people pardons for the horrific things that they had done during their time in the war. So that's really the kind of core of the story. It's set in a big hotel in London, and there are many other characters that are kind of roaming the corridors and the hallways of the hotel, and they all bring their own story as well. There's a lot of colors and a lot of things happening.
PW: Your character, Callum, he looks tough but also seems pretty fragile on the inside. How would you describe him, and do you relate to him at all?
JS: I didn't really relate to him in my own personal life, but I was fascinated by him when I first read the script -- I read the first three before I met with Stephen and we could talk about it. And I was very unsure of how I felt about him, really. He's written very -- in a very unique portrayal of a character. There are sorts of hints of violence in him. He comes across as incredibly confident and charming, but you know that there is a sort of tortured man deep down, buried underneath there. It's an interesting place to start a character's journey, which is right after he fought in the Second World War. So, of course, there's a lot of baggage and a lot of residue from those experiences that are weighing on his shoulders. There's a lot of things going on buried very deep under the surface. He comes across very charming, very confident, very in control. And I think the sort of drama in the story is how much in control he really is.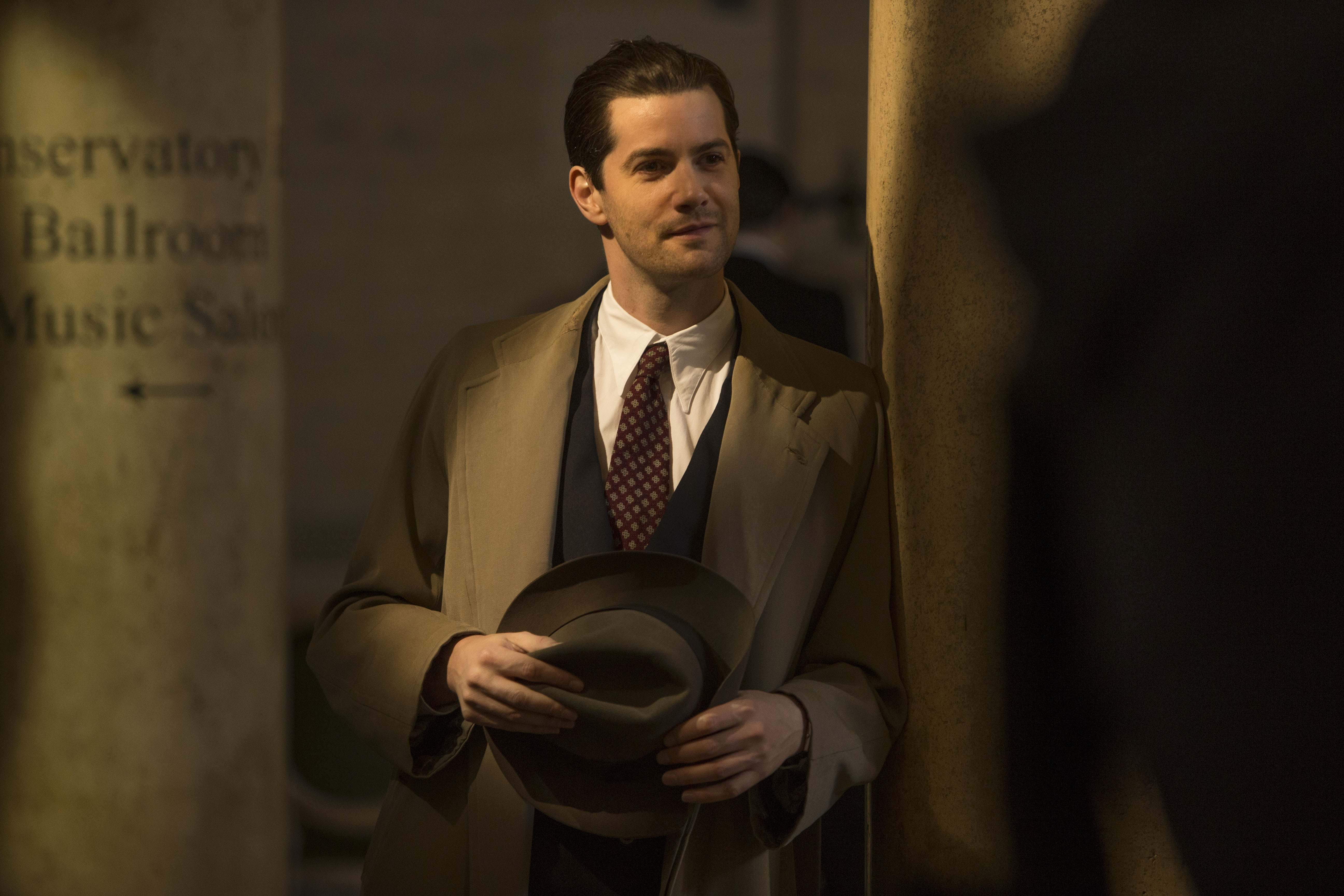 Courtesy of Acorn TV
PW: Clearly, the war has left a string of consequences for everyone at the time, and Callum has certainly been pretty affected by it. How will he cope with his post-war feelings while still trying to do his job in the timeframe that he was given?
JS: Yeah, I think he's very determined really. He's absolutely adamant that it's so important to be prepared for the next war that is kind of looming ahead, which is the cold war against the Russians. So the drive really is to get this information and to be as prepared as humanly possible, which is what gives him the moral belief that he's doing the right thing to protect his country. You know, the moral tightrope that the characters are kind of walking is: 'is it okay to be using these Germans as friends, is it okay to ally with the Germans to be prepared for the next war, or should these people be tried for the heinous crimes that they committed?' And it's the kind of tightrope of my character. But I think he's a very damaged soul sort of deep down. And his brother also has hugely been affected by his time in the war; he just wasn't strong enough to kind of deal with what he saw. So I think Callum's way of being with it is just to be -- he really, he has a huge pretend -- it's almost a performance within a performance -- that everything is fine, that he has everything absolutely under his control. But I think, deep down, he's struggling more than anybody realizes.
PW: Speaking about his brother, when we first see Callum with Victor, we see he's very protective of him, but then there's a shift. How does their relationship change?
JS: Yeah, it's interesting because his brother is the one sort of who can show a glimpse of Callum's softer side. He's very much a loving brother. He loves his brother. And he's, like you said, incredibly protective of him. And has to sort of be a parent to him because their parents are not around anymore. So he's really had to bring up his brother. It just shows another kind of brushstroke in his personality. As the story kind of develops, I don't want to say too much, but that protectiveness becomes hugely important as his brother gets more and more out of control. And the tables do start to turn; as Callum starts to get deeper and deeper into the situation that he's in, it's actually his younger brother Victor who becomes very concerned about his older brother.
PW: There seems to be a lot of chemistry between Callum and Rachel, his friend's wife. What can you tell us about that, because I think there's trouble ahead?
JS: (Laughs) Yeah, the character Rachel is kind of a glamorous kind of peacock, a beautiful firework in a sky of grey. She brings so much life and energy and exuberance into their lives that it's hard not to be attracted by her. She's sort of anarchic in her approach to life and lives life to the fullest. And it's very magnetic to somebody like Callum who sort of is attracted to that kind of energy I think. So, yeah, you'll have to keep watching (laughs).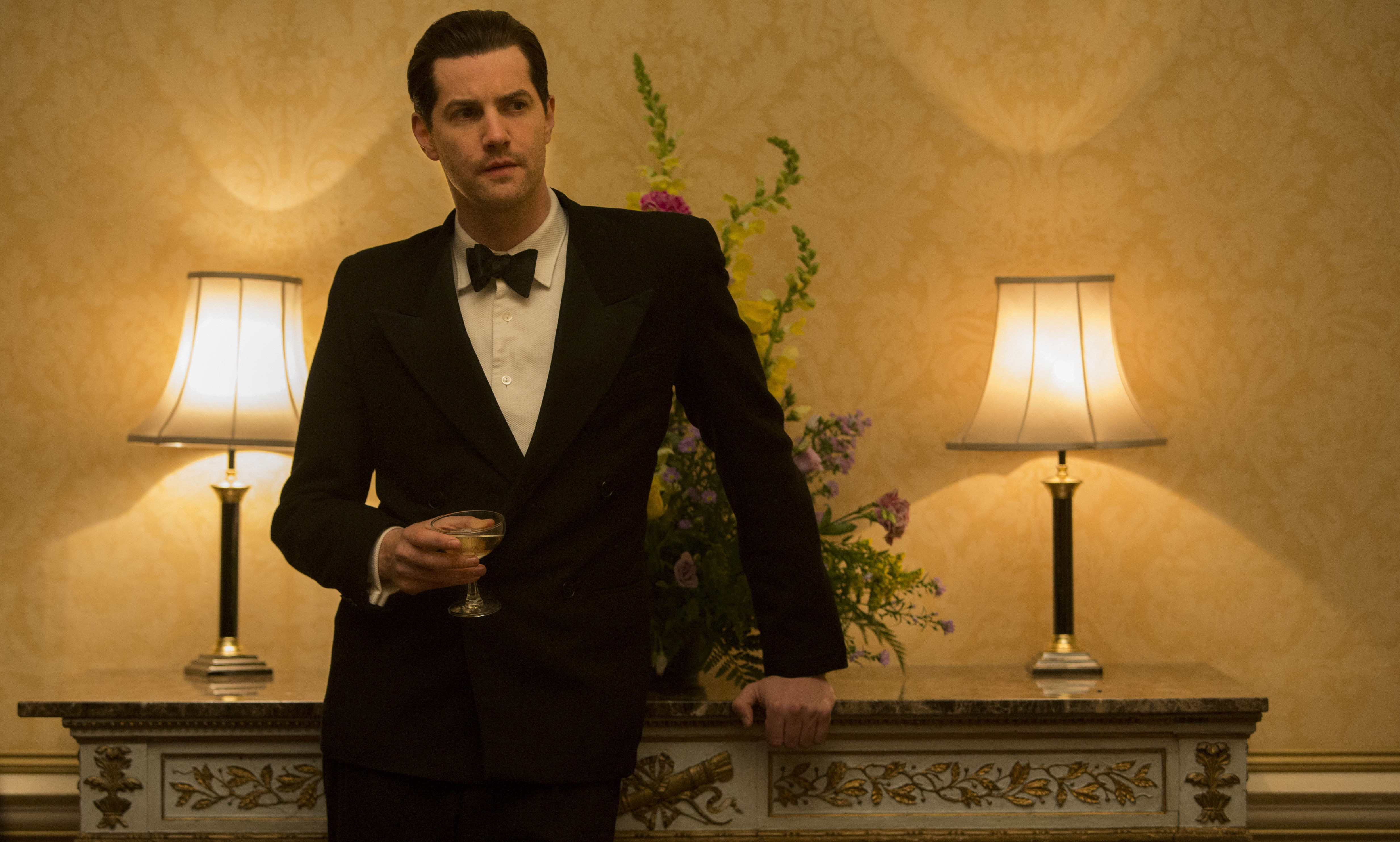 Courtesy of Acorn TV
PW: You're a musician, too; you have starred in a musical film, Across the Universe, and we also see you playing the piano in the show. Would you want to incorporate your music to your acting even more -- do another musical film or maybe even by way of musical theater?
JS: Yeah, I've always been involved in music, and I think it was Stephen who was very interested in the fact that I was a musician and that Callum was also a musician and a composer. I think he was pleased that I could play music and was very adamant that I learned the piano pieces as well as I could. Callum is far better at the piano, so I had to really study some of these piano pieces that he plays throughout the show. And I have in various films -- I've written some music for some of the films that I've been involved in. So yeah, it's not something I seek out, I don't sort of look to find a musical character, but if there's a way of introducing any music, and it's organic and it feels natural, then I'm interested in doing that, definitely.
PW: Do you have any other projects you want to tell us about?
JS: The other project that I have coming out is a movie called Geostorm, which is a big Warner Bros. film. It's coming out next year. It's a sort of blockbuster, you know, it's a fun, entertaining film, but, kind of at the heart of it, it's about global warming and geoengineering. And it's set in a time when global warming is so out of control. And the science of geoengineering, which is a real thing that is developing more and more, whereby humans are able to control and manipulate the weather, which is a slightly terrifying idea. But it's very real and it's absolutely happening. So yeah, but it's a sort of fun, blockbuster movie.
Not only is Jim Sturgess an incredible actor and musician -- and an absolutely delightful interviewee -- he's also a caring individual and good friend who is raising money for his friend Neil, who has been diagnosed with a severe form of Multiple Sclerosis. Sturgess hopes people will purchase some of his old unfinished demo tracks in order to give Neil a chance of survival and recovery. You can contribute, and also enjoy some very good music (lyrics by Sturgess), by clicking here and downloading the tracks.
And, of course, Jim Sturgess can be seen in Stephen Poliakoff's miniseries Close To The Enemy, Thursdays on BBC Two (UK) and Mondays on Acorn TV (USA).