Duckie didn't get the girl, and that's how it should be, according to Jon Cryer.
Cryer portrayed the hopelessly in love but ever fashion-forward Duckie in the 1986 John Hughes classic film, Pretty in Pink. In the movie, Duckie's in love with his best friend, Andie (Molly Ringwald), and both live on the outskirts of life, socially and economically. But Andie's only got eyes for the sweet popular guy, Blane (Andrew McCarthy), whom she chooses in the film's incredibly '80s ending prom scene.
In an interview on Entertainment Weekly's Sirius XM show, EW Morning Live, Cryer said he's come to believe the right finale to the film is that one—the ending they re-shot after test audiences disliked the original cut. (In the original version, Andie chooses Duckie over Blane.)
"I do think the movie is best as it is, 'cause I think you really do invest in that relationship," Cryer said. "At the time, I was annoyed, because I wanted to be the guy who got the girl."
Many fans over the years have speculated that Duckie was gay, and though Cryer says he's surprised by that, he thinks it's great that fans are so passionate about the character. He told EW, "I'm happy the way it came out. The movie holds up great."
Ringwald agrees with Cryer's take on the ending. As she told Out in 2012, "That [original] ending fell so flat. It bombed at all the screenings…I just knew that my character shouldn't end up with [Duckie], because we didn't have that sort of chemistry."
Pretty in Pink : An '80s Classic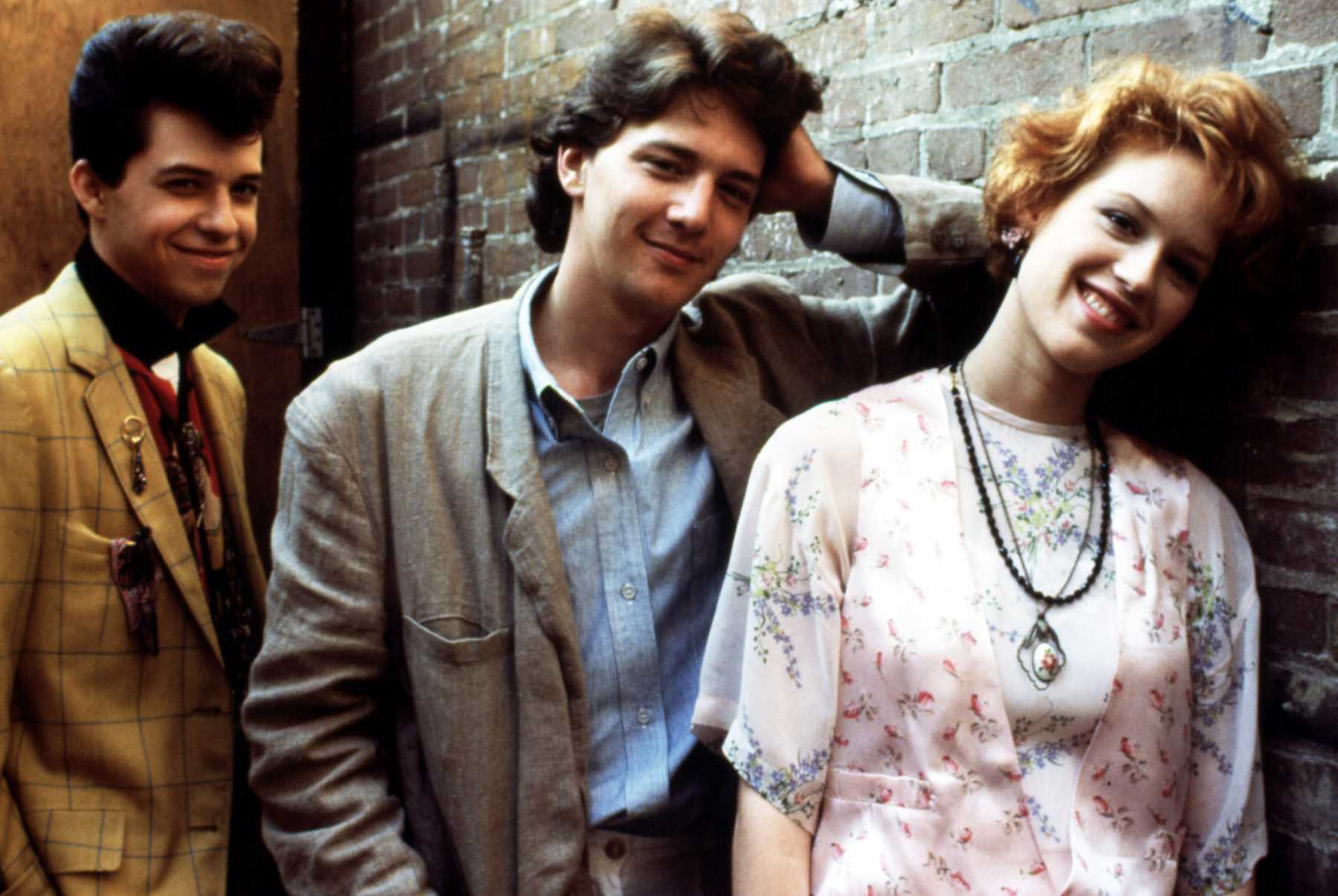 In the more than 30 years since its debut, Pretty in Pink has retained its popularity with movie fans and is one of the best films from the '80s/Brat Pack era. Written with his signature wit, precision, and care for his characters, Hughes brilliantly captured the angst and ecstasy of being young and in love and torn between two different worlds.
The cast's chemistry and embodiment of their characters played a big role in the movie's success. In addition to Ringwald, Cryer, and McCarthy, the movie also starred Annie Potts as Andie's record store boss, Harry Dean Stanton as Andie's down-on-his-luck dad, and James Spader as the scene-stealing jerk, Steff.
And then there's the soundtrack, of course. There's no debating this song's placement at the end of the film:
So now that Duckie himself has weighed in, what do you think? Should Duckie and Andie have danced off into the prom together? Or is it Blane and Andie forever in your book?