Every once in a while, a music artist comes along that takes everything you thought about a genre, all of the preconceived notions formulated within a closed mind, and completely demolishes them. What is left is a fresh and open mental canvas, unblemished and receptive to new perspectives and familiar emotions that forge connections. Weerd Science, the solo rap project of Coheed and Cambria drummer Josh Eppard, certainly fits the description.
While he is most known for his role in the immensely successful Coheed and Cambria, it is within Weerd Science that Eppard truly sets himself apart from other artists out there today and shows just how versatile he really is. Just take a listen to The Illogy: Red Light Juliet 1, 2, and 3.
There is also some very exciting news that was shared by way of a video posted on the official Weerd Science YouTube channel. In it, Eppard, flanked by longtime collaborators Ernest "Dirty Ern" Falconer and producer Chris Bittner, announced that there is a new album in the works and released the first single, "All Eyes On ... You."
Watch the video below for the full announcement.
PopWrapped caught up with Josh as he prepares to embark on a massive tour with Coheed and Cambria to talk more about Weerd Science, Coheed and Cambria, and, of course, his beloved New York Mets.
PopWrapped: Thank you for taking the time to chat with us. So, you just released a song called "All Eyes On ... You." What was the specific driving force behind the lyrics in this track?
Josh Eppard: A lot of times writing, specifically lyric writing, is somewhat "stream of consciousness" style. Over the years, I've written a lot of songs. And, when I was young, those songs would come to me like a giant wave. I'd write three to four songs a night while getting high in my bedroom. That was then. Writing now, after already having so much material out in the world, is most definitely a more cerebral thing for me. Meticulous, at times, I'd even say. But always alive in me is that stream. Let it in. Let it flow. "All Eyes On ... You" is letting that stream just be. I feel the discontent in the world. I feel the anger. I feel the fear. "All Eyes On ... You" is an honest portrait of my own fears about the modern world.
PW: What is the songwriting process like for you? Do ideas come in spontaneously? Do you have any rituals that deliver you into a clear headspace before you sit down to write?
JE: The process is ... how do I say, always different with a lot of the same tones [laughs]. Each song has a different process, but that's not really by design. It just ... is that way I suppose. Sometimes one word or phrase can spark a whole song. Other times, and this is when the meticulous part comes in, you can have an idea for a song, sit and write and write and write and never get anywhere. Those are the different ends of the spectrum. Sometimes my process is, "Hey, I sit down and craft a whole song because I'm an artist and I'm the man!" Other times it's, "God I have been trying to sketch out this idea for weeks and just can't get it there because I'm a fraud and I'm awful." [laughs] I'm not sure that really explains it, but both of those things live in me daily. Sometimes the steam can take you places and lead you to discover things about yourself. Sometimes you have to concentrate and dig and that can be tough. But that's the challenge. I don't want this to always be easy. I want to be challenged. Songs like "Dust Of My Dad's Dreams" or "Steady Straight Lights" were challenging because it forced me to sift through some of these things. But, as for a specific ritual ... no. Inspiration hits when it hits. And I'm in no control of it honestly.
PW: That is great insight! Some of the best songs come about spontaneously, with an almost abrupt honesty. Really digging into the human condition and being able to express these feelings in song is quite a feat. Your music invokes such a highly emotional response from listeners. Do you recall an instance when someone shared what a song meant to them? How does it make you feel?
JE: I'd imagine, for any artist, one of the greatest rewards is when a piece of art that you've created speaks to someone else. We get letters constantly from people that identify with Weerd Science, and it's the force that keeps us alive. I am not alone. I dredge these waters in search of a genuine piece of myself, and, when the music speaks to another, then there's a commonality that is powerful. Really powerful.
PW: Absolutely. You have some very distinct sounds happening musically, as well. Do you also play a role in the musical compositions of your songs? Tell us more about the roles of Ernie Falconer and Chris Bittner.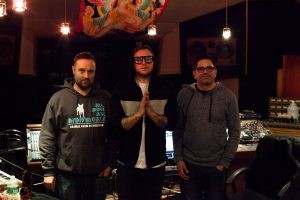 Weerd Science (Bandcamp)
JE: Yes of course. Some songs I play and write a lot of the music for, but very rarely does a piece of music go by Chris Bittner without him adding something of his own. Chris is one of the most brilliant musicians I've ever met. Hands down. On the flip side, there are times when Chris will deliver a piece of music that I consider complete do I keep my hands off it. [laughs] You know, nothing comes out under Weerd Science that all three of us haven't touched. We produce it together. A lot of times, we play the music together and even craft the arrangement together. But, just like writing lyrics, it's always different. On my first record, Friends And Nervous Breakdowns, I wrote a lot the music. And so did Chris, but I noticed after making my second full length, Sick Kids, that my best songs were when I didn't write the music. Why? I'm not sure. But, even on Sick Kids, where I wrote tons of the music, two of the best songs were where I didn't touch it! "Unloveable Loser" was completely crafted musically by Dave Parker and "Asylum In Skin" -- although I did play drums on both -- was made by Ernie and Chris, and I had an epiphany I guess. I enjoy hearing a piece of music that I didn't make because, if it gets me, if it makes my hair stand up, then I can transfer that into the lyrics. When I make the music, some of the magic has been sucked out because, naturally, I've played it and heard it 10,000 times while crafting the piece. Now, there are clearly exceptions. "Red Light Juliet 3" -- the song, "You Can't Do That On Television," "Evil Genius," etc. ... I played guitar, drums, percussion, keys, and I love those songs. I write and play all the interludes and intros. Obviously, since they sound like they could be on a Coheed record [laughs]! But, in general, it's hard to define our roles. We all do everything. Other than the lyrics, obviously. Nobody is writing my rhymes. If they did, maybe they'd be better [laughs]. No I kid. My shit is dope as fuck.
PW: [Laughs] Seriously, though! You have some of the best rhymes we've ever heard! So, Weerd Science had a great tour last time out with Upgrade and Sadistik. Do you have plans to tour with this upcoming record?
JE: Not really. The touring plan for Weerd Science is as always: If something comes up, and we can do it, cool!
PW: We certainly hope that something does come up! Moving to another, somewhat related, subject. You shared some in-studio footage of yourself tracking drums and guitar and said that you have also been working on a rock record. What can you tell us about that project?
JE: Chris Bittner, Michael Birnbaum, and myself have been hard at work on putting together this thing. It is a "rock" record, I guess. You'll see.
PW: From what we've seen and heard, it sounds like it's going to be an incredible work! Coheed and Cambria are about to head out on one of the most highly anticipated tours of your career: Neverender GAIBSIV. How do you feel about revisiting this record? Do you have any deep cuts that you're excited to play live?
JE: Well, I'm excited that this tour is finally here. I'm excited that we are the luckiest sons of bitches on planet Earth, and we are still standing a decade and a half later. More!!! I can't wait to play "The Willing Well" [suite], "Once Upon Your Dead Body," "Mother May I," and ... all of them.
PW: We are excited, too! That entire record is amazing. Aside from your musical career, Josh, you share many other passions with fans on social media. You are quite the movie buff and tweet reviews frequently. Have you ever given any thought about starting a website to consolidate your recommendations?
JE: Yes, I have thought about that. I've actually just accepted an offer to do reviews in a new magazine that is being started by a long time friend and colleague. Can't say too much about it now, but clearly I'm excited as hell about the prospect of doing my silly ass reviews in an actual mag! I've written for Bloody Disgusting a bit in the past, but this feels more natural to me. It's a start up. In a perfect world I'd like to be part of the reason this thing is a success. You guys will be hearing more about this in the future from me, I'm sure.
PW: Awesome! Now, of course, we have to ask and get you going with this next one. Do you think the Mets will take it all the way this year?
JE: I mean, I absolutely think the Mets have the kind of team that could win the East and make their way through the gauntlet into the World Series and ultimately take it, but, like all teams, things have to break right. Last year, they underachieved AND overachieved somehow. After the almost unbelievable amount of injuries, instead of packing up shop and setting their sights on 2017, they hung tough and actually made the post season. Albeit, a short lived post season, but a post season nonetheless [laughs]. Listen, they get a shit ton of credit for their continued fight when a lot of people had them down for the count, but we've got a lot of guys coming back from injury, and you just don't know what you're going to get from some of them. Fingers crossed that 70% of the returning injured players play up to their numbers, but that asking a lot. It's a deep team. Very deep. Lots of talent. But shit, if two or three starters go down, it's a different season for us. Now, that's true with EVERY TEAM, but the Mets have Harvey, Degrom, Matt, and Wheeler all returning from surgery. Even Gsellman had a surgery. They say it wasn't serious, but you never know. I am so hopeful and excited for the Mets this year. I believe we will be a special team with a formidable lineup, but, of course, like any good Mets fan, I watch with baited breath. I 100% believe they can do it.
PW: Great! Well, we wish them the best! Thank you so much for your time and sharing some great insight! We're looking forward to the new Weerd Science record! See you on the road!
Have a listen to the brand new single, "All Eyes On ... You" below.
It is crystal clear that Eppard has the innate ability to stir the emotions with his carefully chosen words. Words crafted and delivered in a way that make the listener feel things they didn't even know were inside. Throughout the Weerd Science discography, there are songs about heavy subjects that illustrate the reality of anxiety, sociopolitical issues, and courageous introspective narratives surrounding Eppard's own struggles with past drug abuse. There is also the lighter, fun side of Weerd Science, and the stories within the songs give hope while providing the opening for the listener to dig deep within their own consciousness. Let it in.
If you are in New York, you can catch Weerd Science live with Mega Ran and MC Lars at The Knitting Factory on February 28. Coheed and Cambria Neverender: GAIBSIV tour kicks off in April. Be sure to keep up with Josh Eppard and Weerd Science updates on Facebook and Twitter.