Julia Roberts, best known for her roles in Pretty Woman (1990) and My Best Friends Wedding (1997) is making headlines this week as People Magazine's Most Beautiful Woman in the World 2017.
This marks the fifth time that Roberts has received this title in the past 26 years. She has beat out her fellow actor and friend George Clooney who has won the title of People's Sexiest Man Alive twice before. That is a new record.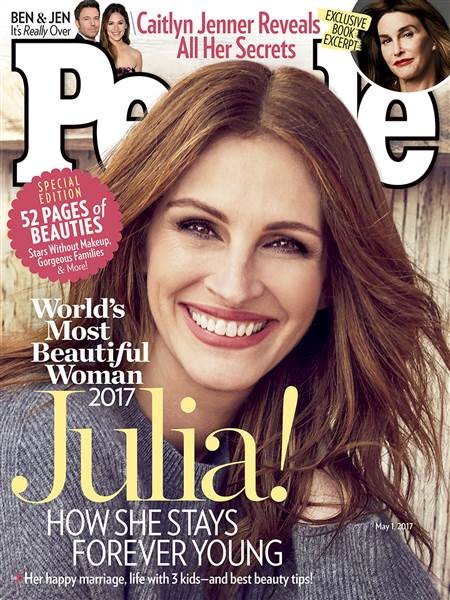 Roberts first appeared on the cover back in 1991. At the mere age of 23, she just came into fame after her movie Pretty Women was released the previous year, the film which was her rise to fame.
"People say, 'oh when Pretty Woman came out it must have really changed your life,' and it's kind of become this joke, but the truth is I was out of town when Pretty Woman came out. I was in another movie in this tiny little town that was showing Star Wars in its first run. I remember reading... 'Pretty Woman came out this weekend and made this much money' and I thought, 'Is that a lot of money? Is that great? I didn't really know'," she said in the interview.
Since then, she has been blowing up the movie scene and taking no names. When she is not acting she is spending time with her husband of 14 years, Cinematographer Danny Moder, and her three children Hazel, Phinnaeus, and Henry.
Other ladies who have made the list include Oprah Winfrey, Carrie Underwood, This Is Us actresses Mandy Moore and Chrissy Metz, Viola Davis, Emma Watson, and Taraji P. Henson.
Want more Julia Roberts? Check out this month's issue of People Magazine on newsstands now!