The Kardashian family is good at making waves and turning heads. Kim Kardashian's latest Instagram post, showing her three-year-old daughter North West wearing black lipstick, continues to shock followers. Some even went so far as to say "makeup ... naughty" and that North West "looks like a teenager with the dark lip."
But Kim is not the first member of the family to give the toddler "a grown-up makeover." Kylie Jenner was similarly "slammed by fans" when she put black lipstick on North in one of her 2016 Snapchat videos.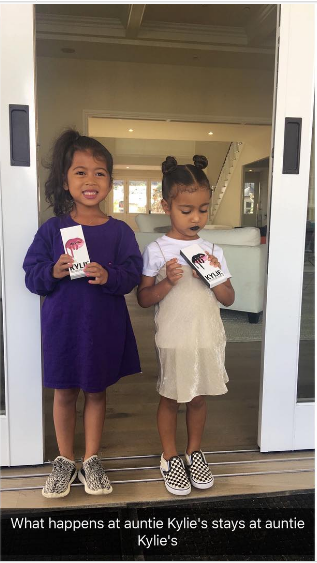 Snapchat
Kylie used a lipstick from her own Kylie Cosmetics line to make the young North beautiful for King Cairo's fourth birthday party.  King Cairo is the son of Kylie's boyfriend Tyga. Kylie captioned the snap with North's new look, "What happens at auntie Kylie's stays at auntie Kylie's."  North sported a taupe dress over a pair of black and white checkered Vans.  That black lipstick was prominently featured.
Naturally, fans thought putting makeup on a young child was not the right move.
Even though fans are upset about the lipstick, Kim took photos of her trip with North to Universal Studios and The Wizarding World of Harry Potter this past Friday. They even posted a picture together where North was waving her own magic wand.
The early makeover did not seem to make North upset at all. According to Vanity Fair, she even told her Aunt Kylie that she loved the lip color in the video they posted on Snapchat. While we cannot say whether or not the Kardashian family is worried about getting that dark color all over the house (the couch, the cushions, the bedsheets....) we do hope they let her continue to express herself.
But let her stay a kid for just a little while longer, Kim. She'll be asking to drive before you know it.