Considered to be the most successful musical of all time, Phantom of the Opera is Broadway's longest-running show and is estimated to have been seen by more than 140 million people. The most recent, considered to be the biggest production of Phantom just wrapped up an acclaimed sold-out tour of the United Kingdom and is now on the North American leg of their tour.
The show is now in San Francisco at the legendary Orpheum theater, where it will be playing now through October 4. 
I got the chance to talk to Katie Travis, who stars in the production as Christine Daaé, about her experiences on tour and playing such an iconic role.
PW: Tell us about the current tour of Phantom of The Opera.
KT: So the tour has been going on for around two years now. I joined the tour this past November. They were about a year into the tour when I joined, along with Chris Mann, Storm Lineburger, and a couple of other members of the cast; we have been all over. Before I joined they were in Chicago. We were all over the East Coast, Midwest, and we just left the Pantages. So we did Seattle, Portland, and we're doing the West Coast now. This new spectacular tour has sort of made its rounds around all facets of the country, which is exciting.
PW: Now you're headed to San Francisco for a run starting August 19 through October 4.
KT: I'm so excited because I've never been to San Francisco and I feel like every time I talk about where the tour is going, people always say to me, "San Francisco's your place, you're going to love it!" So I just can't wait to go. One of the greatest things about being on the road is that we're doing the show that we love and that we're passionate about sharing, and we're doing it for so many people around the country. I'm from Michigan. The first time I ever saw Phantom was when I was four. I saw it in Toronto and it was a big affair to go see a show like that. and we didn't necessarily have the money to be able to go to New York or L.A. or  across the country to these big cities all of the time. So we would make one little adventure a few hours away. That's what's cool about sharing the story on the road; we're able to share it with people who wouldn't necessarily be able to make it out to the to the big cities. But we love being in the big cities as well, so it's a great balance of all of that.
How did you get involved in the theater?
KT: I have an older brother and I  was always following what my older brother did. He's a musician, a conductor now. But it ended up being 'This is more than just doing what Matt was doing and what I love to.' Then I studied opera in college and in some programs abroad. I studied in Florence with some great teachers and then I moved to New York and was finding that the work that I was getting was mostly in musical theater and sort of transitional shows that are somehow fitting in between opera and musical theater. I always knew that Phantom was really right for me based on the training that I have had. It was just a matter of being patient and knowing that this job is right for me, and I felt that if I work hard enough, it will happen. It's just when the right time is, and so it took a couple of years and it took many a try, and it was about finding the right time for me when the job was available, and I think it's that much more special for me only because I have tried and wanted it for awhile. I was lucky that it happened. Literally a childhood dream.
PW: What is your "dream" role?
KT: It's funny, because I think in our field of work, you're kind of constantly dreaming, right? You're always thinking what's next? And what's the next thing? Which is exciting, and also there's a part of it that kind of allows you to remember how lucky you are in this moment. So the beautiful thing about evolving into this role and having the time to evolve--I've been on it for nine months now--having that time is amazing to actually really dig into very specific components of this character that I always wanted to play.

So in a funny way that's a new dream: finding new things in this particular job, in this particular role. I do have other things I'd love to do someday. I would really love Into the Woods and I'd love to do Cinderella, eventually The Baker's Wife. Clara in Light in the Piazza, I can't let that one go. I have to do that at some point in my next two years, even if it's just in someone's basement, I don't really care. I think those are the biggies for me right now. Like so many women do, I really admire Kelly O'Hare's career in that her background is in opera and she's been able to have this career in musical theater and now she's going back and performing at the Met and performing in smaller operas and larger scale operas and she's able to use all facets of her study and use it in her career which, ultimately, that's the amazing goal. You train for all of this stuff and prepare for so many things and you don't really know if you're ever going to be to be able to use them professionally. You might use them in your living room, which is great too, but to have that chance to really work hard and then be able to do it for people, it is awesome. And her career is exciting for me because of that.
PW: What has it been like to be part of such an iconic show like Phantom?
KT:  I'm lucky that they actually built beautiful pieces [costume pieces]  for me that are brand new, but I also have some pieces that were formally worn by some amazing Christines and the cool thing is, they have a great tagging system for all of the West End Broadway and tour companies where they have tagged inside of the dresses who wore them. I say this because it is just a daily reminder of the history of this show and the history of being able to do something in your own voice, in your own body, and your own version, but that so many other women dreamt of doing and have made it happen for themselves. I think there's something to be said about all of these young girls who turned into women who have always wanted to play this role. And who train and work and still work every day because, even when you do it, there's upkeep there because the demands are high. It's a cool history of people who fell in love with something and worked hard to get it, and that's what kind of excites me and gives me energy on days when I'm tired.

There are so many young people who are drawn to it and I meet so many people who have seen the show hundreds of times, who say, "You know you're the 98th Christine I've seen or the 107th Christine." I will say, though, in our production, although iconic is a great word for it and spectacular is a great word for it because we have the amazing pyrotechnics and these amazing visuals, we really do try and work to make it a more realistic approach to the story. And to really try and make it less about the phantom, who is this incredible magician and Christine is sort of hypnotized by him, but it's more of a transition into real people dealing with real life problems. Christine trying to figure out the direction of her life after her dad died, what kind of person she wants to be with romantically, where her career is going, where her life is going, really, and, you know, she makes some choices that get her wrapped up into some unfortunate situations. But that's sort of what happens in life--you're trying to do the best you can with the choices that you've made. That's all that we're really trying to do, to share these people who are trying to do the best they can with the life they've been given.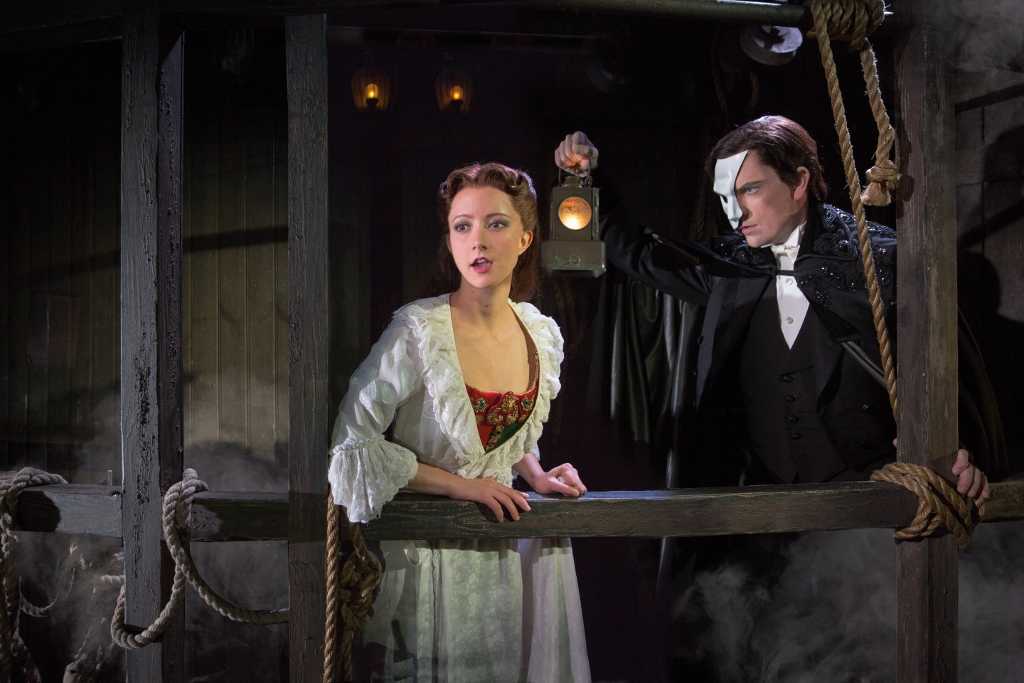 Credit: Matthew Murphy
PW: What's next for Phantom?
KT: After San Francisco, we go to San Diego immediately and then we go to Arizona for a bit, then Texas, and then we do a pretty long stay in Toronto for Christmas and New Year's, which is great and where a lot of things began with this show. And that's where I saw the show for the first time so it's cool that I'll be able to come full circle. We're very excited about that, and then the following year there are a lot of amazing stops, and then we finish next summer at the Kennedy Center.
Phantom of the Opera runs from August 19 through October 4 at San Francisco's Orpheum Theater. For ticket information, visit SHNSF. For other stops on the North American tour visit here.