Content Editor
It's
Official
!  Kelly Clarkson is now a married woman. Clarkson
married
her longtime beau Brandon Blackstock in a secret ceremony yesterday, October 20.  The ceremony took place at Blackberry Farm in Walland, Tennessee. She tweeted the happy news just a few hours ago saying. "I'm officially Mrs. Blackstock :) We got married yesterday at Blackberry Farms in TN, the most beautiful place ever!"
Courtesy of Kelly Clarkson
She also
tweeted
 a thank you to Temperley, the designer of her BEAUTIFUL lace wedding gown, and also Jim Varraros and Maria Elena who made her stunning head piece. You can see the amazing look on the new Mrs. Blackstock below!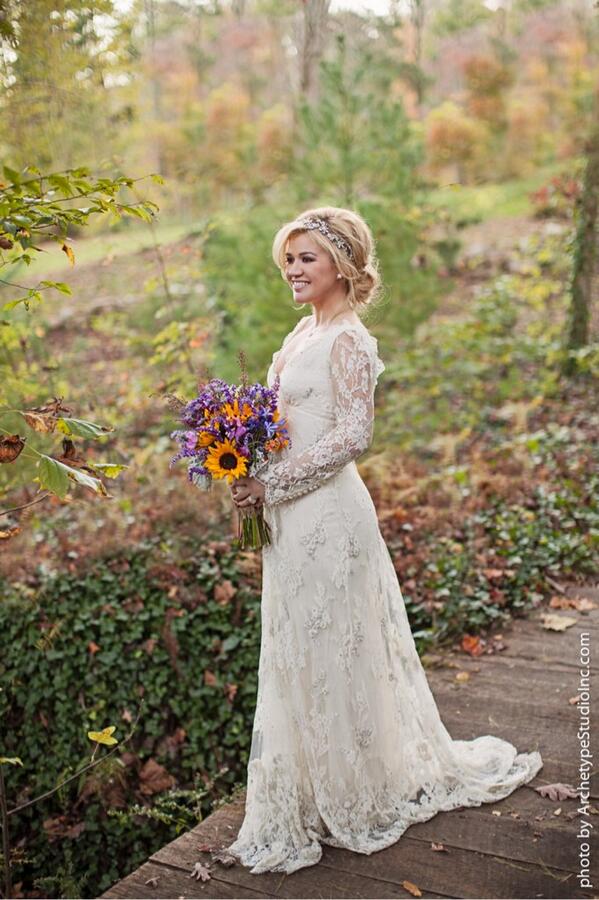 Courtesy of Kelly Clarkson
Originally, the plan was for Clarkson and her fiance to marry in the backyard event at their Tennessee home, but plans quickly changed as they opted for a smaller, more low-key event. Clarkson spoke out recently about why she chose a more intimate occasion. "Our whole life is a celebration, That's what we kept laughing about. We don't need another day where we throw a big party. We would rather have an intimate moment that's special." The pair getting married shouldn't come as a surprise to anyone, as Clarkson has done nothing but gush about her new husband since they started dating. Back in November of last year she sat down with
Ellen
 and spoke about her relationship with Blackstock.  They had only been dating for 9 months and weren't engaged yet, but she still knew he was the one she wanted to marry. "We are totally going to get married, We love each other. We are totally going to get married one day.  I mean, he's got to put a ring on [it] at some point. But I'll wait it out." Clarkson met Blackstock through her long-time manager who happens to be Blackstock's father. His father is also married to country legend Reba McEntire which makes her Clarkson's new step mother-in-law. Becoming Mrs. Blackstock has also made Clarkson a step-mother herself to her new husband's two children, Savannah(11) and Seth (7), that are from a previous marriage. Being a
step-mom
to the children might be making Clarkson anxious to have children of her own sooner rather than later... that is as long as the step-kids are okay with it. "Like, soon! Brandon, he's a great dad and we wanted to make sure it's cool with [his kids], but they are really pumped about it. We actually probably want two more and he's got two, so four total. [The oldest] will be in her teens, so that's kind of like a live-in baby sitter!" We at PopWrapped would like to congratulate the newly weds and wish them a bright and happy future together.
http://www.Twitter.com/PopWrapped
https://pop-wrapped.tumblr.com
http://www.SoundCloud.com/PopWrapped
http://www.Facebook.com/PopWrapped
http://www.Instagram.com/PopWrapped
http://www.Pinterest.com/PopWrapped
http://www.YouTube.com/PopWrapped
https://pop-wrapped.wordpress.com
http://www.PopWrapped.com