Kenny G played his soprano saxophone for charity at 30,000 feet. The passengers of Saturday's Delta flight to Los Angeles were happily surprised!
One of the flight attendants announced that they were raising money for the charity Relay for Life. All money raised through the Relay's events "helps realize the American Cancer Society's mission: to save lives and celebrate life." Additionally, the funds are used to promote cancer research, support programs, providing prevention information, and education. They also help provide detection and treatment programs.
Kenny G was more than willing to help out, and told the other passengers that if they could raise $1,000 that he would play his saxophone up and down the plane.
Well, you do not need to ask us twice.
Passengers brought out their wallets, raised twice the money, and sat back to enjoy the show.
Delta later tweeted their thanks to Kenny G for his generocity and good spirit, while others said they would "rather get dragged off the plane."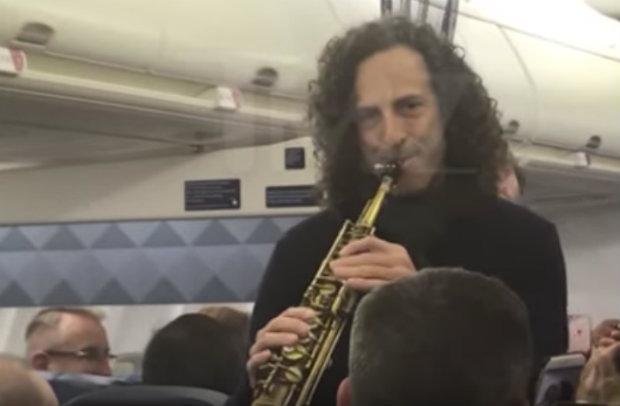 Some websites like the A.V. Club viewed this impromptu concert as another blow to the "airlines' bad month," referring to the United Airlines incident where a passenger was forcibly removed from his seat to make room for airline personelle. CNN and ABC saw this as an opportunity to spread joy.
And the money goes to help others!
"This is for a good cause," Kenny G said. "I have to brush my teeth first before I play my saxophone."
At 30,000 feet, it's hard to say no to donating for a cause, but throw in musical incentive and you have yourself a captive audience.
Footage of Kenny G's mid-flight performance made its way to YouTube soon after United Airlines, already in hot water for their forceful ejection of a male passenger, got served with court papers. Another passenger is suing them for pulling her from her seat and forcing her to move to the back of the plane.