Writer and director extraordinaire Kevin Smith just teased some amazing news for fans everywhere! The creative force behind such films as Clerks, Mallrats, and Dogma took to Instagram to share a shot of a screenplay that contained two very familiar names in his repertoire: Jay and Silent Bob! The sequel to the 2001 film Jay and Silent Bob Strike Back is dubbed Jay and Silent Bob Reboot and is tentatively looking like production will begin this summer. Snootchie bootchies!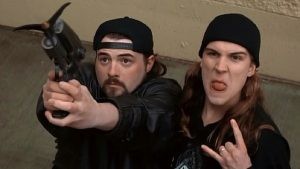 Miramax
Unlike the previous attempts at delivering sequels to his cult favorites Clerks and Mallrats, it appears that this film is definitely a go. The titular characters, played by Jason Mewes (Jay) and Smith (Silent Bob), have had cameos throughout the films in the View Askewniverse, always remaining the common thread that tied the stories together, culminating with Jay and Silent Bob Strike Back. While taking time in between his many projects, Smith managed to finish the script for the upcoming film and shared that Miramax is on board.
Read the post below:
So, while unable to proceed with his other efforts due to ownership issues, there is no stopping Kevin Smith. It will be interesting to see who will come back to make cameos in the flick and to see what comes next in the saga of Jay and Silent Bob. Who's excited? Share your thoughts in the comments!