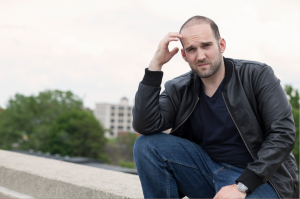 Courtesy of Adam Clark
You may not have heard of singer/songwriter Adam Clark before, but that is quickly going to change! He is taking the music scene by storm, and I had the pleasure to get the chance to talk with him about his explosive career and new single "With You." 
What made you decide to go into the music business?
I've always loved music since I was a child. I began singing as my first words and really haven't stopped since. As I grew up I just became infatuated with making music so when everyone else was deciding what they were going to be, I naturally decided to take my stab as a solo artist in the industry.
How old were you when you started performing?
My first show was actually when I was 13 with this horrible church band that was a mix between Relient K and SuperChick, except horrible. I was the rhythm guitar player and back-up vocalist. We played this church basement and had like 20 people there. It was small, but I loved it and couldn't wait to keep going with it.
Who are your music inspirations?
Aw man, there are so many! But as for performers, I'd say, Michael Jackson, Rolling Stones, Maroon 5, Justin Timberlake. As for writers, Bob Dylan, Tom Petty, The Beatles, Ryan Tedder of One Republic, Elton John, and my favorite Billy Joel.
When did you know you wanted to become a singer/songwriter?
I kind of always knew I wanted to be a singer/songwriter. In high school I was always questioning it because I was told there is no way that I would be able to make a living doing so and that I should choose another profession, which I almost did. Luckily, that just wasn't in the cards for me and as everyone was graduating college I was working on my first solo EP that landed me to working with David Schuler who produced for P!nk, John Legend, Daughtry and a few other big names. So looks like I made the right choice after all.
Describe your style of music in one word.
Love, I love what I do.
Now let's get to the good stuff: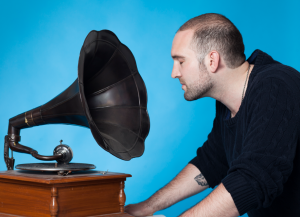 Courtesy of Adam Clark
So your new single "With You" is amazing! What can you tell us about the song and what inspired the single?
This song was actually the first song my producer, David Schuler, and I worked on together. It was actually supposed to be a short intro to an ep/album, but as the song progressed it became a whole new thing. I was in the middle of telling this story about a girl I used to know who I met in my college years in Boston. We decided this would be a great way to express those feelings I had for her. It almost accidentally became a love song that wasn't sappy but full of energy.
What can you tell us about the writing/recording process that goes into your music?
Well, the song was actually written off of a guitar riff I was working on before heading into the studio. We ended up putting the guitar riff on piano and as soon as that happened, the structure almost happen naturally. I was really into Drake around that time and wanted the high female "AH" in there cause I thought that the production in his intro track for "Take Care" was amazing.
After that, we had a basic idea of how the song was going to go and I spent the night listening to it as I walked around LA. I began messing around with an idea for the lyrics and melody. The next day I walked in the studio with a clear direction of what I wanted to put down. The chorus was a clear collaboration between my producer and myself. I've never thought about using "Ooo's" in a chorus before. I loved the way it sounded kind of mid 90's esque, like Third Eye Blind (who I've always admired).
Speaking of writing and recording. How long did it take you to write and record With You?
It was crazy, we busted out that song in four days, production, writing, recording, ect. I really think that's why working with my producer was one of the best decisions I've ever made. It chopped the time in half and made it an easy process of bouncing ideas off of each other until we finally got it down.
What is the best and worst thing about performing live?
I think my absolute favorite thing about performing live is when I'm singing up on stage I get to see that people relate. I think that's amazing that when I'm writing these songs wondering if anyone understands these feelings, I get on stage and hear the crowds reaction to what I just sang. That's the absolute best feeling in the world to me.
I think the worst part is the anticipation before a show, like days before a big show I kind of go crazy. For instance, I played a huge festival like 10,000 people or something like that. And I was so nervous that I almost threw out my voice a few days before. I'm still working on that but I think I've gotten better with the anxiety.
If you could perform anywhere in the world where would it be and Why?
I have two places. One is Red Rocks Amphitheater. I've seen pictures and clips of some of my favorite artist performing there. That has always been a goal to me, and would honestly be one of the most proudest milestones there is to me. Two, Tokyo. When I was in LA for the first time a couple years ago, I went down to Santa Monica and stood by the ocean and the realization of "Hey, Japan is over there". So that became the next big goal.
Any plans to hit the road for a tour soon?
I've been working on hitting up as many colleges as I can in the Spring. It's been a goal of mine to actually get out there and put myself and my music to the test. I've had to play it smart for financial reasons though. But, it's looking more and more realistic as it becomes closer to the Spring.
Can you give us any hints on what is up next for you?
I actually have another track that features a good friend of mine that was on Ellen, and has a song that was on the latest Romeo and Juliet soundtrack. This song is probably the most emotional song I have, and I was honored when Kait Weston said yes to being a part of it. My team and I have been brainstorming a way to get it out on a larger level and possibly a music video.
Also, I've been working with a few DJ's who are remixing my latest tracks. I'm really excited to see what they come up with. I've been a closet fan of EDM for awhile now. So it'll be cool to hear my voice on an EDM track.
What would you like to say to your fans who have listened and stuck by your music?
Thank you. Like, you have no idea, thank you! It's been a long time coming but this year is looking even more promising than the last.
Don't forget to Check out Adam's new song "With You" along with his other singles on Soundcloud. You can also follow him on Facebook, Twitter and Instagram for the latest updates and news about his music! What do you think about Adam's new single. Let us know in the comments section below!