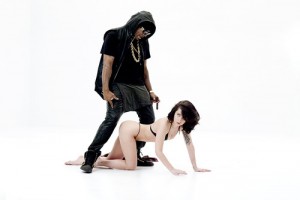 Courtesy of StereoGum
Shane Avery
Senior Staff Writer
@ShaneAvery This is kind of interesting. If you can recall the early days of Lady Gaga's release of her album "ARTPOP", the expected 2nd single was "Do What U Want" featuring R&B superstar R. Kelly. While the single hit the radio, the video was never released. There were claims of betrayal on her management team as well as time constraints as the reasons for the video never seeing the light of day, but now other reasons have surfaced. Sources close to Gaga have said that the singer was completely not in the know of the accusations flying towards director of the video Terry Richardson, as well as all of the legal backlash over R. Kelly (the singer was tried for alleged child pornography). The reveal of the accusations against Richardson were what convinced Gaga to NOT to release the video. In the video, Gaga can be seen lying down with her "doctor" R. Kelly tending to her. She asks him if she'll ever walk again, and he says:
"Yes, if you let me do whatever I want with your body. I'm putting you under, and when you wake up, you're going to be pregnant."
Uh, okay? Sources are saying to The Huffington Post that the entire video "was literally an ad for rape". Check out the brief snippet of the video yourselves at the link and tell us what you think: Keep Up With PopWrapped On The Web!