Move aside, Jack the Ripper! London's got a new legend, and this one is a bit less deadly. Whipping Tom appeared around 1672, running around the streets of London and scaring the pants off of women. According to History Buff, he appeared three times about a century before Jack the Ripper started making his rounds, and "the attack was the same all involving ladies bottoms and a hard smack on the behind."
No one knows quite what to make of this Whipping Tom, the Serial Spanker of London. In 1672, reports of a beast who pursued its victims into "murky passageways and dimly lit courtyards" started circulating. Once he cornered the female victim, "Sir Spankalot" would expose their buttocks, smack it, and then flee into the night.
By 1681, the offending spanker had gained such names as Jack the Smacker and Whipping Tom. Victims would testify that he would come up behind them out of the shadows, bend them over his knee, and yell "SPANKO!" while hitting their bare buttocks with a homemade bat.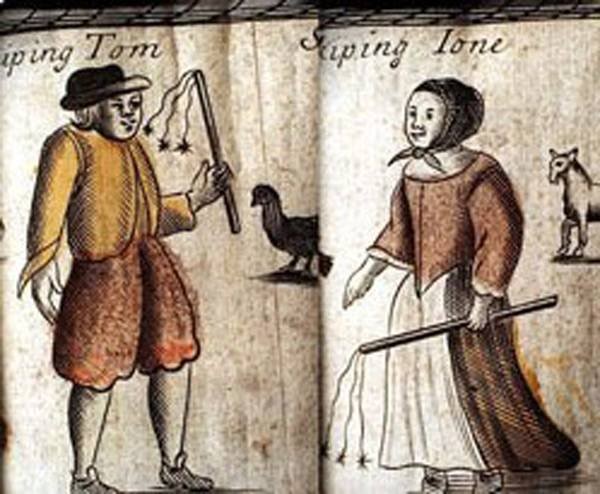 Sadly, public defense and police did not exist yet, so women took to carrying knives and other sharp objects when they went out.
While some men took to wearing women's clothing in the hopes of catching Whipping Tom, the serial spanker was too quick for them, eventually earning the title "the enemy of milk wenches' bums everywhere."
By 1712, the serial spanker "had moved east ... in Hackney, which was then a village on the outskirts of London."
He was caught after spanking a grand total of 70 women, claiming that he was "resolved to be revenged on all the women he could come at after the manner, for the sake of one Perjur'd Female who had been barbarously false to him."
According to Merriam Webster, someone who is "barbarous" is "not polite or proper; very rude or offensive; very cruel and violent."
For all his nimbleness and trickery, Whipping Tom was still just a man who did not like to be told "no."