Looks like Zayn Malik and Harry Styles aren't the only One Direction members with solo ambitions... Fellow member Liam Payne has announced plans to sign with Capitol Records!
Boy bander Liam Payne has become the latest member of One Direction to pursue a solo career whilst the band is taking some time out of the recording studios. Earlier today the "Drag Me Down" crooner confirmed rumors that he was contemplating a solo contract with Capitol Records.
"Very happy to have signed to my new label Capitol Records. They have such an amazing history of artists, I hope I can follow in the footsteps" he wrote on his Instagram. He went on to express his excitement for the new venture stating "One Direction will always be my home and family, but I'm very excited to see what this chapter brings."
This makes Payne the third member to officially announce plans to work professionally outside of the band. Last year Zayn Malik became the first to leave the group when he signed with RCA and Columbia. His first solo album Mind of Mine spawned a number one hit on the Billboard Hot 100 with lead single "Pillow Talk."
Harry Styles will be joining Malik at Columbia with a rumored $75-80 million dollar deal. He will also be making an acting debut in the upcoming World War II period film Dunkirk. Thus far fans are still waiting to hear official news about new music; however, news should be forthcoming. 
Fans are also still waiting for a first official taste of music from Liam Payne's solo career. Although nothing official has been released, leaked audio from a recording session with Wiz Khalifa and Juicy J confirmed that the crooner will be making an appearance on an upcoming mixtape in the future.
It is still unclear if this means the end of One Direction. The group has been on an official hiatus since the release of last year's Made in the A.M. Rumors are circulating that solo deals for remaining members Louis Tomlinson and Niall Horan are not far off, but that doesn't necessarily mean that the boys won't get back together to record again in the future. For now I guess we'll have to wait and see!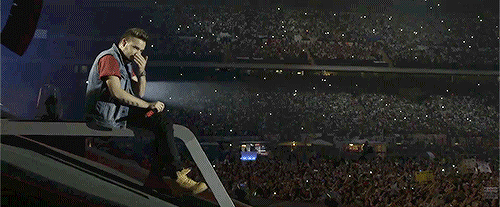 giphy.com
What do you think about the exciting news for Liam Payne? Weigh in in the comments below!